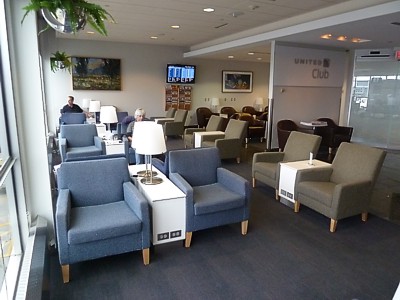 Minneapolis United UnitedClub
The Minneapolis UnitedClub is tiny – really, really small – and yet it is a delight that this small airport lounge is here at all. United closed the original Minneapolis Red Carpet Club a decade back, leaving the only airport lounges in MSP to Skyteam, with Delta and Northwest (now merged). Now however there is once again a Star Alliance lounge at Minneapolis, leaving only oneworld bereft.
Because it is so new, the UnitedClub Minneapolis is clean, neat and tidy. It is light and airy, but alas quite small, however with only a small Star Alliance operation at MSP, that doesn't matter quite so much.
To find the lounge, once at the main spine of the airport, with all the shops and diabetes inducing food hall, take the slope down Concourse E from the 'brewery' end (I kid you not – there is a brewery at Minneapolis airport). Half way along on the right is the small glass door for the UnitedClub Minneapolis, behind which is the small reception desk and helpful friendly staff who always seem very surprised when international travellers turn up.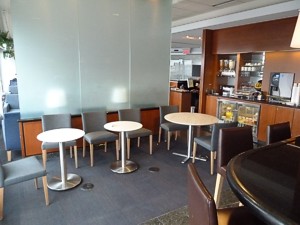 Minneapolis United UnitedClub
The lounge itself has one large seating area with floor to ceiling windows and a great view of gate E8. At the far end behind the wall is the small L shaped bar with half a dozen bar stools and a small wall mounted TV (generally on sports). There are also a couple of dining tables here, which are almost always used for people with laptops (power points are in the floor). There are small toilets behind the bar, and that's it really. It is a very small lounge.
Food
Beside the bar is a small food counter: don't expect too much. At breakfast time there are a few pastries, but other than that you are stuck with three types of crunchy salty mix, plus carrots and ranch dip. In the Minnesota midwinter, this may not quite what you have in mind for food. There is also a small coffee machine here, which does a mean cappuccino.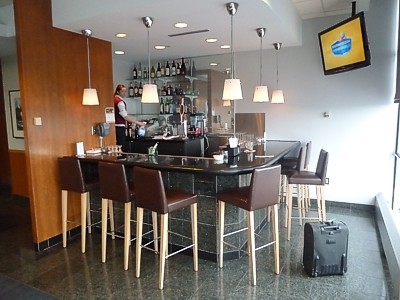 Minneapolis United UnitedClub
Bar
The bar at teh Minneapolis UnitedClub is however great, and if you love beer and plane spotting, a great place to spend a few hours. It is manned bar: you have to ask for every drink, and pay a US$1 tip for each drink but other than that basic drinks are complementary. It has beer on draft, house wine (two types of red or white) and basic spirits. On the shelf are much better spirits, but of course they come with a hefty price tag.
Bathrooms
Outside lounge.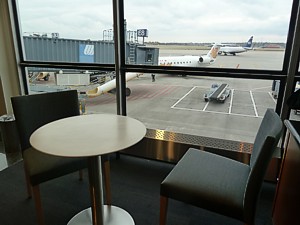 Minneapolis United UnitedClub
Business Facilities
There is free wifi in the lounge (ask at reception for a card). Newspapers are on the rack by the food bar, and few magazines, but don't expect too much: a copy of hemispheres is about as far as it goes.