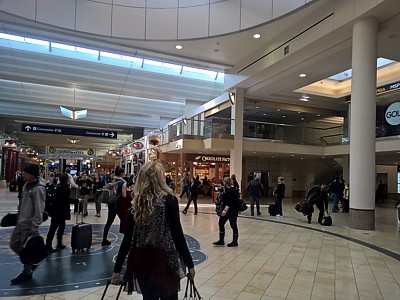 Minneapolis Airport Minneapolis-Saint Paul International
Minneapolis Airport Guide
NEWS: A massive expansion plan is underway at Minneapolis Airport, with general modernisation work planned up until the year 2030. Most of the work involved will involve upgrading the airport terminals and adding additional boarding gates.
Although virtually everyone refers to it as Minneapolis Airport, Minneapolis-Saint Paul International Airport serves the Twin Cities area of Minnesota, and indeed much of the rest of the state, and it is surprisingly big serving six other states too (from Iowa to Nebraska) as the main international gateway in the mid-north.
A major hub for Delta, it was previously Northwest Airlines base of operations. There are 29 international routes out of Minneapolis, and when the Amsterdam, London, Paris, and Tokyo flights all leave in mid-afternoon, the airport can seem amazingly busy. However, it is mainly locals leaving, rather than tourists arriving, which makes the airport what it is - as a result there are a lot of summer fights to the Caribbean, Canada, and Mexico.
The airport is famous, as the 1970 disaster film Airport was filmed here. At the time all the concourses had colours: now they have names. Shopping isn't great at the airport, if only because the terminal is just minutes away from the vast Mall of America. Indeed, some passengers fly in specifically to shop there.
There is just one main shopping outlet airside in the airport, in the main 'bridge' at the The Mall shopping area of Terminal 1-Lindebergh.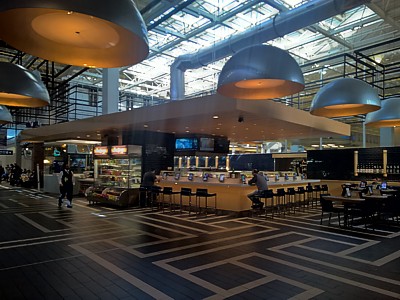 Minneapolis Airport Minneapolis-Saint Paul International
Free Wi-Fi internet access is available throughout Minneapolis-Saint Paul International Airport.
There are two terminals at Minneapolis Airport. Lindbergh Terminal 1 (with seven concourses, lettered A-G), and the smaller Humphrey Terminal 2 (Concourse H, named for former US Vice President Hubert Humphrey no less).
There are two security areas: The North and South security checkpoints. At the north checkpoint (into D) wait times can be up to an hour and a half - it is rarely more than 5 minutes at the south (which goes onto the bridge between G and C concourses), however here Delta only have a Self Serve Kiosk check in.
There are internal, airside trams that run between concourse D and A, passing C (and the Delta lounge) on the way.

First & Business Class lounges at Minneapolis Airport
Minneapolis Airport transportation
Travellers should know that many bus, limousine and shuttle bus services operating to and from Minneapolis Airport usually require pre-booking.
Minneapolis Airport train
The main way to get to and from MSP airport, is the
Metro light rail Blue Line
. It has stops at both the Hub Building Terminal 1 (Lindbergh Station) and Terminal 2 Humphrey Terminal (Humphrey Station).
The metro line connects the airport with downtown Minneapolis as well as with the Mall of America in nearby Bloomington.
It also operates as a shuttle service between the two airport terminals if you can't be bothered to walk, and this part runs through the night, and is always free.
Trains run between the terminals every seven or eight minutes during peak hours and every 10 to 15 minutes at other times of the day. A single fare on the rail service to Minneapolis costs US$2.25 during peak hours and US$1.75 at other times.
Minneapolis Airport shuttle bus services
City buses, operated by
Metro Transit
provide transportation throughout the Minneapolis/Saint Paul area; these pick up from the Transit Centre on the east side of the Blue and Red car parks at Terminal 1-Lindbergh. Fares are US$2.25 during peak hours and US$1.75 at other times.
Minneapolis Airport taxi services
Getting a taxi to and from Minneapolis Airport is usually trouble free.
Taxis are available from a booth on the Tram level or level T at Terminal 1-Lindbergh and from the Humphrey Ground Transportation Centre at Terminal 2-Humphrey. The fare to downtown Minneapolis is around US$35-40 or about US$45 to Saint Paul.
Car Hire at Minneapolis Airport
Major car hire operators are located in the Arrivals Halls. To save time and ensure you get the car you want, book your rental in advance. Rental car operators from Minneapolis Airport include:
Europcar
,
Thrifty
,
Avis
and
Budget
.
Car hire counters can be found on the lower levels of the blue and red car parks in Terminal 1-Lindeberg Hub Building, which is connected to the terminals by an underground tram. At Terminal 2-Humphrey, car hire counters are found in the Ground Transport Centre on the ground level of the parking ramp, directly across from the terminal building.
Both terminals are bordered by Highway 62, Interstate 494, Highway 77 and Highway 5. From central Minneapolis, follow Interstate 35 southbound, turn onto Interstate 494 eastbound and follow the exit signs to reach the terminals. The total drive time from Minneapolis to the airport is approximately 20 minutes.
Minneapolis Airport Hotel
InterContinental Hotels is opening a hotel at the airport, skyway connected to the check in area, with its own security checkpoint. It has 300 rooms on 12 floors. The hotel has an "observation bar" on the top floor with views of both downtowns of Minneapolis and St Paul, plus sweeping views of the Minnesota River.
The Hilton Minneapolis/St. Paul Airport Mall of America has complimentary shuttle buses to and from the airport (which is 3km/2 miles away). The hotel has a decent bar as well as a fitness centre and pool.
Minneapolis Airport Left Luggage
Minneapolis airport luggage storage is handled by storage lockers in secure areas of Terminal 1-Lindebergh, while a lost and found service (tel: +1 612 726 5141) is located on the mezzanine level of the same terminal.
Minneapolis Airport Bars and Restaurants
MinniBar Minneapolis Airport
MinniBar
Open: 0500-2200
Airside, Terminal 1, Concourse G near gate 2
Looking great, the Minnibar at Minneapolis Airport is a huge curved wall of mirrored tiles, overlooking a rather dull concourse.
Although primarily there for the beer, and some great cocktails, the minibar does what it calls 'globally inspired sandwiches'.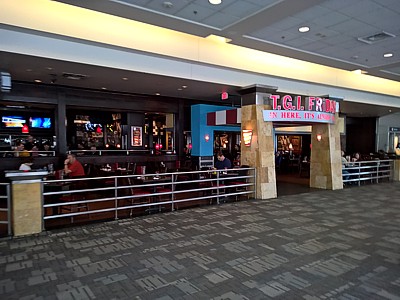 TGI Fridays Minneapolis Airport
TGI Fridays Bar
Open: 0700-2000
Airside, Terminal 1, Concourse C, near Gate 12
A pretty standard TGI Friday's, this is more restaurant than airport bar.
There is a great three-for-all appetizer platter with loaded potato skins, fried mozzarella & spicy Buffalo wings if you are there with a couple of fellow travellers.
Rock Bottom Bar Minneapolis Airport
Rock Bottom Brewery Bar
Open: 0700-2100
Airside, Terminal 1, The junction of Concourses C & D
It's a brewery Bar - in an airport. And a good one at that. You can take a drink at the bar, with a good selection of beers.
Or there is a restaurant attached, with the usual fare of burgers, nachos, and snacks.