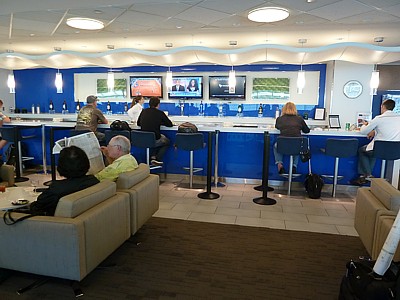 Minneapolis Delta Skyclub Concourse F
Updated in the latest Delta Skyclub style, of the two Minneapolis Delta Skyclub lounges, this lounge on Concourse F is very much the main Delta lounge at Minneapolis, located as it is at the intersection of the two main concourses, just after security, and with the main entrance by the shops, behind the lifts to the second floor.
There is also a rear entrance open at peak periods. The 12,500-square-foot club at Minneapolis-St. Paul International Airport is Delta's second-largest club by customer volume.
As you enter through the big automatic doors there is a big long white desk with sometimes half a dozen staff guarding the entrance, and helping with bookings: the contrast between this lounge and United's tiny 'one person does everything' around the corner is stark. And then once in, there is even more of a change, with the ultra trendy seats by the entrance a welcome sight.
Alas it's downhill from here, with the main lounge just one vast room, with high up windows having a view of little more than the air-conditioning ducts. It's on two levels, with the bar up on the 'stage' however this means there is huge sloping ramp into the lounge, with glass panels - now covered in blue plastic. It looks far from pretty, and just emphasises the space: this is certainly the larger of the two Delta Sky Club lounges at the airport, seating over 300 people, and when it was a Northwest WorldClubs lounge it was very much a flagship, with delights such as hot food and small seating corners. It's got a bit more Spartan now.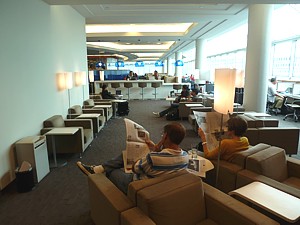 Minneapolis Delta Skyclub F
On the upper 'stage' area by the bar there are a dozen or so dining tables, and also a long white marble worktop overlooking those on the lower area: power sockets (US style only) are set into the shelf 'lip': this is a good area for working if you don't mind everyone peering over your shoulder.
On the lower level there are plenty of comfy arm chairs with enormous 'wings' which make them feel really private: alas having a conversation with your travelling companions is harder if you sit here. At the far end on the right of the lounge area is another marble bar top, and a more cosy area where few people sit: the seats here are more conventional, and divided by separator walls with integral lights.
Bar
The bar area is on the far wall of the stage, and turns into a zoo by early evening: the other Delta lounge is a far better place for a quiet drink. There are however the usual free house wine beers and spirits. Most of the bar area is taken up by seats facing the bar and the three large widescreen TVs: to get a drink you have to line up at the small cordoned off area in the middle, which feels a little like getting a drink at a student union.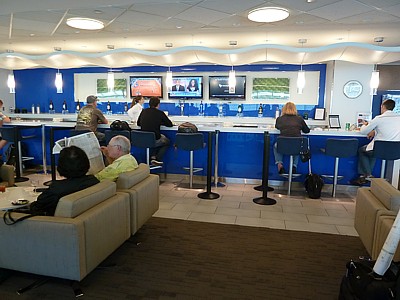 Minneapolis Delta Skyclub Concourse F
Food
Food is now a major disappointment in the Minneapolis Delta SkyClub: the old Northwest hot options have gone. Instead, at breakfast time there is cereal, Bagels and English muffins (the toaster is on the counter) plus yogurt and fruit. After 9am you're down to foraging for nuts or biscuits, with three large jars of these on the corner of the counter by the bar, with Tomato basil flatbread crackers, classic hummus, olive tapenade, garlic & herb spread, peppercorn parmesan spread.
There are also carrots and celery sticks with ranch dressing for dipping, plus apples and small slabs of cheese. By early evening miniature muffins appear.
There is also a small bowl of fruit with apples, oranges, and bananas.
Bathrooms
The bathrooms are directly opposite the reception desk as you walked in: alas, there are no showers at the lounge.
Business Facilities
There are no computers in the lounge (you have to walk along to the C lounge for these) however there is free WiFi wireless internet access, and a combined laser printer, photocopier and fax. At the back of the lounge there is also a private meeting and conference room.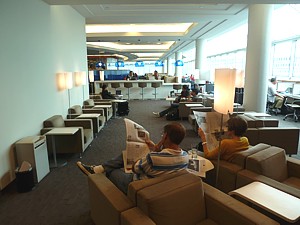 Minneapolis Delta Skyclub F
Access
Delta Sky Club members at any time, Delta Sky Club one-day pass holders, Delta First Class, BusinessElite, or full-fare economy passengers departing on a same-day transcontinental flight, Delta BusinessElite passengers departing on a same-day international flight, International First and Business Class passengers departing on or connecting to/from a same-day international flight operated by a SkyTeam member, and SkyTeam Elite Plus members departing on or connecting to/from a same-day international flight operated by a SkyTeam member.
Note that Virgin Velocity Gold and Platinum, who should have open doors access on any Delta flight, are regularly turned away. Ensure you take a printout showing you should have access.