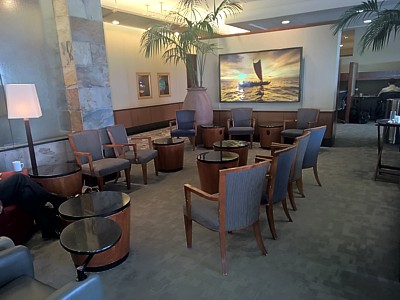 Minneapolis Delta Skyclub
Which Delta Air Lines Skyclub would you like at Minneapolis? You can take your pick. Because a curiosity of the lounges at Minneapolis are there are two totally different lounges, with very different styles. This one, next to gate C12, was originally a new style Northwest lounge and is the most cosy, while the other in the F concourse was a Delta Crown Room and is a light bright open hotel lobby type area but without any views.
As you enter, you see that there are lots of walls, corners, and other areas that make the club more secluded than the other lounge in the F concourse. There is a small part of the main room to the right, around a central service pillar, and in mid-winter, a fireplace. This is actually the largest and most welcoming part of the club.
To the left is a long winding corridor, and then work carrels. Off to one side is a snug area, and then at the far end is a TV room, which also houses the main bar. The bar area gives a great view of runway 12L/30R take-offs and landings.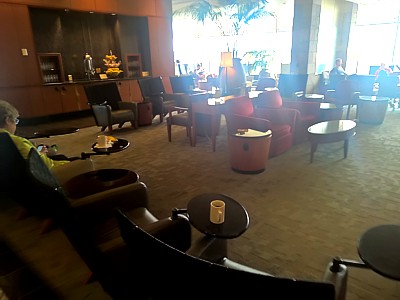 Minneapolis Delta Skyclub
The rare joy of the bar here is that it is one of the few in the Delta network (indeed, one of the few in the US ) that is self-serve, and free-pour.
Here there is also a great fireplace, so it is a lovely snug area to curl up with a Baileys when the snow falls. Alas in this area there is also a vast 42" flat screen television, which is normally locked onto CNN during the week, or sports at a weekend. Many people turn their backs on the fire to cheer their teams: it doesn't make for a cosy atmosphere.
The lounge is in a great location if you enter the airport via the hand luggage only entrance, or the A/B/C electric tram stops directly across from the club entrance. It's also pretty easy to get to the concourse C/G skyway. However, it is a fair walk from the food court where most of the shops are.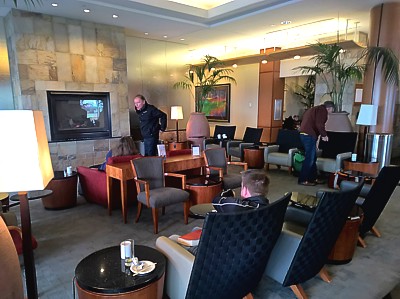 Minneapolis Delta Skyclub
Food
Food is in the main part of the lounge, opposite the door, although food is pretty poor.
There are packets of cheeses and crackers, fruit with apples and bananas, and a few small dark chocolate chunk and raisin oatmeal cookies.cookies, along with bar snacks such as pretzel mix, nut mix, mixed raisins, popcorn, olives (country olive mix, Mediterranean meze & Nicoise.)
Occasionally in the afternoon there are Marinated mushrooms, and a hot soup. There are salad in the summer, with balsamic or ranch dressing.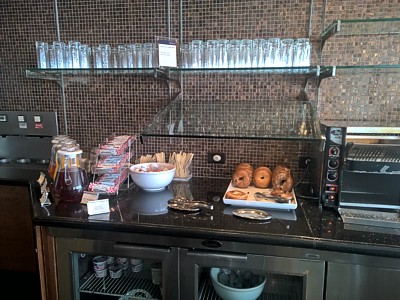 Minneapolis Delta Skyclub
Bar
The bar area is in the smaller room up to the left. It is self serve, which is a joy.
There is a draft beer on tap, with a strange three way beer pump having Heineken, Miller, or Light Summit.
In the fridge below there is Sharps beer in cans. On the other side of the bar area there are two rather poor bottles of wine, plus free pour spirits, including Vodka, Rum, Whisky, Gin and Bailey's (not chilled). Bloody Mary Mix is in the fridge.
Bathrooms
In lounge.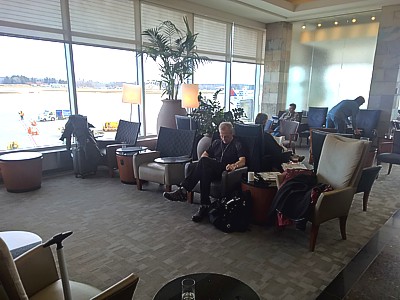 Minneapolis Delta Skyclub
Business Facilities
The business area, with the
computer
workstation cubicles, is one of the best places to work at the airport. The computers are fast, there is a printer and fax, and also free wifi throughout the lounge. Privacy screens for laptops are available by request from the service desk.
Access
Delta Sky Club members at any time, Delta Sky Club one-day pass holders, Delta First Class, BusinessElite, or full-fare economy passengers departing on a same-day transcontinental flight, Delta BusinessElite passengers departing on a same-day international flight, International First and Business Class passengers departing on or connecting to/from a same-day international flight operated by a SkyTeam member, and SkyTeam Elite Plus members departing on or connecting to/from a same-day international flight operated by a SkyTeam member.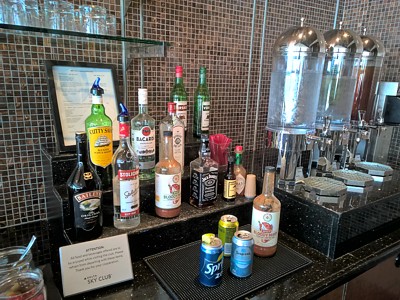 Minneapolis Delta Skyclub
Note that if your paperwork for entry isn't completely in order, you can expect to be sent firmly packing by the three staff manning the desk to the left of the main door. Virgin Velocity, who should have open doors access on any Delta flight, are regularly turned away. Ensure you take a printout showing you should have access.