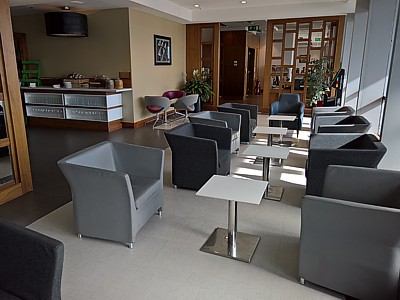 Dublin DAA Lounge T1
The Terminal 1 Dublin Airport DAA Lounge has comfortable seats, snacks and drinks, a business area with computers and wi-fi and a family room with children's play facilities.
Indeed, the Dublin Airport DAA Lounge in Terminal 1 does a pretty good job of that most dull of functions - an airport authority lounge. Vastly better than the older lounge, oddly in the new Terminal 2, the 'old' lounge in Terminal 1 has had a revamp (in 2013), and now encompasses the area of the old private Dublin Anna Livia lounge.
Finding the Dublin Airport DAA Lounge T1 is a bit of a struggle - it'a blink and you'll miss it lounge, up a hidden stairway, oddly behind security screening. So as soon as you are through security, turn around and face it, and you'll see what seems like an out-of-work fire escape heading behind you. This is it. There is also a small lift.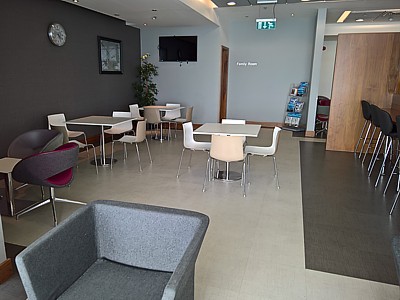 DAA Lounge Terminal 1
There are a myriad of airlines which use the Dublin Airport DAA Lounge T1 as their lounge (like Finnair for example, or Turkish Airlines) and there are no alternatives.
The lounge comes in two halves, with reception and a small corridor housing the lift between them. Toilets are out by the stairs. Although the extended lounge has seating for 110 customers, you'll find that most of the day, and on most days, the lounge staff only like to open the south wing, with the north wing firmly closed (and sealed off by the do it yourself approach of putting a chair in the way). Lounge staff greet you as you come in - or indeed, for many passengers grab them as they give up waiting for the staff to finish re-stocking the biscuits, and walk in of their own accord.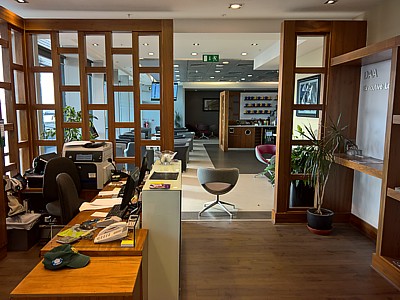 Dublin DAA Lounge T1
The Dublin Airport DAA T1 lounge is a pleasant place to sit and wait for a flight. As you walk left, there is a central bar and food area, with armchairs dotted around the outside of the central room divider, and with TV screens on the walls. The wooden shelves look impresive, and there are some nice statues and books on them, a few of which still remain and haven't walked in the few years the lounge has opened.
There is a computer and business centre in the far left, behind another partition.
Walk right, into the other half of the (often closed) lounge, and there are harder more upright chairs, and small coffee tables.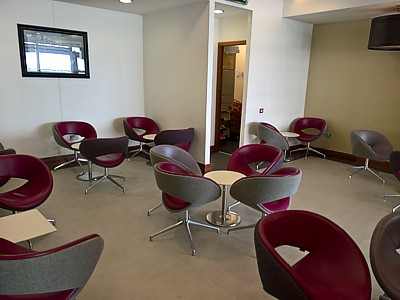 DAA Lounge Terminal 1
By the window are 2+2 chairs, but they are positioned in such a way you can't actually see the view. Behind the divider here there is a workbench with high chairs, and sockets (UK square pin) to recharge your phone or laptop.
Close to reception is a small magazine rack.
And that's it - it is a classic, generic, airport lounge.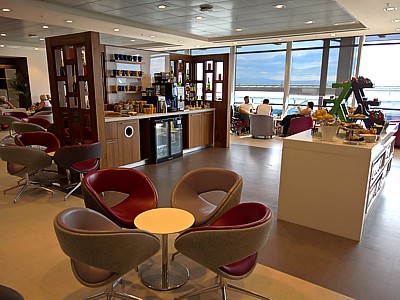 Dublin DAA Lounge T1
Food
Food in the Dublin Airport DAA Lounge T1 is better than in Terminal 2, but it really is just down to snacks. If you want something to eat, you really needed to eat in the 'Loop' before heading here.
The only hot offering is soup, which changes daily. Rolls and butter are cold. There is a bowl of fruit on the worktop.
There is a quite decent cheese selection, on a little wooden planner. There are also pastries in plastic wrappers, and muffins under a plastic cabinet.
Don't miss the United Airlines style carrot and celery sticks with dips. They are oddly popular when the US flights depart.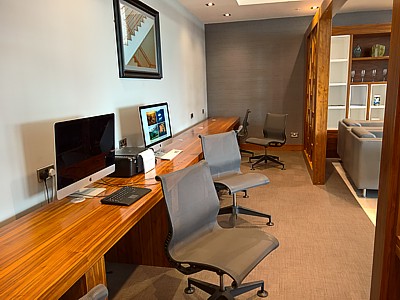 DAA Lounge Terminal 1
Sandwiches are the lounges saving grace, and are actually pretty good, with cheese and ham.
There are also scones (cold) with jam, but no cream. Butter is in the fridge.
The breakfast offering has been significantly improved with cereals, yoghurt and fresh fruit.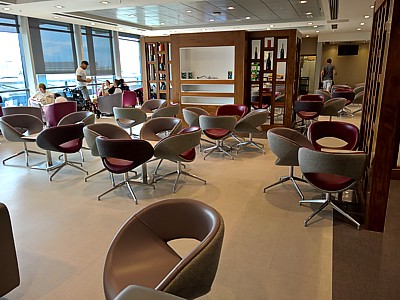 Dublin DAA Lounge T1
Bar
The bar in the Dublin Airport DAA Lounge T1 is basic, but serviceable.
There are cans of Guinness, Strongbow, and Heineken in the frosted fridge, without a label, under the worktop.
Don't be impressed by the lovely display bottles of champagne on the shelf. They are just for display. Instead there is also a bottle of a non-descript white in the fridge.
On the worktop, in a lovely wine holder, is the same basic red wine.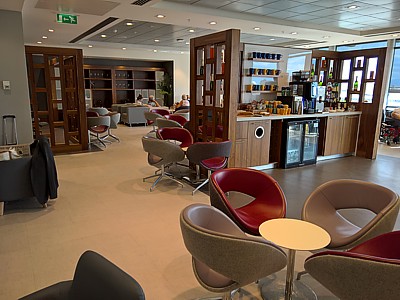 DAA Lounge Terminal 1
Spirits are on a rotating optic which came straight from this lounge when it was the Dublin bmi lounge. But don't get too excited either - there is Jamesons whisky, Bacardi, Gordon's Gin, Smirnoff vodka, and Hennessy.
Bathrooms
Outside the lounge, by the stairs. No showers.
Dublin DAA Lounge T1
Business Facilities
The Dublin Airport DAA Lounge T1 has a great newspaper rack by reception.
It is large and comprehensive with not just the Irish papers, but also all the UK ones too, and stack of Irish Times you can take away.
There is also a cast off from when the Dublin DAA T1 lounge was the Anna Livia lounge, with that name still existing on the magazine rack.
There is free Wi-fi in the lounge, although it comes from the Dublin Airport supply which can be a little flakey.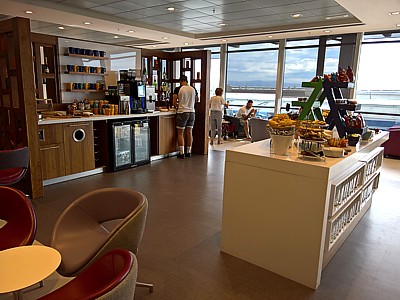 DAA Lounge Terminal 1
The small and pretty much unused business centre has two apple iMacs, and a colour printer.
Access
You can buy entry on the door for 20 euro, or online for the same price.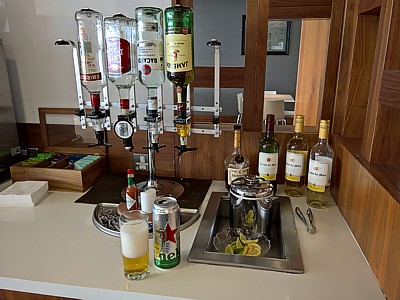 Dublin DAA Lounge T1
The Dublin DAA lounge also accepts Priority Pass, Airport Angel, and Diners Club.
The lounge is also used as the Turkish Airlines and the Finnair Dublin Business Class Lounge.