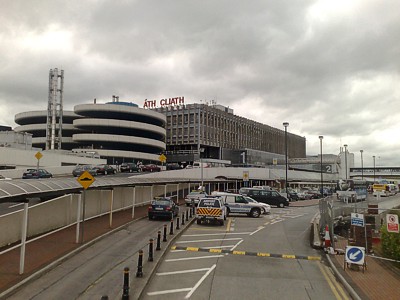 Dublin Terminal 1
Dublin Airport Guide
News: The Metro North rail link train from Dublin Airport to Dublin city centre will eventually open. However it has been deferred indefinitely due to a lack of resources following the collapse of the Irish economy.
The large modern Dublin Airport, known locally as Aerfort Bhaile Átha Cliath, is an unexpectedly busy and well connected airport. With over 22 million passengers a year, it is the hub for Ireland's flag carrier Aer Lingus, Ireland's regional airline Eddie Stobart Air, and no-frills carrier Ryanair.
Only six miles (10km) north of the city centre, near Swords, in Fingal, Dublin Airport has relatively poor connections to the city itself, with only a local bus service and no train. There is however a new motorway which goes most of the way into the city.
The airport has a vast number of direct flights to America, with 17 flown by Aer Lingus, Air Canada, American Airlines, Delta and United Airlines. To the Middle East competition between Etihad and Emirates is tight, however there are no flights east, to Asia.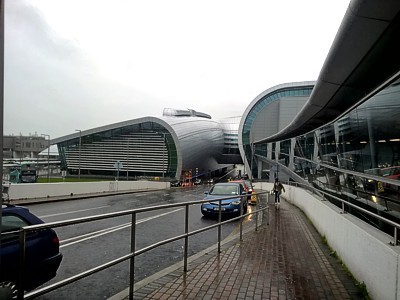 Dublin Airport The new Terminal 2
The UK has the top five destinations from Dublin (LHR, LGW, STN, MAN and BHX). After that comes Paris, New York, Amsterdam and Frankfurt. A real curiosity of the airport was that for many years half of all flight to the US had to stop at Shannon. From 2007 that was axed, and now Dublin Airport has United States border preclearance services for US-bound passengers. You pass through customs here, rather than at your destination.
There are two terminals at Dublin Airport, and it can be a confusing walk thanks to the way each terminal was built separately. Furthermore, after landing you must exit the terminal - there is no access to the gates.
From Dublin T1 to T2 landside after landing, exit customs, turn right, take the escalator up to departures. Take the small outside covered walkway on the right opposite check in area 1. From Dublin Terminal 2 to Terminal 1 turn left in arrivals and follow the signs for Terminal 1.
Dublin Airport Terminal 1
Dublin Airport Domestic / Shorthaul Terminal 1
Dublin Terminal 1 was built way back in 1972. It shows. It was initially designed to handle five million passengers per year, but now handles about 15 million.
The main design feature is the long, straight run of the terminal and the extra 'add on' decagon-shaped boarding Pier B: this is actually the original part of the terminal.
A new extension featuring bars and shops was tacked on to the side of Terminal 1 in 2009 - this is by far the nicest part of the terminal.
The majority of the shopping options are located here in what is called 'The Loop'.
Here there is a central triangular space to the right of security which has most of the bars and shopping, although you can walk airside between Termninal 1 and Terminal 2, and get access to the better shops in Terminal 2, where the number of bars has to be seen to be believed. However, Terminal 1 does offer the Heineken bar which has an outside space.
To walk airside from Terminal 1 to Terminal 2, after security in Terminal 1 turn sharp left and walk down the corridor with no signs, down the slope and past the vending machinges. Here you will see all the Terminal 2 lounges. Wiggle around the two blind corners, and you will end up at the T2 gates. To access the shops, take the stairs on your left.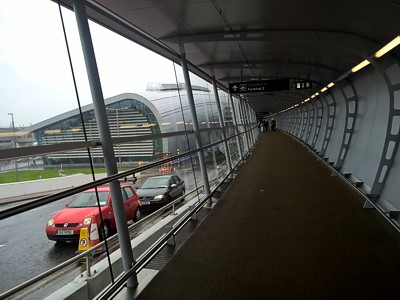 Dublin Airport The landside T1 to T2 walkway
Terminal 1 offers free Wi-Fi access.
A children's play area can be found in Terminal 1.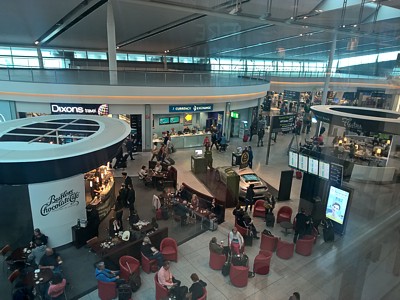 Dublin Airport The new Terminal 2
Dublin Airport International Terminal 2
The brand new Dublin Airport Terminal 2 was opened in 2010, just as the Celtic Tiger economy was collapsing. As a result for many years it never really reached its true potential.
Terminal 2 has vastly better bars and shops than Teminal 1. It is a great place to bar hop before a flight.
Terminal 2 has 19 air bridges and is capable of handling 15 million passengers annually, bringing Dublin's theoretical total up to 35 million passengers a year.
All long haul flights from Dublin leave from Terminal 2, including Aer Lingus, Etihad and Emirates.

First & Business Class lounges at Dublin Airport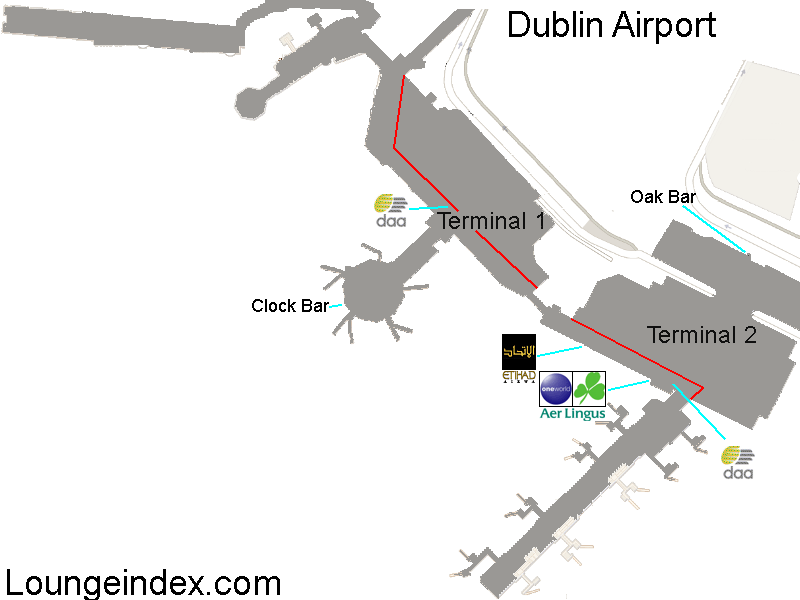 Dublin Airport Terminal Map
Dublin Airport transportation
Dublin Airport train
For many years there were plans to link Dublin Airport to the city centre by rail. The underground metro line, was planned to run from the city centre to Swords via the airport, with the route and construction announced in 2006.
The plans are now on the shelf until the Irish economy recovers.
Dublin Airport shuttle bus services
Airlink Express route 747 runs from the airport to the city centre terminus of Busáras and the railway stations of Dublin Connolly and Dublin Heuston. Journey time is 30 minutes, cost is 6euro.
Dublin Bus also run local stopping services that serve such residential areas as Santry, Swords, Rathfarnham, Sutton, Malahide, Beaumont, Harold's Cross, Drumcondra and Portmarnock.
Dublin Airport taxi services
Getting a taxi to and from Dublin Airport is usually trouble free.
Taxis are available from outside the terminals. Depending on traffic, the ride into the city can take up to 45 minutes, and cost upwards of 25 euro.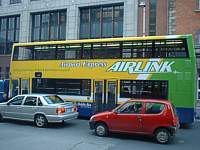 Dublin Airlink Bus
Car Hire at Dublin Airport
Major car hire operators are located in the Arrivals Halls. To save time and ensure you get the car you want, book your rental in advance. Rental car operators from Dublin Airport include:
Europcar
,
Thrifty
,
Avis
and
Budget
.
Dublin Airport Hotel
There are no hotels directly on site at Dublin Airport.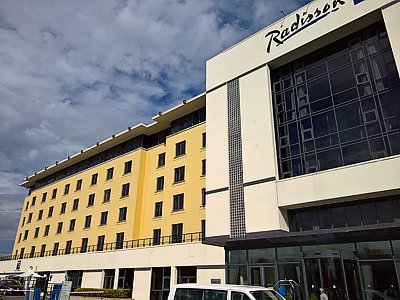 Radisson Blu Dublin Airport
The Radisson Blu Dublin Airport is certainly the closest hotel to the airport, and you can get to it by walking along the access road to Terminal 2, although there is a shuttle bus which goes to the front of terminal 1 (out the back of the multistory). It has extensive business facilities and 27 meeting rooms. The hotel also features a bar and on-site car parking. Rooms are quite decent, and it is the only hotel at Dublin Airport to do a day rate if you are on long interconnecting flights (Dublin Airport Dayroom 9am to 4pm, 100 euro).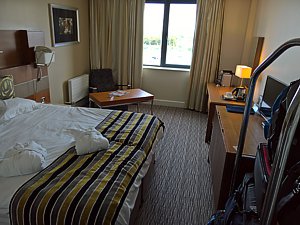 Radisson Blu Dublin Airport
The 204-room Crowne Plaza Northwood is a seven-minute shuttle bus ride from Dublin Airport. The hotel has a restaurant, business centre and 24 meeting rooms. Free internet access is offered to guests
Dublin Airport Left Luggage
Dublin airport luggage storage is handled by a company called Pacific. The Dublin Airport Left Luggage desk is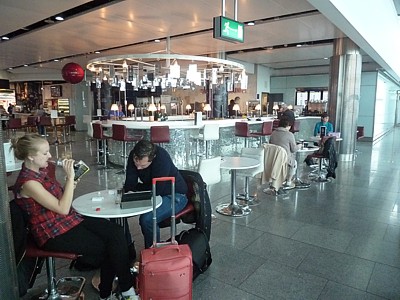 Chocolate Bar Dublin Airport Bar
Car parking
Dublin airport car parking is quite good.
2,900 short term parking spaces next to the terminal, 5 min walk to check-in.
Express Red LT Car Park 8,400 spaces next to the airport, high frequency (5-8 min) shuttle bus, transfer time 5 min.
From Dublin city centre, take the M50 toll road northbound and exit onto the M1 northbound; Dublin Airport is accessible from junction 2.
Dublin Airport Bars and Restaurants
The number of bars at Dublin Airport has to be seen to be believed. Even the Burger King serves pints. However, there is one thing that Dublin Airport is thankfully missing. There isn't a fake Orish Bar to be seen - as indeed, there isn't in Dublin as a whole (unless you include Temple Bar perhaps). Instead, trendy watering holes are the name of the game.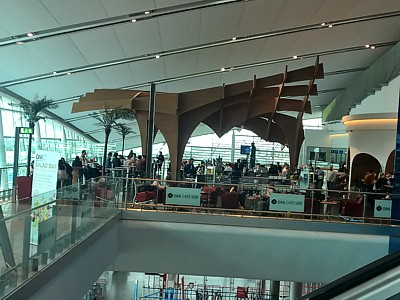 Oak Bar Dublin Airport Bar
Dublin Airport Oak Café Bar
Open: 0400-2000
Landside T2
If you are after sedate landside drinking, the Oak Bar is the bar for you. Rather tucked out of the way, on the left of the escalators as you head out through security after checkin, it is easy to miss and indeed many passengers do, which is actually one of this bar's huge advantages: it is often quite empty.
However, once you know what it is, with its distinctive dramatic wooden artistic roof, the Oak Café Bar is very much a visual landmark in the new Terminal 2.
Pub fare is pretty much normal - sandwiches and wraps, with pints of the black stuff and continental lager.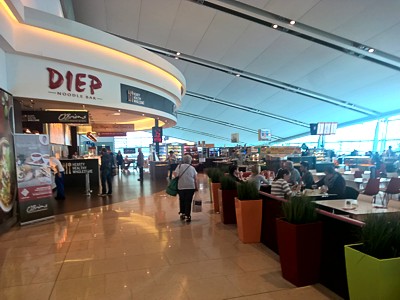 Diep Restaurant Dublin Airport Bar
Diep Le Shaker Restaurant and Bar
Open: 1100-2300
Landside T2
The standard Irish chain of Thai restaurants is present at Dublin airport, with Diep Le Shaker offering up authentic Thai cuisine.
It's part of the wider range of restaurants landside before you head through security in Terminal 2.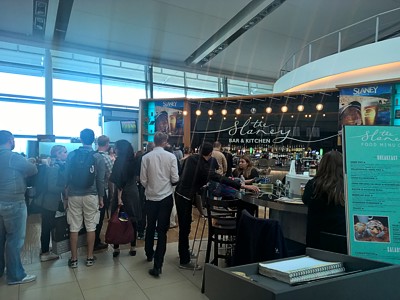 Slaney Bar Dublin Airport Bar
The Slaney Bar
Open: 0400-2300
Airside T2
Known by airport staff as the Sloaney Pony pub, the Slayney Bar is Dublin Airport's main airside Bar, and as such gets packed every afternoon and evening. It really is a jossle your way in with elbows only type place, which is odd as it has one of the best atmosphere's of all the airside pubs at Dublin Airport.
The cocktail list is vast, and there are a number of quite decent gins behind the bar. However it is the crowds, and the huge windows with an airport view, that dominate.
The Slaney also serves up food, with a pretty good cooked English in the morning.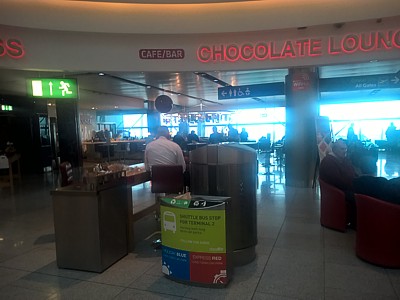 Chocolate Bar Dublin Airport Bar
The Chocolate Bar
Open: 0500-2300
Airside T2
The first bar you'll see airside in T2, the Chocolate bar offers as you would expect a wide variety of chocolates, chocolate drinks and chocolate desserts.
Look, there is even a sushi-style conveyor belt at the counter full of chocolaty goodies.
The view of Dublin airport apron is great, and it will also serve a pint of Heineken.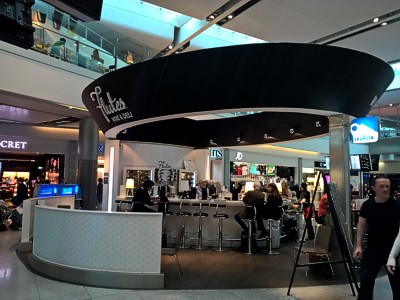 Flutes Bar Dublin Airport Bar
Flutes Bar
Open: 0430-2030
Airside T2
Primarily a sparkling wine bar, offering a type of sparkling wine from France with a C, Flutes is the hyper-trendy bar at Dublin airport, where the main aim is not only to see, but also to be seen.
From the high bar stools anyone who is everyone can see you as you enjoy your tipple.
Along with the bubbles, flutes also serves savoury nibbles such as olives and nuts.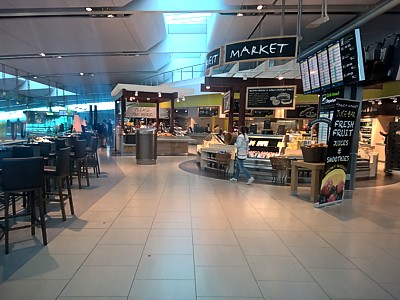 The T2 Market Dublin Airport Bar
Harvest Market resturant and Bar
Open: 1100-2300
Airside T2
It may look like a healthy cafe for bunny huggers, but the Harvest Market can also serve up a great hangover busting hearty Irish breakfast.
This area, up above and away from the main concourse, is often much quieter, and has an opportunity to look out over the entire Terminal 2 bar hopping area.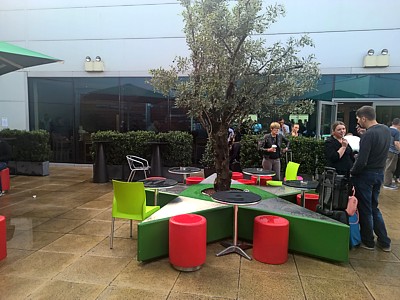 Heineken Bar Dublin Airport Bar
The Garden Terrace and Heineken Bar
Open: 0400-2100
Airside T1
The The Garden Terrace and Heineken Bar at Dublin Airport has one of the best features of Terminal 1 - an outside area!
You can walk outside for some fresh air, although as this part is used for smoking, fresh may not be a term you are always familiar with.
The inside space of the bar is the Café and Grill, where (if you can find a table) there is a table service menu by Simon Mooney. He is an award winning Irish chef, and he cooks the most amazing Breakfast Grill. Also worthy of note is his death by chocolate dessert.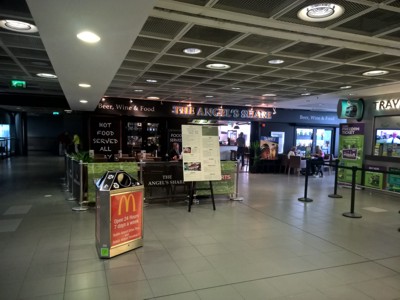 Angel's Share Bar Dublin Airport Bar
Angel's Share Bar
Open: 0800-2359
Landside, T1 Arrivals
Finally, a bar which looks almost, but not quite, like a fake Orish bar. Appropriately it is Terminal 1 arrivals, and is the first bar many people see when arriving in Dublin for the first time.
Rather like a bar at Charing Cross Station, it's a high throughput, wait for your friends and then slurp and go type bar. The outside area is the most popular, thanks to being able to see arrivals when you, arrive, as it were.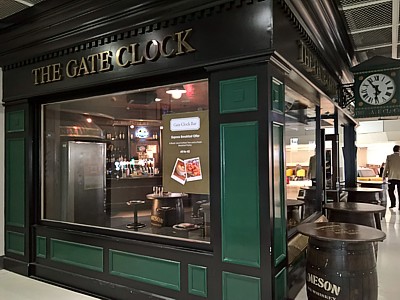 Gate Clock bar Dublin Airport Bar
The Gate Clock bar
Open: 0700-2300
Airside T1
This is about the closest the bar scene at Dublin airport comes to being a fake Orish pub. From the large wooden barrels to the wooden pannelled bar, it looks great.
Alas, right in the middle of the old terminal isn't the most atmospheric location, and the TV is often on loud showing GAA, however the pints are good.
However, because it has been here so long, the Gate Clock bar is the most famous of the many bars at Dublin airport. Many many pubcrawlers have propped up the bar in the Gate and let the time fly by before they do.
The bar itself is a classic Irish Bar with a Jameson snug and dark wooden paneling donning the walls.