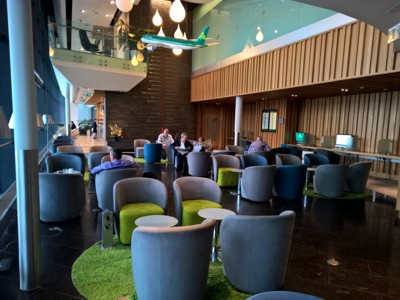 Dublin Aer Lingus Business Class Lounge
NEWS: The Aer Lingus Business Class Lounge at Dublin Terminal 2 is now fully open. The lounge is also now selling entry, either when you book a ticket, or on the door, for 25 euro
The brand new Dublin Aer Lingus lounge in Terminal 2 is a world away from the old Gold Circle lounge in Terminal 1.
A nice large bright contemporary lounge, the only real problem is that it is designed for short haul flights and there is no real hot food, other than a tub of stew.
To find the Dublin Aer Lingus Lounge, once through security and passport checks, go through the vast duty free area and then take the escalators downstairs. At the bottom turn left, and there is a sign to all the airline lounges.
There are high ceilings and great floor to ceiling views, so it feels airy with tarmac views. There are three main areas to the lounge. When you first enter, there is a large big room, under a giant model of an A350, and a large wall with Irish heros listed on the stonework - a lovely feature which is aesthetically pleasing.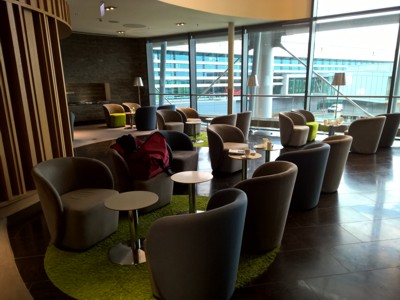 Dublin Aer Lingus Lounge
A computer shelf is to the left, and the food area is straight ahead.
A real curiosity are the group of four chairs, on a round circle of green carpet which looks like grass! Most people choose to sit here, but further in is quieter.
Past the main seating area is the tiny buffet, opposite which are several tables with chairs. This is a good work area, but there are no power sockets near the tables.
Further past here, there is another seating area, with a TV.
Don't miss the stairs though. On the upper level there is a decent quiet area, with loungers, overlooking the view, and another bar. Finally, past this, and the doors to the showers, is an area that is almost always deserted, with much more comfortable chairs. It's great.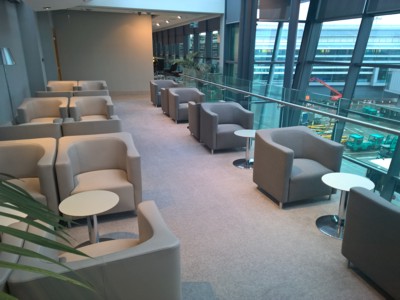 Dublin Aer Lingus Business Class Lounge
Food
Food in the Dublin Aer Lingus Terminal 2 lounge is just down to nuts and crackers, packets of cheese, and yoghuts.
There are also a selection of crackers pretzels and various breads.
There are a few pastries and croisants in the morning, and a pretty good fruit salad, plus three jars of cerial.
However, there is also hot food, in one tub at the end of the coffee machine. It's almost always some kind of meat stew.
Bar
The bar in the Dublin T2 Aer Lingus Lounge is very basic indeed, with just six spirits on an optic which look as if they were picked up from bmi at a second hand sale. Jamesons Whisky, Bacardi, Rum, Vodka, Gin, and oddly Baileys (which isn't kept in the fridge).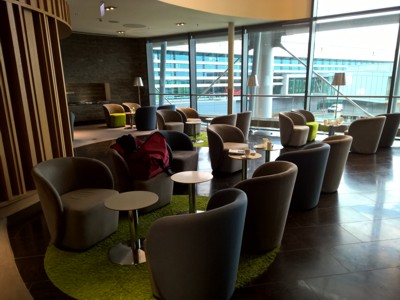 Dublin Aer Lingus Business Class Lounge
There is a wine bucket with a couple of whites, and a red on the worktop.
Beer is in the fridge below the optics. There are cans of Guinness, and cans of Heineken. And that's about it.
Bathrooms
There are showers in the lounge, and very swish modern bathrooms they are too. They are on the top floor, in the quiet area, however the doors are kept locked - for access ask reception.
There are also bathrooms on the lower level.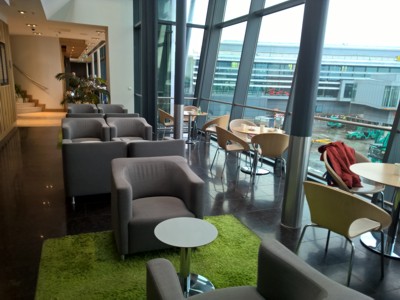 Dublin Aer Lingus Business Class Lounge
Business Facilities
There are three computers (imacs, fairly new) on the right on a shelf as you enter, but they aren't very private - everyone in the room can see what you are doing.
Under the shelf there is also a printer, but it is forever suffering paper jams.
There are power sockets in the lounge (square pin, UK style), and free wifi.
A basic newspaper rack in the curved stonework at the end of the lounge has all the daily Irish newspapers, and indeed a couple of UK ones (Mail and Times).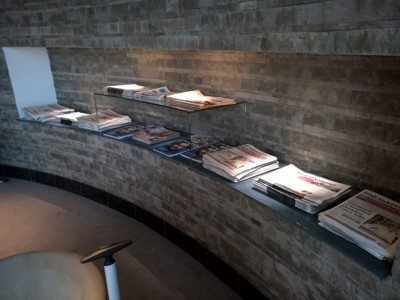 Dublin Aer Lingus Business Class Lounge
Access
There is of course access for Aer Lingus Business Class, Gold Circle Elite and Prestige tier members.
A real novelty is that you can buy access for 25 euro, but only if you are flying on Aer Lingus. This option is presented when you book your ticket, or you can buy access on the door. Note that the DAA lounge next door only costs 20 euro, but a Dublin Airport Lounge review must note that the Aer Lingus lounge has a slightly better (less 1960s) atmosphere.
You can also access the Aer Lingus Dublin Lounge with a British Airways Gold or Silver Executive Club card, however only on flights to London Heathrow.