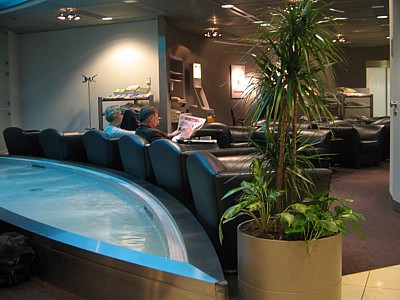 Munich Lufthansa Senator Lounge Schengen
Munich is much less of a hub than Frankfurt, however it does have a lot of flights to many parts of the world. As a result it has two floors (Schengen, and non-Schengen) both of which have both types of lounge - Senator and Business. On the Schgenen floor, you actually have three different Senator lounges to choose from. This one, which is the old one, the newer Senator lounge with the cocktail bar by G28, and the small Senator Cafe by the gates.
At Munich, changing planes can involve a long walk, but at least the layout of the airport is pretty simple - however to find the lounges I recommend asking for a map of their locations.. The lounges can be quite a hike from the gates, and they don't always announce departures, so watch those monitors carefully and give yourself a little extra time to make your boarding.
This lounge is the main Senator Schengen trans-Europe lounge for Lufthansa at Munich. As a result it is always clean, tidy, with the best atmosphere - and a great paddling pool in the middle of the lounge; indeed this lounge was the first one with the new Lufthansa lounge design. Not that it is designed for paddling, but the water feature does look very good.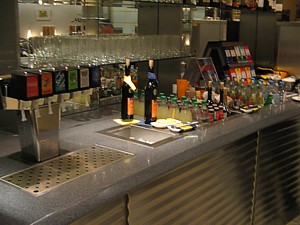 Munich Lufthansa Senator Lounge
As you walk in, you notice that the entire lounge is built around curves. You curve around the initial set of leather armchairs. On the far wall are the TV screens showing departures. Then you hit the dining area, with a curious migration from the Frequent Flier lounge - light grey chairs. On the left is the buffet, and on the right are a load more comfy armchairs.
Alas it has only 141 seats, and with so many Schengen now, the lounge can become quite crowded during peak times. There is an extensive sleeping area, and showers.
Food
Food has a pretty good buffet, with burgers and chunks of pork, along with trays of coleslaw and salad.
The bread basket is particularly good, and the Gerkins are some of the best in Lufthansa lounges around the world.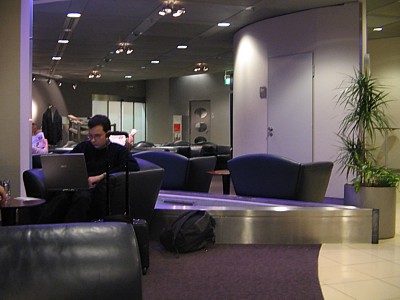 Munich Lufthansa Senator Lounge Schengen
Bar
Beer of course, is the Bavarian party juice, and in this lounge there is something special - the beer pumps are manned, and you even get beer served at your seat.
There is Lowenbraw and Fransikamer (white) beer on draft, in logoed glasses.
Wine is however quite poor, and just comes in with three whites in a bucket of ice. There is no Champers, just sparkling Chardonnay.
Bathrooms
In lounge, with showers.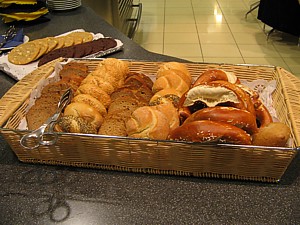 Munich Lufthansa Senator Lounge
Business Facilities
There are a reasonable number of German Newspapers on the rack, by the door, but no English papers, just the USA Today the US Herald.
There is a small business centre with 4 seats, a fax and copier, but no computers. There are two phone booths.
Wifi comes from the airport's own supply.