Munich Airport Guide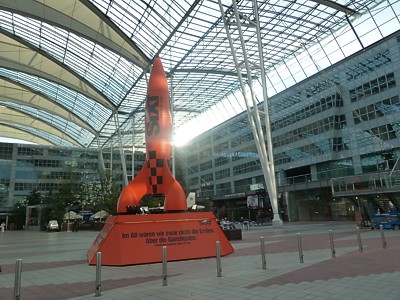 Munich Airport Terminal 2
Munich Airport is a vast airport, the second largest in Germany (after the mega airport of Frankfurt), located just 17 miles (28km) north of Munich.
It's big, clean and modern, and boasts a connection time of just 30 minutes: indeed Munich Airport Transfers are a dream, compared to the mile long hikes transferring at Frankfurt. A hub for Lufthansa, many passengers choose to transfer here from smaller destinations to long haul routes simply because the airport makes it easy.
With the opening in 2004 and future extension of Terminal 2 (used by Lufthansa) Munich Airport reviews are always pretty good. The range of shops, caf´s and eateries in the landside Central Area and in Terminal 2 (landside and airside) are excellent. There's even an airport micro-brewery, called AirBräu.
It's busy, with 40 million passengers a year, and the world's 14th busiest airport in terms of international passenger traffic. London is the most popular destination,followed by Paris, Barcelona, and Amsterdam. Dubai comes in at eighth spot, and the US (Newark) at twentieth. Indeed, most passengers transfer, which means the lack of transport from Munich Airport to the City Centre isn't too much of a problem, unless of course you want to actually visit the city! There is a slow suburban railway, taking three quarters of an hour, and the unused inter-city rail tunnel and station under the airport remains abandoned.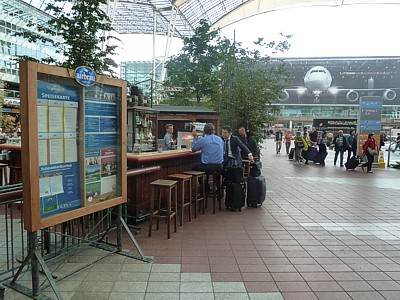 Munich Airport Munich Airport Centre - Terminal 2
Its full name is "Flughafen München Franz Josef Strauß", and it is named in memory of a former Bavarian Prime minister. Free Wireless internet access is available throughout Munich Airport, but only for the first 30 minutes, and you need to have a European mobile to which an access code is sent to you by text.
The Munich Airport Centre (sometimes shortened to MAC) is a shopping area between the two terminals (called Zentralbereich in German). The S-Bahn station is here. It has Europe's largest overall roofed area, which is used for a Christmas fair in winter and a beach volleyball in summer. There is even a fully equipped hospital with about a dozen beds in the Munich Airport Centre - you can fly in, have an operation and fly out again without ever having left the airport. Airports don't get better than this.
There are two different terminals at Munich Airport. The terminal 2 is one of the most modern and efficient terminal in the world. This terminal is only used by Lufthansa and their partners. All other airlines are operating at terminal 1 which is almost as modern and convenient as well.
You might get a problem if you want to change from terminal 1 to terminal 2 airside: It will take you at least 20 minutes taking a bus; if you have an EU passport, walking landside is a better option via the MAC.
Munich Airport Terminal 1
Munich Airport Terminal 1 is the oldest terminal, from 1992, and it is subdivided into five modules, which are self-contained sub-terminals. Schengen modules are A and D, while long haul and UK are modules B and C. At over a kilometre long with 21 jetbridges, the Terminal is no slouch, as you may find walking from one end to the other.
Munich Airport Terminal 2
Terminal 2 was finished in 2004, and Lufthansa which dominates the terminal. Arriving and departing passengers are not separated, so transfers are a breeze. Half a mile long, the terminal is equipped with 24 jet bridges. Schengen flights are on the lower level 04 (G), while non-Schegnen are on the upper 05 (H) level.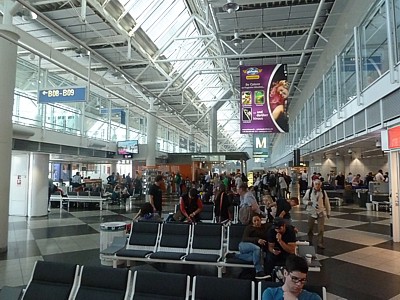 Munich The older Terminal 1
There are two well- stocked Edeka supermarkets (one in the landside Central Area and the other in Terminal 2 landside), an airport micro-brewery (oh yes!) in the excellent and cheap AirBräu restaurant in the Central Area (AirBräu also has other outlets in Terminal 2 - they brew good beer and the tasty food is amazingly good value for money), a good Asian restaurant and sushi bar in Terminal 2 landside, free coffee/tea and newspapers in Terminal 2 airside departure areas and excellent facilities all round.
Terminal 2 is very spacious, bright (lots of natural lighting) and has excellent toilets and other facilities. Try the open sandwiches on freshly baked breads of various sorts in one of the trendy snack bars in the extra-Schengen departure lounge.
The Terminal 2 extension satellite building will adds an additional 11 million passengers a year, adding 52 gates and 27 passenger air bridges.
There is a great viewing terrace on the roof of Terminal 2; access is free, and the view of the planes landing is very good.

First & Business Class lounges at Munich Airport
Munich Airport transportation
When MUC was inaugurated in 1992, some critics said that it`s an airport that can only be reached by air. Unfortunately, nothing has changed during the past quarter of a century. It is really a pity that it takes 45 minutes from the central station to get to the airport some 17 miles away.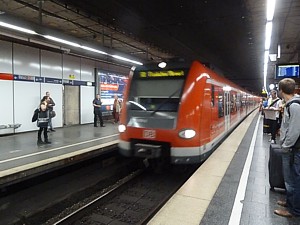 Airport Train Munich Airport
Munich Airport train
Most people getting from Munich airport to city centre locations use the train. Alas there is no train going directly to the airport without a stop every 5 minutes, and taking for ever. The Munich Airport train is the old suburban S-Bahn.
Two railway lines depart from Munich Airport to the city centre every 10 minutes, with trains alternating between lines S1 and S8. S1 runs from the airport through the north west suburbs and then calls in at the Central station, Marienplatz, and the East station. Meanwhile the S8 comes from the east, and hits the centre stations in the opposite direction.
Trains run 20 hours a day (closed between 01:30 and 04:00) and both lines take 45 minutes, although the S8 is marginally quicker. The single fare is €10.40, but MVV sell a Single Day-Ticket for the entire network for € 11.70. There are no ticket barriers, but you must validate your ticket - otherwise the fine is €40. Stamping machines (called Entwerter) are blue with a black "E" on a yellow background - are at the entrance to the S-Bahn platform.
There were plans for a Transrapid maglev train which would have only taken ten minutes to get to Munich Central Station, but plans were axed in 2008 in the wake of the European financial crisis.
Munich Airport shuttle bus services
Lufthansa runs an Airport Bus to Munich Central Station from the airport, for € 11 one way, and taking 40 minutes.
tickets are sold at the Service Centre on level 3 of the Munich Airport Centre.
Munich Airport taxi services
Taxis are available from Munich Airport to the city centre (journey time: 45 minutes, fare: from €55).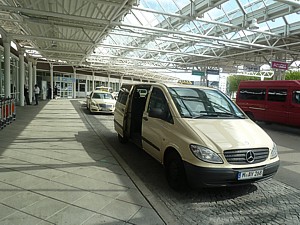 Munich Munich Airport Taxi
Car Hire at Munich Airport
Major car hire operators are located on Concourse A of Terminal 1. To save time and ensure you get the car you want, book your rental in advance. Rental car operators from Munich Airport include:
Europcar
,
Thrifty
,
Avis
and
Budget
.
Munich Airport is located just off the A92 between Munich and Deggendorf and is accessible from four motorway exits. Connect to the A92 from the A99 Munich ring road from southern and eastern destinations. Alternatively, take the smaller Route 388 from Munich towards Erding, and turn off north for the airport just before reaching Erding. Once at Munich Airport, follow the signs to Terminals 1 or 2.
Munich Airport Hotels
There are two hotels directly at Munich airport.
The Hilton Hotel Munich Airport backs onto Terminal 2 and the central area, and was previously known as the Kempinski. There is a good pool and gym.
The Munich Airport Novotel is located beside the long-term car park. There is also an on-site restaurant serving lunch and dinner.
Munich Airport Left Luggage
Munich airport luggage storage is handled by the left-luggage office in the Service Centre at the Munich Airport Centre.
Car parking
Munich airport car parking is quite good.
Underground car parks P1, P2, P3, P4 and parking areas P9, P10 and P20 offer short-term parking facilities (up to one week) near the terminals.
Long-term parking is available in P20, which is next to the Kempinski Hotel.
Munich Airport Bars and Restaurants
There are two schools of thought when it comes to flying and drinking.
Conventional wisdom has it that over-indulgence could be a contributory factor to DVT, and will get you arrested when you try to open the door at 30,000ft.
If, however, you weigh up the arguments before going ahead and want to order 15 pints and a whisky chaser, Munich could be the airport for you. It has its very own brew pub churning out nearly 53,000 gallons a year of Bavarian party juice. The AirBräu is world famous, and some people fly to the airport just to head to the pub.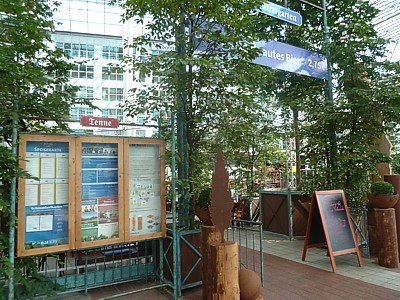 AirBräu Munich Airport Micro-Brewery
AirBräu Airport Micro-Brewery
Open: 1000-0100
Landside, Munich Airport Centre
The vast open air
AirBräu
is such a lovely spot, you have to pinch yourself to remind yourself you are at an airport. A micro-brewery in an airport.
There are actually three AirBräus. The brewery tavern, Romantic Bavarian beer garden (in the Munich Airport Centre), and the Bavarian gemütlichkeit (in the transit area).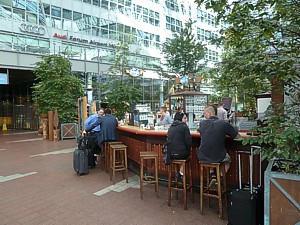 AirBräu Munich Airport Micro-Brewery
AirBräu brew good beer, such as the FliegerQuell, a classic semi-dry ale, Kumulus, a refreshing weissbier, and Jetstream, the new Pilsener. The tasty food is amazingly good value for money. Every Sunday afternoon (in Summer) they also have live bands in the outdoor beer garden.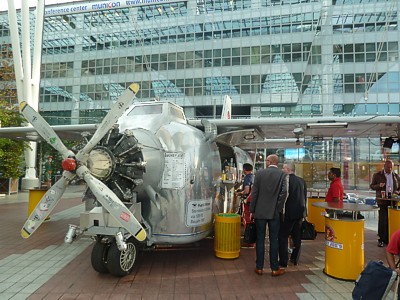 Smokey Joes Munich Airport Coffee Plane
Smokey Joes
Open: 0600-2300
Landside, Munich Airport Centre
It's a coffee cart. Shaped like an aircraft. That's all you need to know.
Wiener's Der Kaffee bar
Open: 1100-2300
Airside, Terminal 2 Departure (Level 05)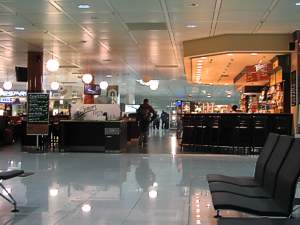 Munich Wiener's bar

It's a traditional Viennese cafe with a large choice of coffee specialties and delicious Austrian dishes.
Open daily from 5am to 10pm, it has local bands on Thursdays.