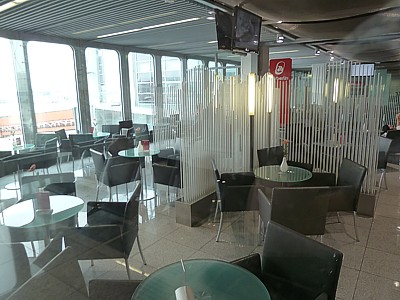 Dusseldorf Air Berlin Lounge
If you're expecting a large decent lounge at Air Berlin's Düsseldorf hub before a flight around Europe, you may be out of luck. While there is an excellent Düsseldorf Air Berlin lounge for non-Schengen locations like London, for most flight around Europe you are dumped in the Schengen area, and here there is just what airberlin offers what it terms 'Exclusive Waiting Area'.
Really more like a low-key 'express lounge' than a full-blown business class lounge, it is little more than a screened off area of the main terminal.
There is a hard tiled floor, chairs and tables that wouldn't be out of place in a motorway service station, and err, a coffee machine.
Food
There is a small vernding machine offering packets of biscuits.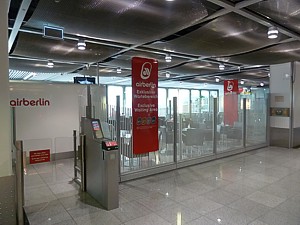 Dusseldorf Air Berlin Lounge
Bar
None.
However there is a cofee machine, and soft drinks.
Business Facilities
There are power sockets for your computers.
There is a small newspaper rack, but you are banned from taking papers out of the lounge.
Bathrooms
None.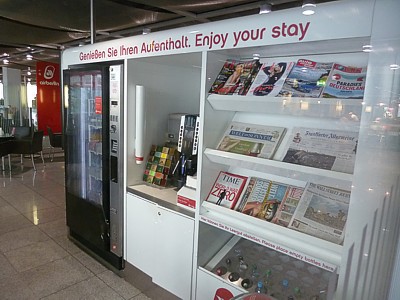 Dusseldorf Air Berlin Lounge
Access
You'll find the Air Berlin Lounge on level 2 in Pier B, Schengen Zone.
Access only to Silver, Gold or Platinum card holders in Airberlin's topbonus frequent flyer scheme, and Virgin Australia's Velocity Gold and Platinum members.
No access to oneworld Platinum or Emerald status passengers.