Dusseldorf Airport Guide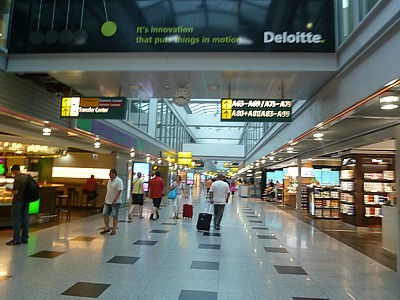 Dusseldorf Airport
The large, new airport at Düsseldorf is a delight to fly from, or even transit. Light bright airy and modern, it shows just what can be done when the original airport burns down to the ground, and has to be build from scratch again.
Just four mile (7km) north of central Düsseldorf, it is a short cab ride into the city centre. Or, indeed, to anywhere in North Rhine-Westphalia (called NRW by the locals, surrounding Essen in the Rhine-Ruhr area, which is Germany's largest metropolitan and manufacturing area.
Düsseldorf is the third largest airport in Germany after Frankfurt and Munich, with handling 23 million passengers a year, so it is no tiddler, and it has several long haul flights, both from resident Lufthansa (to New York) , plus Cathay Pacific, Delta, Etihad, Emirates (to Dubai), All Nippon (to Japan), and Air China.
Known as the "airport of short distances", a Düsseldorf airport guide always comments on the easy way it is to walk from one end of the three sub-terminals to the other, and then straight out to the car park or train station. All three terminals are connected both airside and landside. After security there are short 'clingon' walkways between the three arms, but conveniently have no additional security checks, except for the tiny non-Schengen end of Terminal B.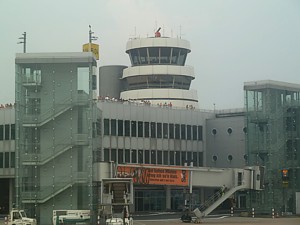 Düsseldorf Airport
Düsseldorf Airport Terminal A
The main Lufthansa terminal at Dusseldorf, Terminal A has 16 gates, and was rebuilt on the original frame after the catastrophic 1996 fire.
Düsseldorf Airport Terminal B
Used for mainly one-world airlines, Terminal B is split into two, with the furthest 'point' used for non-Schengen airlines, however there are very few facilities after passport control. Terminal B is the newest, being totally rebuilt after the catastrophic 1996 fire. It houses an observation deck on the top floor.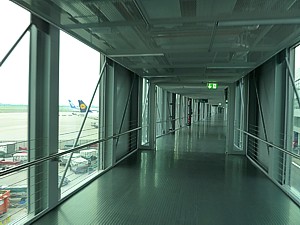 Düsseldorf Airside walkway A to B
Düsseldorf Airport Terminal C
The much smaller Terminal C at Dusseldorf airport only has 8 gates and all of them are after passport control, and as such are used exclusively for non-Schengen-flights. It does however have three jet-bridges to handle Emirates Airbus A380, and the airline also has its own lounge here. Terminal C has direct access to the Maritim Hotel.
First & Business Class lounges at Düsseldorf Airport
Düsseldorf Airport transportation
Düsseldorf Airport is one of the easiest airports to get to in Germany. Road[edit]
Düsseldorf Airport train
Taking the train is the easiest way to get to Düsseldorf Airport, and it is easy and quick, however the station is a staggering 2 miles from the terminals. However an automatic, suspended monorail, called the SkyTrain, links the terminals to the station.
There are actually two railway stations, for the suburban lines, and for long-distance trains, including ICE high-speed trains. The suburban S-Bahn line has the Düsseldorf Airport Terminal station right under the terminal, and it is served by the S11, which runs into the centre of town.
Düsseldorf Airport taxi services
Getting a taxi to and from Düsseldorf Airport is usually trouble free.
There are ranks outside all three terminals, with fleets of large Mercedes taxis.
Car Hire at Düsseldorf Airport
Major car hire operators are located in the Arrivals Halls. To save time and ensure you get the car you want, book your rental in advance. Rental car operators from Düsseldorf Airport include:
Europcar
,
Thrifty
,
Avis
and
Budget
.
Düsseldorf Airport Hotel
There are two Dusseldorf Airport hotels.
The Sheraton Düsseldorf Airport Hotel is in the central 'circle' of the car park, opposite all the terminals. Light bright, contemporary and modern, it has a restaurant, a bar & a roof garden, plus direct terminal access by foot.
The Maritim Hotel and Congress Centre is a Sheraton Hotel at Dusseldorf Airport, and connects directly to the check in area of Terminal C.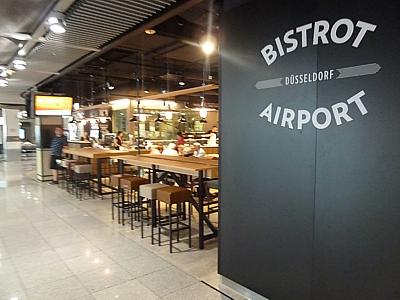 Düsseldorf Bistrot Bar
Car parking
Düsseldorf airport car parking is quite good.
The airport is an easy drive from central Dusseldorf on the motorway A44, with links to motorways A52, A57 and A3. The drive takes about 15 minutes.
Düsseldorf Airport Bars and Restaurants
Bar Bistrot
Open: 0430-2200
Airside Terminal B
One of two Bar Bistrots at Dusseldorf airport, it is one of the better places to drink if you don't have lounge access.
All very functional and with an urban warehouse vibe, in the morning it's a coffee den, but mid evening it turns into a semi-restaurant with a wine bar style.
Decent pizzas.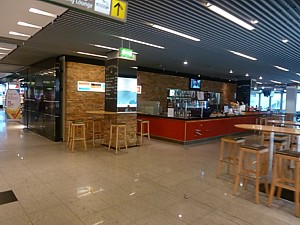 Düsseldorf Terminal B Bar
Coffee Bar
Open: 0600-2100
Airside Terminal B
Right in the middle of terminal B, it does an OK coffee and sandwiches.