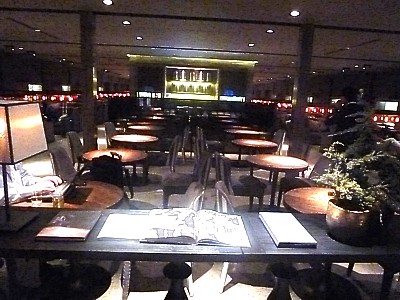 China Airlines Taipei Taiwan Business Class Lounge
The new China Airlines Taiwan Taipei lounge has had another revamp, and has one of the most unusual interiors you'll find for an airport lounge. It is a master piece in wood-and-tent style construction.
As you walk into the new lounge at the China Airlines hub it resembles a cave, with dark stone walls hewn from the living rock. Which seems odd, as you actually walk upstairs to the light filled 'lounge' corridor between the A and D gates to get to it. At reception there is the China Airlines logo carved from beach wood.
There are various sculptures of a stork on the main reception desk, which also features a giant bonsai tree. There is also a vast, huge, lantern.
At the desk you'll either be directed all the way down the corridor to the Business lounge, or half way down and turn right, into the First Class lounge.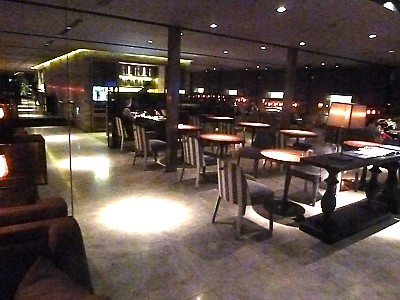 China Airlines Taipei Taiwan Business Class Lounge
The lounge is brand new, and is a revamp as part of China Airlines' 'NextGen' program, which apparently means "the VIP lounge offers a relaxed setting that re-interprets Eastern aesthetics by merging modern design with literary art."
It is located on the same ground plan as the older rather dated lounge, but China Airlines have gone for a cave carved out of rock look. And so, you walk down a long Hualien granite stone lined corridor, with Dr Who esque doors on each side. The only bright light is oddly, the newspaper rack, about half way along.
The new Taiwan China Airlines Business Class lounge Taipei seats 220, with zoned areas. There are seat zones at the side, and dining by the noodle bar, and a with a southern China style garden at the far end. Led by NexGen designer, Ray Chen, the design and construction of the Terminal 1 VIP lounge took around 6 months to complete. The design was inspired by Song Dynasty aesthetics.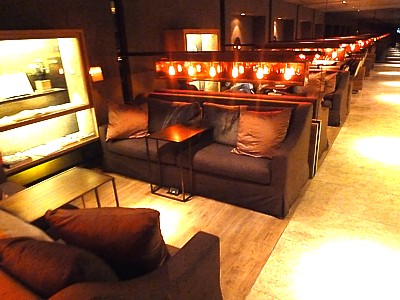 China Airlines Taipei Taiwan Business Class Lounge
Referencing images of the Suzhou Surging Waves Pavilion, the feeling of nature continues through the lounge with the use of a beautiful carved wood door by a master carpenter from Sanyi.
Each seating area is almost a masterpiece in comfy sofa around a bookshelf in a living room style. It's great if the lounge is half empty. Less so if it is full and you have to share with someone else.
Food
Food is brilliant in the China Airlines Taiwan Taipei lounge if you love Asian food. Less so if you want anything other than noodles.
There is a cook to order 'theatre kitchen' noodle bar at the far end, opposite the two long low dining tables, however you hardly need it as there are all different sorts of Taiwanese food arranged around the three sides of the square of the kitchen.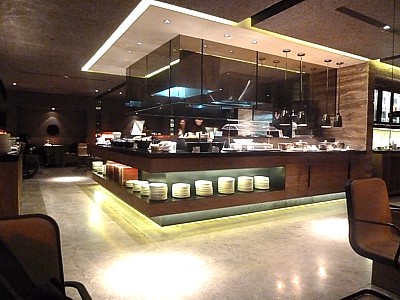 China Airlines Taipei Taiwan Business Class Lounge
Starting anti-clockwise there is a good salad bar, with lettuce, tomatoes, cucumber and herb shorts. Then there are interesting pastries. The cheese selection is vast, particularly if you like blue cheese. And there are lots of cold cuts of meat too.
Bar
The bar is sadly one of the few things the China Airlines Taipei Business Class lounge doesn't do well. The bar itself is hidden in an alcove at the opposite end to the noodle bar.
There is a choice of just one bottle of white wine, sitting on a bed of ice, and one bottle of red.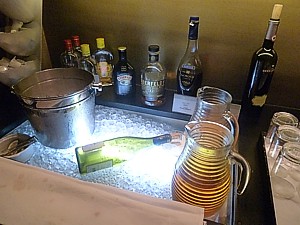 China Airlines Taipei Taiwan Business Class Lounge
Spirits are even more basic, consisting of little flash sized bottles of Smirnoff vodka, Gordon's Gin, Baileys, Aberfeld, Noblige, and a minute bottle of port.
Beer is Heiniken or Sapporo in the fridge.
Business Facilities
There are no computers in the China Airlines Taipei Business Class lounge: however there is free wifi.
There is a very good and comprehensive magazine rack in the corridor. It is less good for newspapers: the only English ones are the American Wall Street Journal.
China Airlines Taipei Taiwan Business Class Lounge
Bathrooms
Around the corner, out in the corridor.
Full shower suite.