Taipei Airport Guide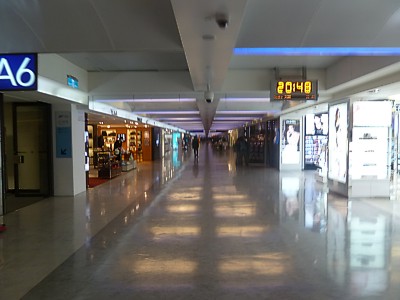 Taipei Airport Terminal 1 airside
Taiwan Airport is a medium sized airport on the outskirts of Taipei, and is by far the largest airport in Taiwan.
The full name of the airport is Taiwan Taoyuan International Airport, and it is about 30 miles (40km) west of the city. With 35 million passengers a year it is no tiddler, and indeed the airport was the 11th busiest airport worldwide in terms of international passengers number.
The vast bulk of international flights are the short hop to Hong Kong, Tokyo, Osaka, and Shanghai in that order. China Airlines, Eva Air, and Cathay dominate the traffic, as you might expect.
There are two terminals, which are connected by two, short people movers. There are also airside connections, so for many transit passengers it just seems that you are moving from Gate A to Gate D - whereas in fact you've walked between terminals.
Both terminals are showing their age, particularly Terminal 2, which was built in 2002 and is already looking dated.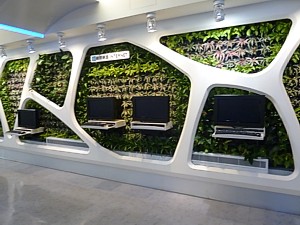 Taipei Airport Terminal 2
Taipei Airport Terminal 1
If Terminal 1 looks familiar - that's because it is. The design of the building is based on Washington Dulles International Airport (IAD). And indeed, when you standing at check in, the similarity is striking. It's as if it was moved 12,000 miles east. And with a lot of extra heat and people added.
The terminal was white in 1979, but now it has a beige hew as if it had been smoking for years. Or maybe that's just the passengers.
The terminal forms a giant H, which along with terminal 2 also forms another H, joining in the middle to make a big square with arms.
There is a great sleeping nook in T1, near gates B7. It is hidden in the garden area of the art gallery.
Terminal 1 has 18 gates. The north concourse is Concourse A (used by China Airlines) while the south is Concourse B (from where Cathay Pacific operate).
Taipei Airport Terminal2
The new Terminal 2 was opened in 2000, but already it is looking dated. There are 20 gates, with the South Concourse C used by Eva Air and the North Concourse D used by China Airlines.
A great feature of this terminal are the hanging garden walls, and also the computers which are screwed to these walls. They are pretty slow old PCs, but they are welcome never the less, and use is free.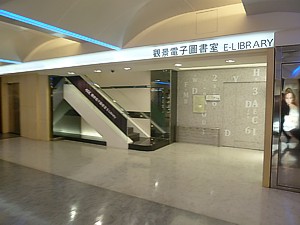 Taipei Elibrary
Taipei Airport E Library
Open: 1100-2100
Airside by gate 5, T2
At Taiwan Taoyuan International Airport there is what is called the world's first in-transit 'e-library waiting lounge'. The e-books are stored on 30 iPads, which are loaned out on a first-come first-served basis. And all are free of course.
There are 400 English and Chinese-language e-books, as well as 2,000 regular books and newspapers and magazines.
It is located on the main A concourse of Terminal 2.

First & Business Class lounges at Taipei Airport
Taipei Airport Terminal Map
Taipei Airport transportation
Taipei Airport train
The brand new Taoyuan International Airport MRT High Speed tail links both terminals to Taipei and Taoyuan City, taking just 35 minutes.
Using this rail line you can also connect to the Taiwan High Speed Rail Taoyuan Station, which is also accessible by shuttle bus from both terminals.
Taipei Airport shuttle bus services
The airport runs a shuttle bus network connecting the airport, the Novotel Hotel and the THSR station, which run every five to ten minutes and take 25 minutes to get to complete a loop.
You must buy a ticket ahead of each journey from the UBUS service counters at Arrivals Lobby of Terminals 1 and 2.
Taipei Airport taxi services
Getting a taxi to and from Taipei Airport is usually trouble free.
Taxis are located at the west side of arrivals at Terminals 1 and 2. Fares are meter-based, highway tolls not included. Taxis will also transport passengers throughout all of Taiwan according to passenger need. Fares are charged according to set standard rates. They operate 24 hours a day, year round.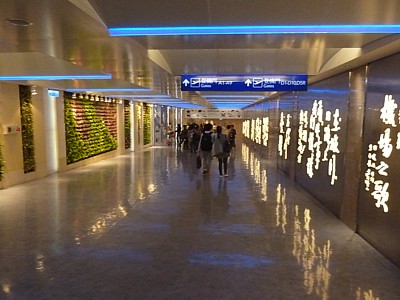 Taipei Airport Terminal 1 airside
Taipei Airport Hotel
There is are two airport hotels at Taipei airport. One is airside, and one is landside.
The Evergreen Transit Hotel is located within the Departure Transit Lounge, and is great if you are transiting between international flights as you don't have to go through security or passport control.
It is on the 4th floor (airside) of Terminal 2, and day room rates are available.
Landside the Novotel Taipei Taoyuan International Airport is just outside the main terminal, but rather hard to walk to. There is however a bus, which leaves every 30 minutes from 6am to 11:30pm from outside the terminal and takes five minutes.
A pretty standard Novotel, it has 360 rooms, two restaurants, three bars, a gym, and a pool.
Taipei Airport Bars and Restaurants
Taipei Airport Bistro D Bar
Bistro DBar
Open: 0600-2300
Airside
The Bistro D is the main cafe in the D concourse of Taiwan airport.
It's OK, and the staff speak some English, however you may find it easier to point at the dishes that look appealing.