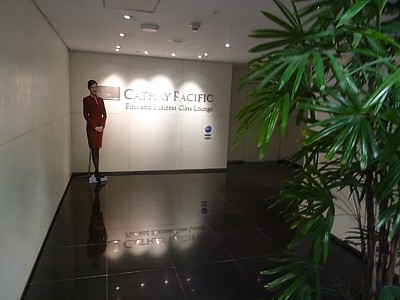 Cathay Pacific Taipei Taiwan Business Class Lounge
The Cathay Pacific Taiwan Taipei lounge is a pretty standard Cathay lounge, although also pretty big, and so it should be with the vast amount of traffic it gets on the huge number of flights to Hong Kong.
At the top of the corridor between the A and D gates, the lounge is airside on the 4th floor of Terminal 1.
The Taipei Cathay Pacific lounge is mainly Business Class, with a small unmarked door if you want to get to the First Class lounge, which is really just a small box room off the main lounge, but with larger white sofas. The food is however much better in the First lounge, and there are two types of wine.
The Cathay Pacific Taipei lounge is fairly standard, with a great view of the apron and gates below the lounge. At the far end is a basic white marble worktop and stool seating overlooking the food area.
Further around there are banks of classic Cathay armchairs in rather fetching orange.
Incidentally, nowhere in the lounge is there a Cathay Solus chair in sight - there simply isn't room.
Food
The Taipei Cathay Pacific lounge comes fully equipped with the famous Cathay Pacific noodle bar, where you can order hot Beef Noodle (spicy), Dry Noodles with Minced Pork (spicy), Pickles & Shredded Pork Noodles, or Mixed Vegetable Noodles. All are cooked in front of you. The menu is on an oddly giant sized TV screen by the open theatre kitchen.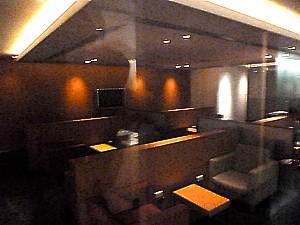 Cathay Pacific Taipei Taiwan Business Class Lounge
There is also a buffet table, with sandwiches, crackers, pastries, veggies, and pork buns.
Bar
The bar in the Taipei Cathay Pacific lounge is laughably basic, with six bottles of spirits on optics beside the coffee machine - Beefeater Gin, Black Label whisky, Smirnoff vodka, Jim Beam and Chiva, plus Bacardi rum.
There and two types of beer in the fridge. Cans of Sapporo or Heineken are all you get.
Instead there is one solitary bottle of white in the fridge.
Business Facilities
There are two business centres in the Cathay Pacific lounge Taipei. One is the business class section had imacs, while in the First Class lounge there are HP desktop computers.
Bathrooms
In lounge. No Showers.