Firstly - are you sure you want to visit the
SATS
lounge at Singapore Terminal 2? Invites to the SATS lounge are handed out by airlines without their own lounge at Singapore, such as United Airlines and Malaysia Airways, but there are far better lounges you can visit thanks to the Star and oneworld Alliances.
Singapore SATS Lounge Terminal 2
Also, if you want to buy access, there is also the Ambassador pay-per-use lounge, which has showers. It is very confusing.
Indeed, woe betide you if you arrive at Singapore after a 14 hour flight hoping for a decent rest in a quality lounge before your ongoing flight. You won't get that at the SATS lounge in Terminal 2, however to be fair, the lounge does have hot food, showers, and comfy chairs, so it's far better than lounges at other airports. But, compared to the delights of the British Airways lounge at Singapore (which you can visit if you are on Malaysian Airlines for example) it's not that great.
The Singapore SATS lounge Terminal 2 is high up, above the shopping centre. There is an escalator by Duty Free, and then over the small bridge. You should have been presented with an invite card at check in, but the lounge reception is normally good enough to let you in with a boarding card for Business Class, but are unable to check Frequent Flyer cards.
The lounge can get very crowded, particularly before the United Airlines flight leaves in the late evening. Seats are hard and uncomfortable. Thankfully there are windows, but even so it seems claustrophobic.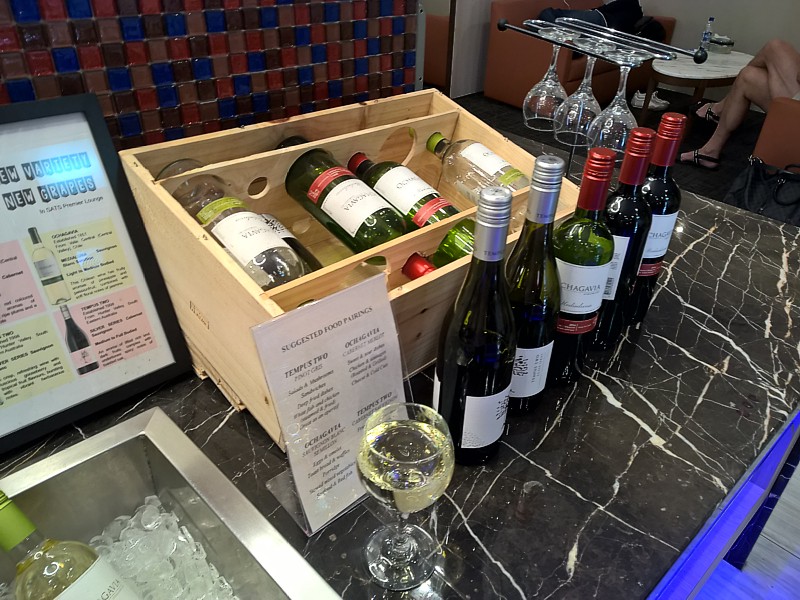 Singapore SATS Lounge Terminal 2
There are two parts to the lounge, with a square seating area, and a food / dining area. There is also a small side corridor, marked VIP only, and a separate small room, which has a sign dissuading you from using it, but in reality there is nothing to stop you from popping in, and indeed this is often the most comfortable part of the lounge.
There is also a small side area, with two massage chairs. You can guarantee you'll find them occupied, and a couple in the seats, eating.
In the main area there is a TV screwed to the wall, although it is impossible to watch it without disturbing other people. It does however have BBC World, but it is normally on CNN.
Food
Food
is pretty limited. Early in the morning there are packets of Cornflakes and Rice Crispies, with full cream milk in the fridge. There is also Nasi lemak for breakfast.
During the day on the left hand side is a fridge with packets of sandwiches - there are three types, all wrapped up tight in cling film.
There is a small heated cabinet with some baked pastries in it, including miniature croissants (but not butter) and Danish pastries.
Late in the day fish soup appears. Meanwhile on the bar counter there are Pot Noodles and Pringles.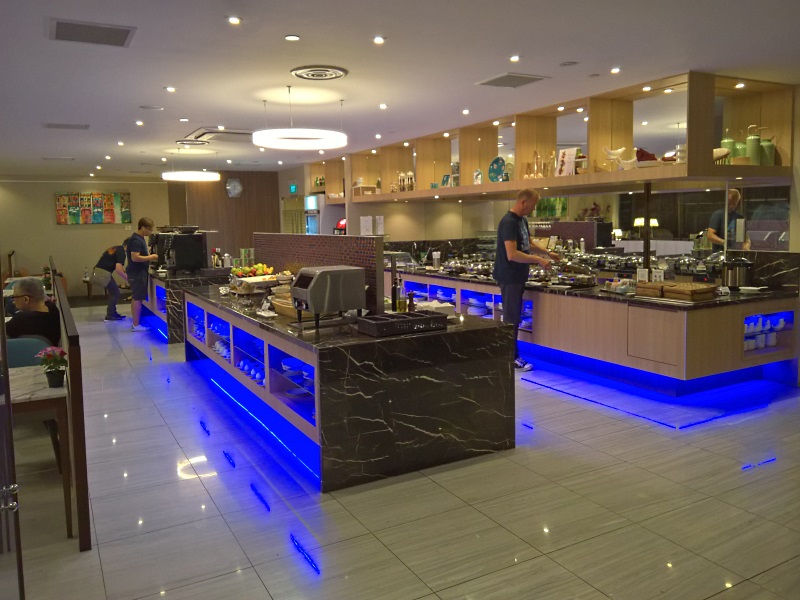 Singapore SATS Lounge Terminal 2
Bar
The
Bar
is ok. The wines come from Willowglen and Carpia, with two whites and two reds of each. The two whites are in an ice bucket which is tepid for most of the day, and the two reds are behind them, but there is no champagne.
There are just three bottles of spirits Vodka, Gin and Whisky, beside the wine.
Beer (Tiger, Carlsberg & Heineken), are in the fridge, along with mini pots of water, and some fruit juice, including a terrible tomato (but no Bloody Mary mix).
Ice is under the tin lid in the worktop. There is a Nescafe machine, giving a decent cup of coffee, and a cappuccino machine next to it. There is also a most impressive array of tea bags.
Bathrooms
There is two
showers
- often with long queues. Ask at reception for a towel. The hot control on the shower has at last been fixed, so it is no longer the "refreshing" experience it once was.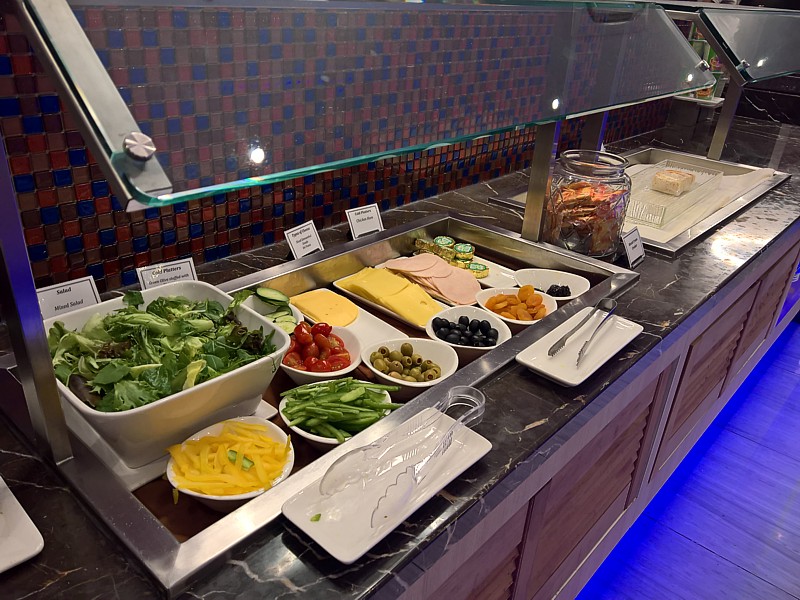 Singapore SATS Lounge Terminal 2
Business Facilities
Newspapers
are on the rack as you walk in the front door, although these consist only of the Straits Times and the FT.
There are small cubicals against the far wall, which have small computers in them. They brand new and quite fast, but beware that the machines are virus ridden and full of malware. Never long onto any personal sites using the computers in the lounge. Also, it can be hard to get children to stop playing games on them if you need to work.
There is free wifi in the lounge, and it's not password protected.
There is just one screen showing flight departures in the lounge, but alas it banks up all the codeshares (of which there can be a lot) so it will only show the next hour of so of flights.
Singapore SATS Lounge Terminal 2
Access
You can pay for access on the door, however it is pricey at S$39 per person, per 3 hour stay, and may not really be worth it.
Collect an invite card at check in in Business Class or if you have status access with your Frequent Flyer lever. The Singapore SATS T2 lounge is also the United Singapore Business Class Lounge (UnitedClub Singapore), the Air India Singapore Business Class lounge, the Singapore Etihad Airways Business Class lounge, the Korean Air Singapore lounge, and the Malaysia Airlines Business Class lounge, now that Malaysian Airlines has shut pretty much all of its own lounges.
If you need to stay in the lounge overnight, you would be better going to the Singapore Ambassador Lounge, which has slumber rooms and showers.