Singapore Airport Guide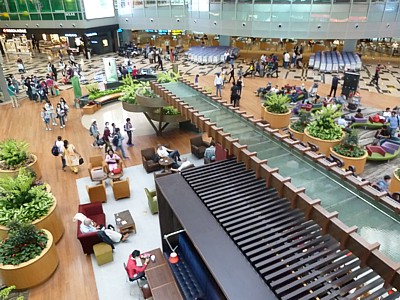 Singapore Airport Terminal 3
Singapore Airport is one of the world's central aviation hubs: many more people pour through Singapore Airport every day, than visit Singapore. It is a central stop on the Kangaroo route between the UK and Australia, and equally is the main jumping off point for flights from the US to holiday hotspots in Asia.
Which makes it all the more surprising that it is a genuinely pleasant, well organised, and up to date airport. True, things get a bit frantic late at night when pretty much every flight is departing, but other than that it genuinely does work. Changi airport is regularly voted number one in the world for convenience and facilities by both business and leisure travellers, and it's easy to see why. Even during the evening rush hour, it exudes an air of calm.
As befits major regional hub status, Singapore Changi Airport is continually expanding. It serves more than 100 airlines operating 6,100 weekly flights flying off to some 210 cities in about 60 countries.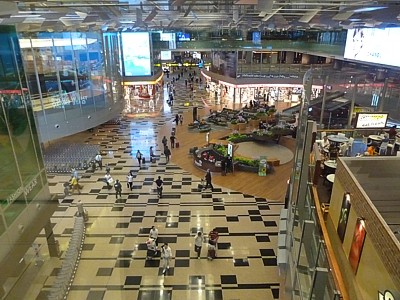 Singapore Airport Terminal 3
In all terminals, internet access is provided free of charge, both wirelessly and via some 200 terminals and kiosks.
The airport was built on swamp land from 1975, until 1981.
Singapore Changi Airport has four passenger terminals, of which the main three (T1, T2, T3) are linked airside. The three main terminals are connected with the free Changi Airport Skytrain which has a total of seven stations. Alternatively you can wander at will airside between all the shops, and only need to be concerned with security when you are at the gate. This is the one main downside of Changi. At the gate you have to go through X-ray, and then are hurded into a small holding pen until your plane is ready. You can therefore spend an hour or more, in a small glass box, with no access to facilities.
Singapore Airport International Terminal 1
Singapore Airport Terminal 1 is the oldest terminal, but it can still cut it.
One of the great delights of Terminal 1 is the swiming pool on the roof: you need to pay $14 for it, but it is free if you stay in the transit hotel.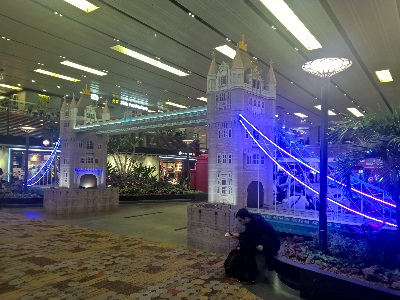 Singapore Airport Terminal 1 London Display
Singapore Airport International Terminal 2
Walking through terminal 2 is a delight, with internal waterfalls cascading through the departure lounge - or rather, as it seems, the shopping mall.
Singapore Airlines uses both T2 and T3, and only announces the arrival terminal two hours before landing, however most flights now go to T3. Indeed, Singapore Airlines designates T2 as departures for destinations now only in South East Asia, the Indian subcontinent, the Middle East and Africa.
T2, arguably the most interesting, has an indoor garden, a music listening area with couches and mood lighting, a computer gaming room, a small movie theater, paid massage services, and of course plenty of duty-free shops.
Singapore Airport International Terminal 3
Terminal 3 is the newest, swishest terminal. Terminal 3 departs from the largely utilitarian architecture in the first two terminals. Like other new airports in the region, it has a structure mainly made of glass, with big transparent spaces inside the terminal. The roof has been designed to allow natural light to enter the building, with 919 skylights. A 5 m (16 ft)-high "Green Wall" with hanging creepers and waterfall was incorporated to enhance the tropical feel. The Green Wall, designed by Singapore based Landscape Design firm Tierra Design, also helps to regulate the internal temperature of the terminal with the occasional misting.
Terminal 3 houses a rare indoor butterfly garden, which is a great way to spend a few hours.
Terminal 3 also has the largest array of bars to drink at of any airport terminal, many of which are nicely themed, and some of which are open 24 hours a day.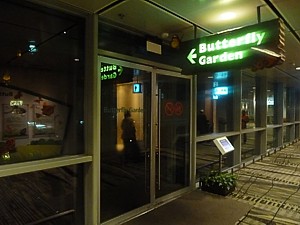 Singapore Airport Butterfly Garden, Terminal 3
Singapore Airport Budget Airline Terminal
The Budget Terminal will be closed and demolished on 25 September 2012 to make way for Terminal 4.
The Budget Terminal is a strictly functional warehouse, with little frills, however air-conditioning has now been installed for arriving passengers, making it a little more bearable.
No transfer facilities are available at the Budget Terminal, so if your onward or connecting flights arrives or departs from the Singapore Airport Budget Airline Terminal, you have to go through arrival immigration and customs, check in your luggage again and go through departure immigration. You will need a Singapore visa for this.

First & Business Class lounges at Singapore Airport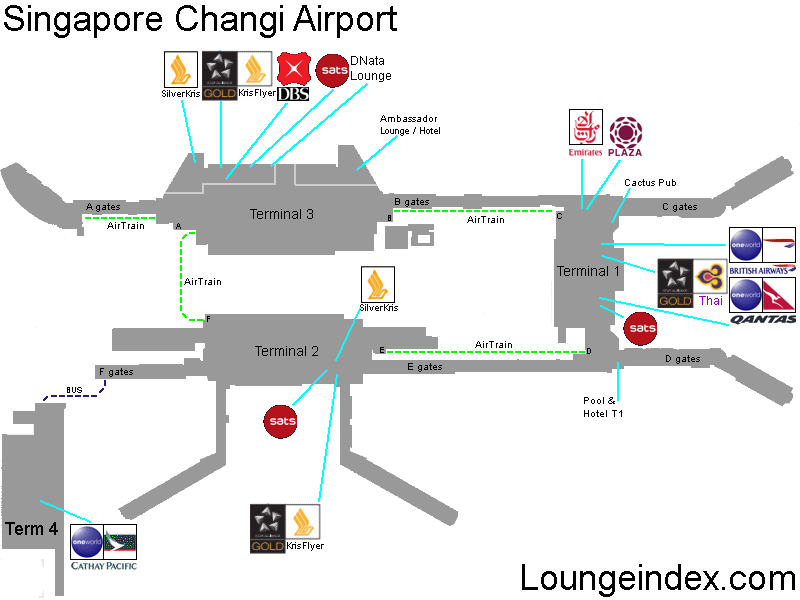 Singapore Airport Terminal Map
Singapore Airport transportation
Limousines charge a basic $50 to anywhere in the city and are a pretty good deal after midnight, as you can skip the queue and avoid the surcharge. The same pricing applies to chartering van-sized MaxiCabs, which are good for large families or if you have lots of baggage. They costs $7 and can be booked in advance or in the arrivals hall, between 0600 and 0200.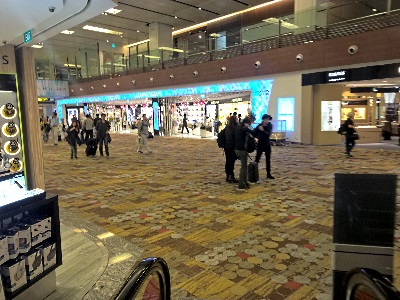 Singapore Airport Terminal 1
Singapore Airport train
It is easy and cheap to get a train to the city centre, but you will need to change trains, which is pain if you have a lot of luggage.
MRT trains run from a station midway between T2 and T3, but you'll need to change trains at Tanah Merah station to a city-bound train: just exit through the left hand side door and cross the platform. The 30 min ride to City Hall station costs $1.90 plus a refundable $1 deposit for the large magnetic card.
Trains run from 0530-2315.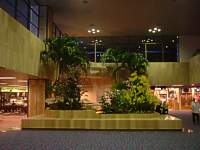 Singapore Airport Terminal 1
Singapore Airport shuttle bus services
There is little point in getting the bus, unless you want an explore. Bus terminals can be found in the basements of T1, T2 and T3. Busses run 6am to midnight only. Fares $1.50, exact fare required (no change given) if you pay cash.
Singapore Airport taxi services
Getting a taxi to and from Singapore Airport is trouble free, easy, cheap, and safe. There are signs after clearing customs. Meters are always used in Singapore and prices are reasonable.
A trip to the city during the day will be about $30 including $5 airport surcharge. An additional 50% surcharge applies between midnight and 6am.
Car Hire at Singapore Airport
Major car hire operators are located in the Arrivals Halls. To save time and ensure you get the car you want, book your rental in advance. Rental car operators from Singapore Airport include:
Europcar
,
Thrifty
,
Avis
and
Budget
.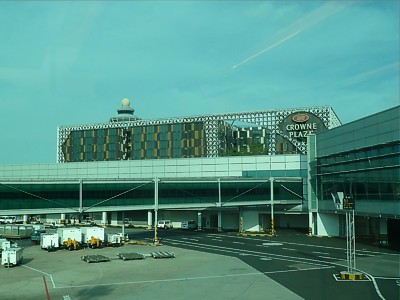 Singapore Airport The Crowne Plaza Hotel
Singapore Airport Hotel
There are several airport hotels at Singapore airport, some of which are actually in the airport terminal and airside, so you don't have to enter the country on a stopover.
The Singapore Airport Crowne Plaza Hotel is located at Terminal 3, and just a five minute walk from Terminal 2 via a covered mezzanine linkbridge. There is a 540-square-metre swimming pool, designed around landscaped 'mini-islands' and Jacuzzi corners. It has Bar '75 - a sports bar offering a variety of experiences with three distinct zones.
Singapore Airport Departure Tax
Departure taxes now form part of your ticket price.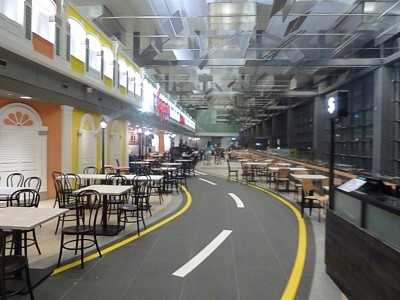 Singapore Airport Food street, terminal 3
Singapore Airport Stopover tours.
If you have over 5 hours to spare there are free city tours six times a day. Check in at the Singapore Visitor Centre in any terminal.
Singapore Airport Bars and Restaurants
As a drinking mecca, Singapore is one of the best in the Asia Pacific region. There are those who hold that before a flight, you should steer clear of the booze. However, if you want a drink between flights, Singapore Airport is one of the best places for it. You could spend all night crawling around the different drinking holes.
Eating options are best in terminal 3, where on the upper level there is a whole indoor 'street' dressed up like a Singapore lane, with food stalls.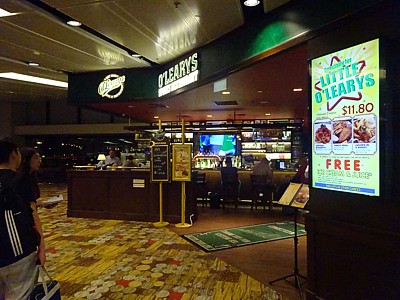 Singapore O'Learys Sports Bar & Grill
O'Learys Sports Bar & Grill
Open: 1100-2300
Airside T1, T2, and T3
The famous chain (at least in Singapore) of O'Learys Sports Bar & Grill is now in all three terminals at Singapore airport. I claims to be an Irish bar. It's not of course, but there are far worse places for drink in the terminals.
In terminal 1, the bar is hidden high up, next to Burger King, in a small corner of the upper level. However, it is the newest and most authentic. It also does good food: the Big Breakfast is great, and the mushroom soup better than in many places. However, it can be hard to get the attention of the staff: if you want quick service, sit at the bar and wave frantically.
The bar has the great advantage that it will take a huge pile of foreign currency, so you can get rid of your last Sterling or Aussie dollars, although change comes in Singapore dollars.
Open 24 hours.
Singapore Airport Poolside Bar
Open: 1100-2300
Airside, Terminal 1.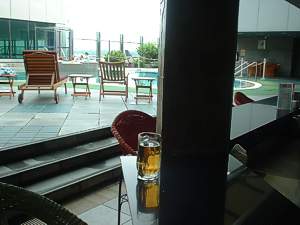 Singapore Poolside Bar
Probably the best bar at any airport in the world. The bar here is justly famous, with its own swiming pool, right on the roof of Terminal one. The bar itself serves a mean beer - just right for a short stopover after the long flight from the UK - although the bar staff do get a bit shirty if you want a beer at 7am in the morning, even though this would be a late evening where you've flown from.
It is right by the outdoor pool, which is fairly small but worth the detour. It costs S$10.30 to use the pool, although there are few checks on who is in it. Theres also a small sub-tropical garden.
Open 0700-2300. Credit cards taken even for just one beer.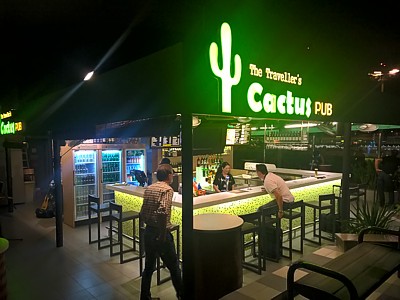 Singapore Cactus Travellers Pub
Singapore Airport Cactus Travellers Pub
Airside, rooftop, Terminal 1.
When you get bored of the Poolside bar, there is always the Cactus backpackers bar on the 'other' roof of the terminal. Replacing the old La Cave Bar at Singapore Airport, this is a gorgeous little 'hut on the roof', which few people find: to track it down, head to the cactus garden on the roof of Terminal 1.
The only downside here is that it is quite pricey. However there are some lovely seating areas, where you can admire the view.
It is open 24 hours a day - so you can have a beer at 6am if you feel like it. In the evening there is even a live band or a guitarist.
Open 24 hours.
Singapore Airport staff canteen
carpark next to T2
If you're up for something a little off the beaten track, seek out the staff canteen at level 3M of the carpark next to Terminal 2.
It is open to the public (although you won't get the discounts for airport staff) and serves local food. It is relatively cheap compared to other food options in the airport but not exactly cheap compared to elsewhere in Singapore. There are also staff canteens in Terminals 1 and 3.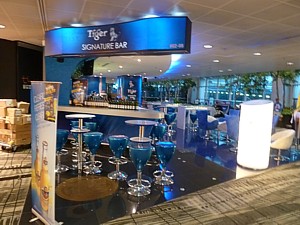 Singapore Tiger Bar
Singapore Airport Tiger Bar
Airside, Terminal 3.
The Tiger Signature Bar at Singapore Changi Airport is justly famous - as famous as the beer is for backpackers hopping around Asia.
The beer isn't just Tiger though, there is also Fosters and Erdinger, which is served in the correct glass and sprayed with water in the German fashion for wheatbeer.
OK, but very expensive food. Decent sport on the TV above the bar.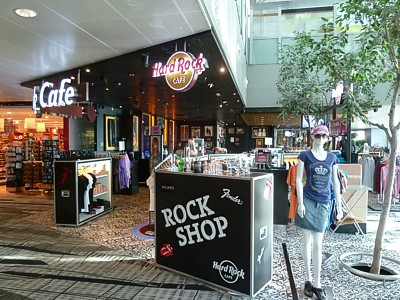 Hardrock Cafe Singapore Airport
Singapore Airport Hardrock Cafe
Open: 0600-0100
Airside, Terminal 3.
Of course there is a Hard Rock Cafe at Singpore Airport, right in the middle of Terminal 3. It is identical to all the Hard Rock cafe's around the world, which is either a good or bad thing, depending on your athetic bent.
It serves up the usual burgers, beer, and Fajitas. However, being an airport terminal, the music is kept pretty quiet.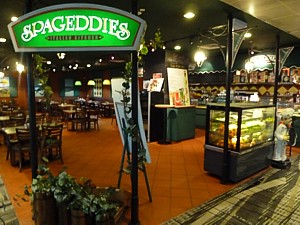 Spagettis Singapore Airport
Singapore Airport Spageddis
Open: 0500-0100
Airside, Terminal 3, level 2.
A pretty decent Italian restaurant at Singapore Airport, Spageddis has a wood-fired pizza, and an open-concept kitchen.
Beer is Heiniken or Tiger. The desert selection is first class.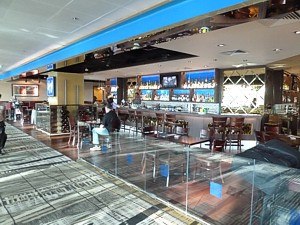 Harry's Bar Singapore Airport
Singapore Airport Harry's Bar
Open: 24 hours
Airside, Terminal 3, near B gates
Harry's Bar in Singapore is justly famous, not only for the location of the original - down on the quay - but also the financial history of the pub, which was the haunt of renegade banker, the infamous Nick Leeson. He single-handedly brought down Barings Bank due to specultive trades.
Now, the pub is a chain, with outlets in all three of Singapore Changi's terminals, and if you are passing through Changi airport you must pop in.
The Teminal 3 outlet is probably the most atmospheric of the three. There is even the chain's lager to go with the pub - Harry's House Brew.