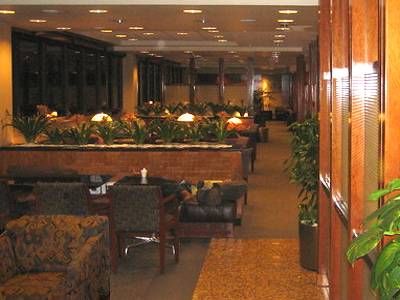 United Airlines São Paulo United Club
The São Paulo United Club is really a rather swish lounge: vastly better than most domestic UA clubs, with comfortable chairs, and fair bit of space (a rarity at GRU), and even some decent food.
The former São Paulo United Red Carpet Club before United and Continental got together, is in Terminal 1, where most of the Star Alliance airlines air, Airside on Wing A and on the upper level, which gives it some decent windows. A place of mottled beight carpets and tall upright wooden pillars, it is showing it's age a bit, but not too badly.
There are banks of seating areas separated by greenary up against the windows, while on the other side is the food area and bar.
Food
Food in the São Paulo United Club is laid out on the sideboard half way through the lounge, under half a dozen plastic covers.
There are made up salads in bowls, ham and cheese, sandwiches, rolls, and other finger food, along with the usual carrots and dips.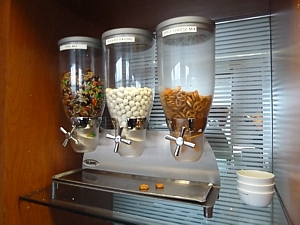 United Airlines
Bar
This UA lounge has free drinks, so long as you are prepared to take some fairly standard Brazilian wine or beer.
There are 12 bottle of spirits on the sidboard, with an usual mix of local and international variants.
Here there is also one bottle of rather inferior red, and one of white.
Bathrooms
In the lounge.
Business Facilities
There is a television high on the wall of the lounge, which is usually on CNBC. There are work cubicles, with a few faily slow computers, plus wifi.