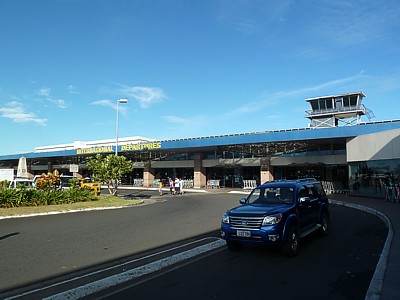 Nadi International Airport Terminal
Nadi Airport Guide
If you are flying to Fiji, chances are you'll end up at Nadi International Airport. The dominant (but not the only) international airport in Fiji.
However if you imagine that the airport is still the old small hut, whitewashed stone paths connecting it the aircraft steps, shaded by palm trees and with sugar cane trains running beside the runway, forget it. The crotons and hibiscus trees - and indeed the old terminal - were demolished many years ago to make way for an unremarkable 1980s structure resembling an out of work shopping centre.
There are some OK facilities in the terminal: in the main departure lounge there is a small café and a bar, and three very large duty free shops, but it isn't an area you'd want to spend too much time in, mainly because views out of the terminal are notoriously poor, with just one small window, that doesn't overlook any of the gates.
Nadi International Airport Terminal
Dining facilities are marginally better before security, with a decent coffee shop, the tired International Bar, and a smaller coffee bar next to the domestic departures. There is an ANZ ATM in arrivals, but it is before the customs arrival X-Ray, next to the luggage belts.
There is free wifi in the airport terminal, and it generally works and is good and fast. There is even one free internet terminal. It is landside, beside the cafe on the far left of checkin.
Nadi Airport - or to use its old phonetic English name 'Colony of Fiji Nandi Airport' - is a long way (192km, or nearly 160 miles by road) from the capital of Suva (which has its own airport, Nausori International Airport, with direct daily flights to Sydney). It is however only a short 10 mile drive to the tourist resorts on Denarau Island, and the hotels that line the west coast around Nadi bay, which explains why it is such a big tourist draw.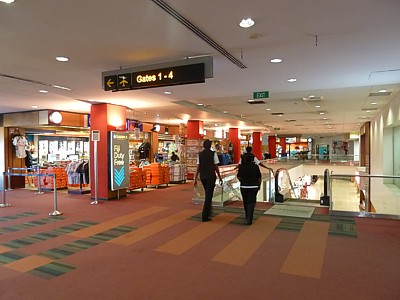 Nadi International Airport Terminal
The airport is no tiddler - handling 2.5 million passengers a year - and still handling some through connection traffic, although much of it has now by-passed the island, with trans-Pacific flights no longer needing to stop off at the island.
Virtually everyone flying to Nadi Airport flies on Fiji Airways, which has its hub at the airport, and it is the core of its long haul flights to Sydney, Hong Kong, Los Angeles, and Auckland.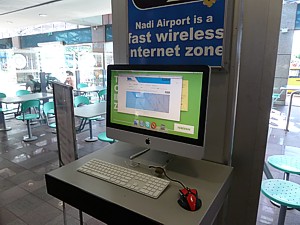 Free Wifi Nadi Airport Terminal
A few of these passenger even plan to transfer at the island onto a connecting long haul flight.
Other than that Air New Zealand has one flight a day, Virgin Australia and Jetstar compete daily on the route to Sydney, Aircalin has an obscure route to Nouméa, and three times a week the only other 'mainline' airline is the big arrival of Korean Air to Seoul, on which a lot of the European passengers arrive.

Business Class lounges at Nadi Airport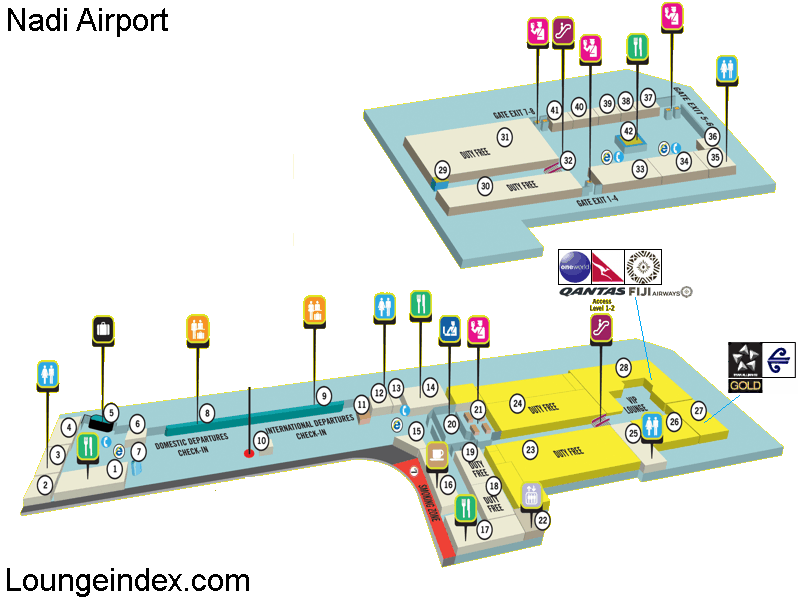 Nadi Airport Terminal Map
Nadi Airport transportation
Travellers should know that many bus, limousine and shuttle bus services operating to and from Nadi Airport usually require pre-booking.
Public transport facilities are poor, and as such most people book a Fiji Airport Transfer in advance. The largest company is TTF, which has a large air conditioned office in arrival, although confusingly you head first to one office directly after customs, and then another by the door where they print out your paperwork and porters guard your luggage, before you get on the bus.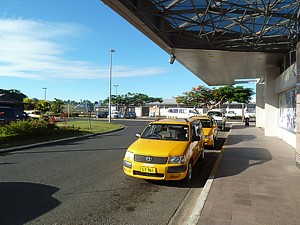 Nadi International Airport Taxi
Nadi Airport shuttle bus services
There is no dedicated airport bus, however local buses run twice a day to the airport, with Sunset Express stopping en route from Lautoka to the north to the capital Suva, leaving at 0945 and 1545.
Nadi Airport taxi services
Getting a taxi to and from Nadi Airport is usually trouble free, however ensure they use the meter.
There are Taxis outside the arrivals area, however seeing the state of some Fiji taxies you may want to pick and choose and not take the first one off the rank.
However virtually every hotel - and even minor guesthouses - will arrange a free transfer, but you need to arrange this when you book.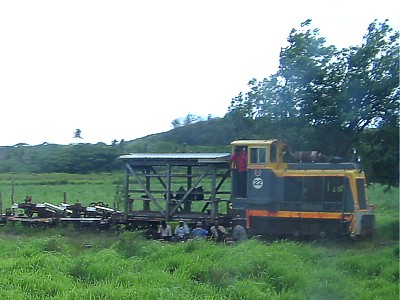 Nadi Sugar Cane Train in the fields by the runway
Nadi Airport train
Alas the Nadi Airport railway service was axed in 1974, with the closure of the Fiji Free Train, and the Nadi Airport Express train, from the airport to the holiday resort on Malololailai Island closed at the same time.
However Nadi has the special, not to say unique, feature of having a working narrow gauge industrial railway running right beside the runway, and indeed with a level crossing right over the main access road.
Originally just separate lines feeding sugar mills, the lines were joined up to serve the large harbour in Lautoka in 1910. The Nadi Airport level crossing is over the main line from Rarawai- Lautoka-Nadi-Kavanagasau, which operates what is now the longest 2 foot gauge (610mm) industrial line still in operation. Closed for half the year, it is in operation from July to December, and in September nearly 70 trains a day pass the airport. Delays accessing Nadi airport during this month can be frequent.
Car Hire at Nadi Airport
Major car hire operators are located in the Arrivals Halls. To save time and ensure you get the car you want, book your rental in advance. Rental car operators from Nadi Airport include:
Europcar
,
Thrifty
,
Avis
and
Budget
.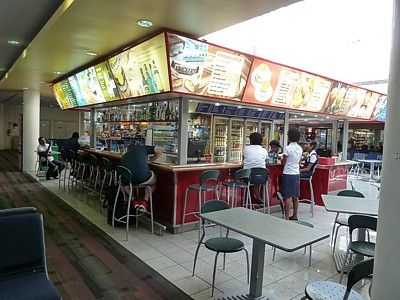 Nadi Airport Bar
Nadi Airport Bars and Restaurants
There is only one basic bar airside: most of the decent eateries are landside, before security.
Nadi Airport Bar
Open: 0700-2300
Airside
Resembling a motorway service station café, the Fiji Nadi Airport Bar is perhaps somewhere you might not want to linger long. However there is no missing it: it is the square box right in the middle of the departure hall.
It does food - of a kind - with burgers, hot dogs, and chips. Beer is Fiji Gold or Bitter. The range of rum on offer is excellent.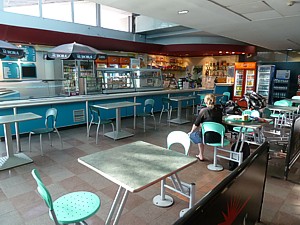 Nadi Airport Cafe
Nadi Airport Café
Open: 0700-2300
Landside, domestic
A pretty basic café beside the main departues desk for domestic, the main advantage of coming here is the wide range of crisps, chocolate, and indeed meat pies.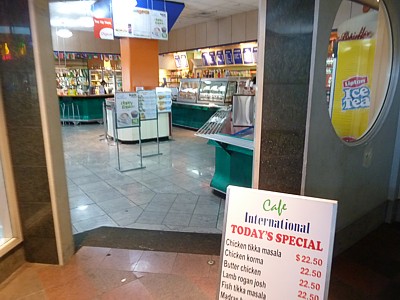 Nadi Bar Nadi Airport Cafe International
Nadi Airport Café International
Open: 0630-1700
Landside, international
The café of choice landside, before security, is the Café International. If your Fiji Airways flight is delayed or cancelled Fiji Air will give you a F$20 voucher to spend in here on 'refreshments'.
Food is better than airside, with lots of hot curry creations, and hot meat pies.