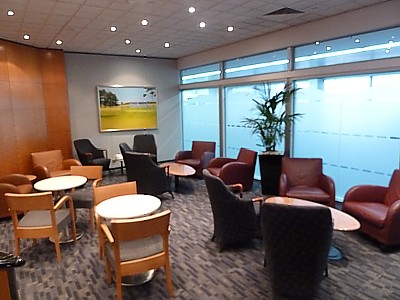 Melbourne United Airlines Red Carpet Club
The United Airlines Melbourne lounge is a dim, dark dingy hole, with little in the way of food or facilities. There are so many better lounges at Melbourne airport, there is little point in visiting.
To find the Melbourne Unitedclub walk down the short pier to the round Satellite area, then walk around to the escalators and descend into the basement. The Melbourne United lounge is right next to the Singapore Airlines lounge, and just above the Air New Zealand Koru Club.
This small and pokey lounge is tucked away and a decided oddball for United. The airline almost seems ashamed of it, and try hard not to advertise its presence. It's odd having it here anyway: it is also very small, but then few people find it, so that hardly seems to matter: loads from Melbourne on the once a day flight to Sydney are very light.
So is the Melbourne United Airlines lounge worth it? Not really, no. For a start, it is very small, and it is also divided up into even smaller rooms. However food is better than you'd expect, and the bar isn't bad either. There is an OK view of the gates (less so now a corridor has been built on the outside), however there is a plastic film over the window, so it's impossible to take pictures from the lounge.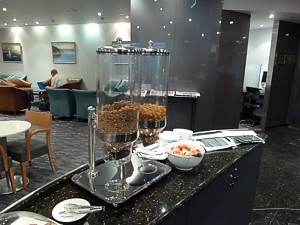 Melbourne United Airlines UnitedClub
As you walk in through the large glass door, the lounge looks spacious. Alas, this is the largest part of the lounge. Curving to the right there is a small room, with 20 or so chairs: blue/grey and beige plastic ones. What was once the United Airlines Melbourne Red Carpet Club hasn't changed its furniture when it changed its name to the UnitedClub. There is a food and wine bar here: to the right is the old smoking area: now just a partitioned off area (with the smell of old smoke). Further past the bar is a door into a much smaller room: this used to be the old United Melbourne First Class lounge, but now anyone can use it: there is again a bar here, with one of the smallest island bars you'll have seen, and slightly more comfortable chairs. And that's it: the entirety of the lounge.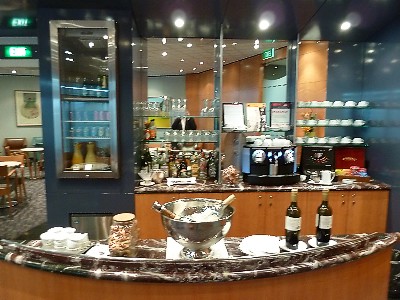 Melbourne United Airlines Red Carpet Club
Food
Food
consists of breakfast or brunch: no surprise really considering there is only one flight a day, and it leaves Melbourne at 11am in the summer, or 1pm in the winter (hence the change in lounge opening times: remember that's Southern Hemisphere winter time too: many passengers in the Southern Summer turn up for what should be a 1pm flight, to find they've missed it as it leaves two hours earlier when the clocks change).
Food is however much better than you'd get in a normal UnitedClub. There is a large four slice toaster, with raisin toast: vegemite is in the tray below (alas you can't take it as an Aussie souvenir and import Vegemite into the US: it is banned). Next to this there is a heated cabinet with hot meat pies, and chicken sausages. To the left of this there is a heated tourine, with scrambled eggs. On the island bar are two cereal towers, and a bowl of fruit salad. Croissants are under a plastic cover next to the cereal.
Bar
The
bar
is, oddly, very good: vastly better than any domestic red carpet club, and better than you'd expect considering the early hours of the flights. For the best booze, go into the old First Class side: here there is even free champagne (or at least an Aussie sparkler), along with a bottle of white.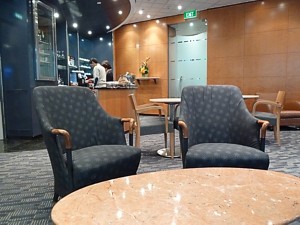 Melbourne United Airlines UnitedClub
There are two red on the cabinet: a Shiraz and a Cabernet Shiaz. Beer is very good indeed: with bottles of Crown, VB, Heineken, Cascade and Boags in the fridge. The spirit collection is also very good: with everything from Jack Daniels to Smirnoff, Gordon's Gin, Baileys, Chivas, Jim Beam, Bacardi, and Canadian Club. Small cans of mixers are in the fridge, as are jugs of juice. If you are seriously planning to get on the plane when boarding starts at 10am, don't lose your head with this lot. Perhaps to help, there is also a very good coffee machine (on the First Class side only).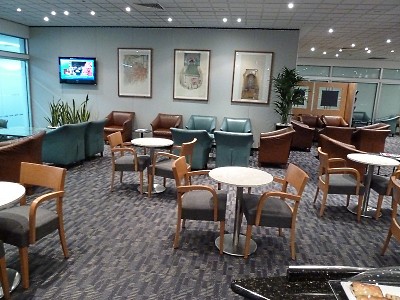 Melbourne United Airlines Red Carpet Club
Business Facilities
There is a small
Business Centre
in a small side corridor by reception with three ancient PCs: they have free internet, but only IE6. Most people use their own laptops, and there is free wifi. No card is needed: the password is on the desk. It is rock solid and very fast.
Newspapers
are also placed in the lounge in the morning on the small table next to the business centre: however, you'll only get one copy of the Age, the Australian, and the Herald Sun.
However, despite what might be regarded as riches in another other UnitedClub, the Melbourne lounge does have a miserable atmosphere. It really isn't that good.
Bathrooms
In lounge, by door.
Access
It seems that many passengers just assume that they must use this club when departing on United; in reality, the Melbourne Air New Zealand Koru Club, one floor below is so much better,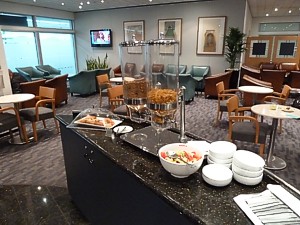 Melbourne United Airlines UnitedClub
and Star Alliance rules mean you can either go in there, or to the Melbourne Singapore Airlines Silver Kris lounge, either with a First or Business class ticket, or as a Star Alliance Gold. Indeed, if you're puzzled as to the vast rack of lounges that Melbourne has compared to Sydney, the answer seems to lie in the higher rents that Sydney charge, plus the way that Melbourne has two floors of lounges which aren't in the main shopping area, and which would be difficult to convert to retail... and which it encouraged airlines to sign up for on very long leases. Even though the Sydney Red Carpet Club has closed, the Melbourne one will, alas, be open for some time to come.