Melbourne Airport Guide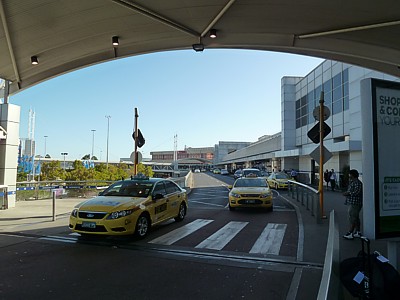 Melbourne Terminal 2 International Terminal, by the taxi rank
For many tourists when they think of Australia, Melbourne is a distant second to the attractions of Sydney. And so it is with airports.
Melbourne Tullamarine Airport is no slouch however, coming a very strong second in the stakes of the busiest airport in Australian. With 30 million passengers a year, 22 million are on domestic routes. And indeed, the Melbourne to Sydney air route is the third most-travelled passenger air route in the world. On a busy Friday night, it seems like half the world is flying through Tullamarine.
Melbourne airport is 14 miles (23 km) from Melbourne CBD (the city centre), and it is adjacent to the suburb of Tullamarine, which it has pretty much consumed. Oddly, however, despite many attempts, there is no fast link to the CBD, unlike at Sydney or Brisbane, despite Melbourne being the most public-transport-friendly city in Australia. Indeed, buses and taxies do a roaring trade.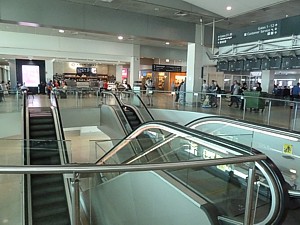 Melbourne Terminal 1 Qantas Domestic Terminal
There are two terminals at Melbourne Airport Terminal 1 (for Qantas Domestic) and Terminal 2 (for all international flights), with Terminal 3 (for Virgin, the old Ansett terminal) on the left. The terminals were previously known as Qantas Domestic, International, and South (formerly Ansett Domestic) until 2005. There is also a new Terminal 4, for low cost flights.
Transfer from Melbourne Terminal 1 to Terminal 2 is easy, as the terminals all connect with one another, being a short-walk apart, and as such it is easy to get from one to another (landside, before security). Indeed, Terminal 2 to 3 is even easier, as these parts of the terminal drift into each other, with a bank of new checkin desks for Terminal 2 being built in front of the Irish Pub in Terminal 3: when walking about, you often don't know you are going from one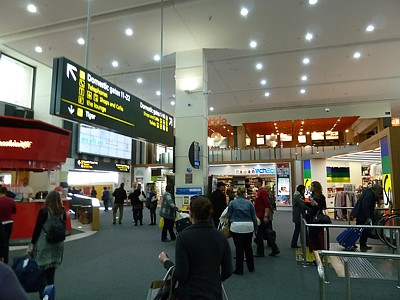 Melbourne Terminal 3 Virgin Domestic
Melbourne Airport Domestic Terminal 1 - Qantas Domestic
Terminal 1 is the main domestic hub for Qantas (plus Jetstar and QantasLink), at the northern end of the terminal complex. Departures are on the first floor, while arrivals are located on the ground floor.
Melbourne Domestic terminal has 16 aircraft bays served by aerobridges; 12 are served by single aerobridges whilst four are served by double aerobridges. There are another five non-aerobridge gates, which are used by QantasLink and Jetstar.
There are some shops and fast food outlets at the end of the terminal linking into Terminal 2.
Melbourne Airport International Terminal 2 - International
Melbourne Terminal 2 is the main international terminal at Melbourne Tullamarine. A full international terminal in itself, you can walk airside between connecting international flights that is, for the rare journeys that connect in Melbourne.
Melbourne Terminal 2 has 20 gates with aerobridges, and several remote parking stands. It consists of a long main arm, and a remote statellite terminal, with all the airport lounges, including those of Qantas (First and a Business lounge), Cathay Pacific, Malaysia Airlines, Singapore Airlines, Air New Zealand, United Airlines and Emirates Airlines.
The international terminal contains works by noted Australian Indigenous artists including Daisy Jugadai Napaltjarri and Gloria Petyarre.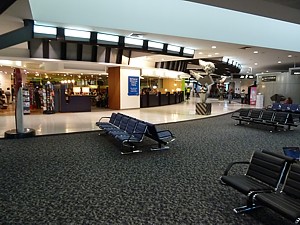 Melbourne Terminal 2 Sateliite
A $330 million expansion programme for Terminal 2 in 2011 included another new satellite terminal, connected by an above-ground corridor to Terminal 2, with three double-decker aerobridges for A380 aircraft
Airside there is a 'SkyPlaza' retail complex opposite the main international departure gates.
Melbourne Airport Domestic Terminal 3 - Virgin Australia Domestic
Melbourne Terminal 3 is also a domestic terminal, the smallest of the three, and it is linked via a walkway with the main international terminal, and through that over to Terminal 1.
Melbourne Terminal 2 International
Formerly the Ansett Australia terminal it was designed around American lines, and that's led to a complete pain for most passengers: security is on the 'arm' with the gates, where there are very few facilities. By contrast, the 'root' of this arm, and the part of the terminal where there are facilities, and come to that the Melbourne Virgin Australia Lounge, is before security. The result is that for transiting passengers you have to leave security to visit the shops or a decent cafe, only to re-clear it. It's even more of a pain if you are in the lounge, as you have to leave a good 15 minutes before your gate opens. Recent reconstruction has done little to solve these problems, other than to add a small coffee bar beside the gates.
As well as Virgin Australia and REX Regional Express Airlines has its home here. There are eleven parking bays served by single aerobridges and eight parking bays where you walk to your aircraft.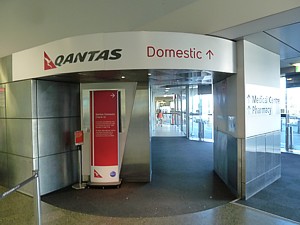 Melbourne Terminal 1 Entrance to Qantas Terminal from International
Melbourne Airport Domestic Terminal 4 - Tiger and No Frills Domestic
NEWS: Terminal 4 is being redeveloped, and there is an expected completion date of July 2014
Melbourne Terminal 4 is for budget airlines, and it is the main hub for Tiger Airways Australia.
There are no air bridges, and fewer amenities and retail outlets compared to the others terminals.

First & Business Class lounges at Melbourne Airport
Melbourne Airport Terminal Map
Melbourne Airport transportation
Getting to and from Melbourne Airport is a pain compared to most other airports in Australia. For a start it is quite far away, at 14 miles (23km). There is still no rail connection, and the only public transport options are taxi, hotel bus, or the faster Skybus to the CBD terminal, and then catch a tram.
To drive to Melbourne Airport, take the CityLink and the Tullamarine Freeway. The main motorway exit runs directly into the airport teminal.
Melbourne Airport has five car parks, all of which operate 24 hours a day, 7 days a week.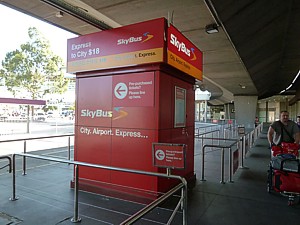 Skybus Kiosk Melbourne Airport
Melbourne Airport shuttle bus services
Melbourne Airport to the City is simple: virtually everyone takes the
Skybus
which operates every 10 minutes, 24 hours a day to the centre of Melbourne (the CDB): there is little other choice. The Skybus Super Shuttle takes 20 minutes to reach Southern Cross Station in Melbourne's CBD (central business district). The fare is A$18, and tickets can be purchased at the ticket office outside Terminal 3.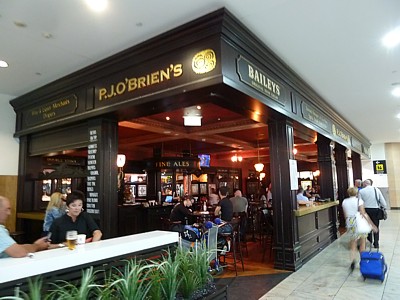 O'Briens Bar Irish Bar at Melbourne Airport
At the Southern Cross terminal there are trams to most parts of Melbourne, or you can take the V/Line regional and Metro Trains Melbourne suburban trains.
There are also four local bus services to Melbourne Airport. The main one is route 901 which takes 20 minutes to get to Broadmeadows railway station, and runs every 15 minutes. It uses the SmartBus myki card, and can be cheaper than the Skybus if you know where you are going.
Melbourne Airport train
There is no rail connection to Melbourne Airport.
A Melbourne Airport rail link has been on the cards for many years, and in 2001, the state government put in serious planning to a branch off the Albion Goods Line, which passes right next to the airport's boundary. However market research concluded most passengers preferred travelling to the airport by taxi or car, and tourists would rarely take a train over a bus to their hotel.
In 2010 the Labor Party took the rail link off the agenda, with plans for a new (toll) freeway, however in 2013, the new Victorian Liberal government announced that the Melbourne Airport Rail Link (MARL) would be constructed sometime in the next two decades.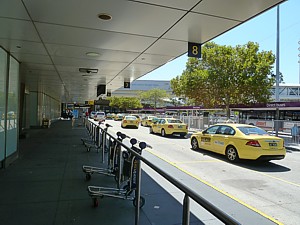 Taxi Rank Melbourne Airport
Melbourne Airport taxi services
Getting a taxi to and from Melbourne Airport is usually trouble free, but it can be a bit pricey.
Taxi ranks are located on the ground floor outside Terminals 1 and 3, but oddly not outside the exit to the International Terminal: it's clear, tourists are expected to take the Skybus, but those on business take a taxi.
The taxi fare from Melbourne Airport to the City Centre (CBD) is about $45AUD. Note that this includes the Airport fee and the Tollways fee which is $6.10.
Occasionally you may get a dodgy taxi driver who turns off the meter and says that there is a 'fixed fare' to and from the airport. There is not - although after 10pm you have to prepay the fare to a certain level. If any taxi driver mentions such a thing as a fixed fare, take their number and report them.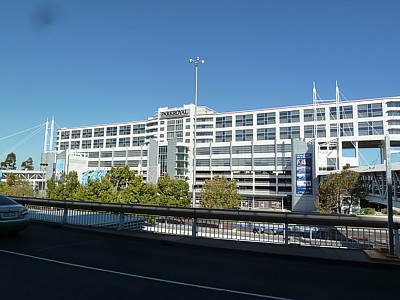 Park Royal Hotel At Melbourne Airport
Car Hire at Melbourne Airport
Major car hire operators are located in the Arrivals Halls. To save time and ensure you get the car you want, book your rental in advance. Rental car operators from Melbourne Airport include:
Europcar
,
Thrifty
,
Avis
and
Budget
.
Melbourne Airport Hotel
There is just one airport hotel at Melbourne airport, and motel a short walk away.
The ParkRoyal Melbourne Airport is a 276-room hotel with direct pedestrian access to Terminals 2 and 3 at Melbourne Airport. Among the facilities is an on-site gym, restaurant, bar and café. A whole floor is dedicated to business facilities with extensive meeting and conference space.
The low-cost Motel Formule 1 Melbourne Airport is a short walk from Melbourne Airport - really only about 5 minutes if you walk out of the main terminal drive. The boasts of a vending machine for snacks.
Melbourne Airport Left Luggage
Melbourne airport luggage storage is handled with facilities close to Terminal 2 Arrivals (telephone: 03 9297 1805).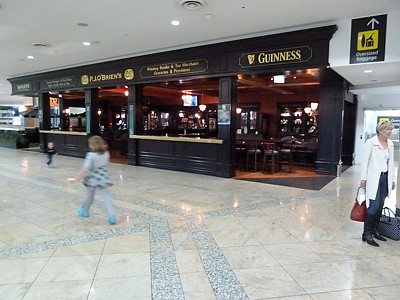 O'Briens Bar Irish Bar at Melbourne Airport
Melbourne Airport Bars and Restaurants
Melbourne is much better off for bars than Sydney - there are a whole host of places you may actually want to eat at! In Domestic there are much better faciltites before security than airside in the Virgin Terminal.
O'Briens Bar
Open: 1100-2300
Before security, domestic terminal T3
The new
P J O'Briens
at Melbourne Airport is very good indeed: it is one of the most authentic 'fake' Irish bars around the world, and it is almost worth travelling to the airport for, even if you aren't flying.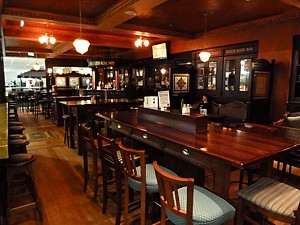 O'Briens Bar Melbourne Airport
P J O'Briens is in the Domestic Virgin terminal, and landside too - so you don't need to go through security to get to it. It's got the real old fashioned wooden booths, and squeeky leather seats. Indeed, sometimes there's even a live band.
Beer is OK, with as you might expect Guinness on tap, along with all the usual Aussie lagers.
Food is more basic: just pies, burgers, bangers, and steak. The Scotch Fillet isn't too bad at all, but pricey at 33 dollars.
03 9330 0946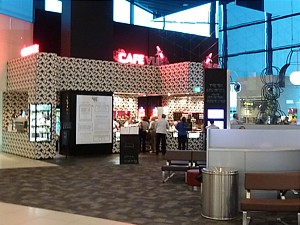 Cafe Vue Melbourne Airport
Cafe Vue
Open: 0630-0100
Airside, T2 International
Café Vue
is nothing if not quirky. Welcome to - or rather say goodbye to - Melbourne. It is located in T2 International after security.
Run by well known Melbourne personality Shannon Bennett (who also runs cafes in St Kilda & the Museum of Modern Art) it is above the level of the usual airport eateries. There is a really good view over the runway too.
Sure, it does a good coffee, but there are also some amazing pastries and cakes. There is a full cooked English breakfast or a club sandwich for AUD$20.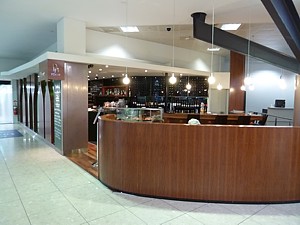 Little Ludlow Melbourne Airport
Little Ludlow
Open: 0630-0100
Airside, T2 International
The
Little Ludlow bar
at Melbourne International (previously known as Cafe Plonk) is a classy eatery, with an amazing wine collection.
There's tapas, pizza, sundaes and a fine cocktail list.
The 'burger of the week' (I kid you not) on the blackboard also has some interesting if weird specials.
MoVida's Bar Pulpo
Open: 0500-2200
Airside, International
There is now a new Spanish tapas bar at Melbourne Airport.
MoVida
looks great - it has a tapestry of orange and cream brick tiles covering the floor, as well as brick tiles on the wall behind the banquette seating in the cafe, and almost replicates Melbourne's laneway scene. Tapas comes in at between $4 and $7 a dish. Drinks wise it showcases Spain's indigenous varieties including Albillo, Samso and Bobal.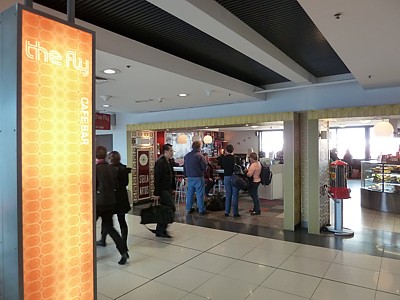 Fly Bar Melbourne Airport
Fly Bar
Open: 0500-2200
Airside, T3 Virgin Domestic
A very basic bar, but the only one that is airside at Terminal 3 in the rather decrepid wing used by Virgin.
It feels rather like a snack bar in a down at heel shopping centre, but does an OK pizza with wine and beer.