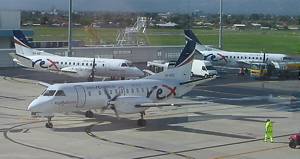 Adelaide Rex Regional Express Lounge
If you are flying on Rex - Regional Express - there is, rather suprisingly, a lounge at Adelaide.
It is quite small, and tucked away at the extreme end of the terminal, by gate 10.
Food
There is only very basic food available, with nuts, crisps and biscuits.
Bar
There is a coffee machine, while the small bar is opened at 3pm. At least there are local wines, with Boston Bay red and white.
Bathrooms
Outside the lounge.
Business Facilities
wifi comes from the airport's own wifi supply.
There are no computers in the lounge.