Adelaide Airport Guide
The best descrition of Adelaide is that it is a long way from anywhere, but right in the heart of town. Getting to the airport is easy: it is a mere 3 miles to the west of the city centre. It is also close to the beach: West Beach, an excellent swimming beach with plenty of accommodation is located almost within walking distance, and is a pleasant place to while away the hours before the early evening flight to Singapore.
Adelaide Airport Main Departures
Most people in Adelaide know the airport well - not always by choice. Adeliade Airprt only rivals Perth in remoteness stakes, and as such, pretty much everyone in SA has to fly in or out, often on some very long haul flights.
There is only a single terminal for international and domestic departures, accordingly transfers are very easy. Don't mistake it for a backwater though - 8 million passengers a year go through Adelaide. The brand new terminal was opened in 2005, at a cost of $260 million. At the time it was suggested that the new terminal was 'grossly overbuilt', but in time it is settling into it's capacity.
The new airport terminal is approximately 0.9kms (half a mile) end to end and is capable of handling 27 aircraft, including the Airbus A380, simultaneously and includes 14 glass-sided aerobridges.
Free wireless Internet is also provided throughout the terminal by Internode Systems. The signal is good, and the speed pretty decent too.
Adelaide Airport International Terminal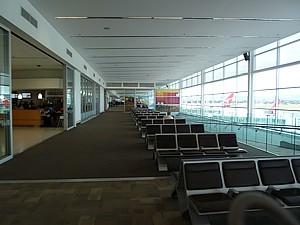 Adelaide Airport Departure gates
Did I say there was only a single terminal? Well, yes, I did, but in a wacky way, when there are international flights, a small portion of the domestic terminal is cordoned off (by a swinging glass door) and becomes international.
Hence you enter the 'airside' area of the domestic airport, and then go through customs to Adelaide International Airport. Facilities here are Spartan, with just a small coffee shop, and one airside lounge, run by Singapore Airlines: all other international Airlines use the QantasClub, which is after security, but before passport control. Odd, that.
The number of international destinations from Adelaide is small, but they are very useful, and save an international transit at Sydney. You can get to Auckland on Air New Zealand, Hong Kong on Cathay Pacific,Bali on Virgin Australia, Kuala Lumpur on Malaysia Airlines and Singapore, Singapore Airlines and Qantas. The Qantas flight is a very unusual flight, in that it starts from Sydney international terminal before stopping off at Adelaide. In the reverse direction, it is particularly helpful, as one flight on certain days will take you directly to Sydney International, and save the Domestic to International transit at Sydmey.

First & Business Class lounges at Adelaide Airport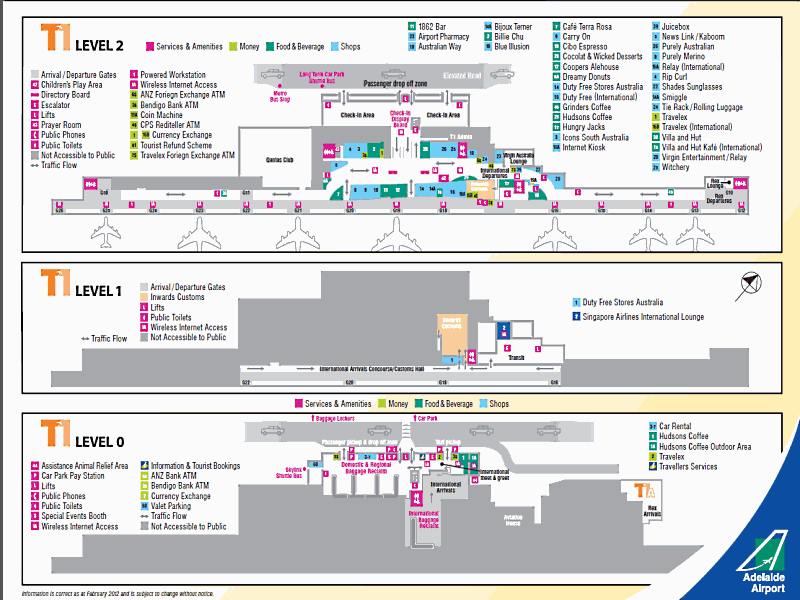 Adelaide Airport Terminal Map
Adelaide Airport transportation
Adelaide Airport bus services
Most people use the standard domestic commuter bus to the airport.
The public JetBus J1/J2 run every 15 minutes, takes 20 minutes to the city centre, and costs $4.60 during peak/$2.80 off-peak. Alternatively a 'multitrip' ticket may be purchased for about $30 that will give you 10 trips (2 hr travel per trip, $3.00 per trip anytime).
The Skylink Adelaide Bus will drop you off at your hotel. It costs $8, and runs out as far as the Keswick Interstate Railway Terminal.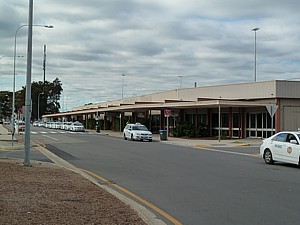 Adelaide Airport Taxis line up outside the old terminal
Adelaide Airport taxi services
Getting a taxi to and from Adelaide Airport is quick, trouble free, and cheaper than the bus if there are more than three of you.
There is a small taxi rank outside the terminal. A ride to the city centre costs about $18.
Car Hire at Adelaide Airport
Major car hire operators are located in the Arrivals Halls. To save time and ensure you get the car you want, book your rental in advance. Rental car operators from Adelaide Airport include:
Europcar
,
Thrifty
,
Avis
and
Budget
.
Adelaide Airport Departure Tax
Departure taxes now form part of your ticket price.
Adelaide Airport Arrivals
Adelaide Airport has only a tiny arrivals area, and an even smaller one for International Arrivals. In effect you go downstairs, past a minute duty free shop, and there are four immigration desks. For those rare people transfering to another International flights, you can stay airside, but you need to alert the staff who will guide you personally.
Adelaide Airport Bars and Restaurants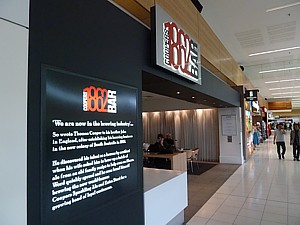 1862 Bar Adelaide Airport
1862 Bar
Airside, Level 2, Shop 11
1862 was the year Coopers brewed its first drop. This is the 'foodery' right next to the Coopers Alehouse.
Coopers Alehouse Adelaide Airport
Coopers Alehouse
Airside, Level 2, Shop 12
With Coopers on tap, the Coopers Alehouse almost looks like a real out-of-town Alehouse, rather than as it is, right in the middle of the airport terminal.
Coopers Brewery is an Adelaide institution, and the only remaining large family owned brewery in Australia, well known around the world for their bottle conditioned ales. Founded by Thomas Cooper in 1862, the Brewery is currently run fifth generation Tim and Glenn Cooper.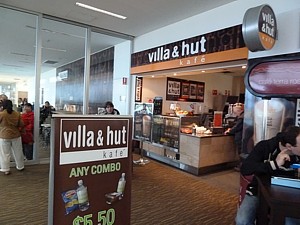 Villa Hut Bar Adelaide Airport International
Villa & Hut Kafe - International
Airside, international departures, Level 3, Shop 15
Hmmm. As the only airside cafe / bar in Adelaide, the Villa bar isn't great, but it does have sandwiches, wraps, Chai drinks, coffees and herbal teas.