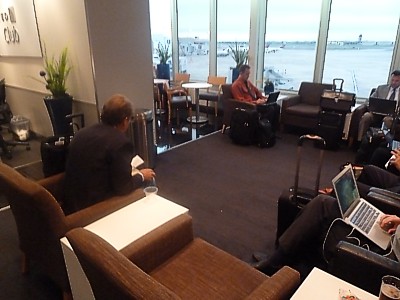 Philadelphia United Airlines Unitedclub Lounge
The tiny Philadelphia United Club is a small United outpost in what is otherwise American Airlines territory, down a half-forgotten decrepit corridor that gives a sense that the cleaning crew gave up in despair many decades back.
Indeed, just reaching the club is a joy, after the long winding hallways that could have been designed by MC Escher. From the main united gates you wiggle around the strange crowded and confusing 4 way junction at the Marketplace, and wander down the dank basement connecting D to C gates (and take note of the warning signs, about the corridor having no exit back if you head one way).
There is a moving walkway – do no take this, or you'll go past the club and have to walk back. Half way down there is a small door with the UnitedClub sign. This, if you are brave enough to come here, is your goal.
And actually, inside, once past the reception desk, can be a pleasant enough if dull and pokey lounge. The problem is the size: it is really small, with just a few seats.
At least there is a window overlooking the apron, but at busy times you'll be sitting on the floor: busy means most times in the week from 4pm. However at weekends you can be the only one in here.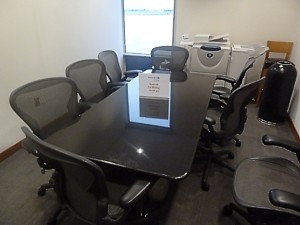 Philadelphia United Airlines Unitedclub Lounge
This United Club Philadelphia lounge is badly in need of an update, and has been for a decade. As it stands, there is one main dining area behind the reception desk with a dozen or so chairs. Then to your right there are two more alcoves where a few more chairs have been shoved in.
Further down is the bar which resembles something like a small British Rail bar in commuter hour, with just a bar, a crush, and a few seats at the bar itself. Further down this corridor is a meeting room (actually the lightest and airiest place in the lounge) which is normally a waste of a very good space: few people use it.
Food
Food is the usual basic United stuff, on a small refectory counter behind the reception, with Snacks, biscuits, small slabs of cheese, apples, crackers and small tubs of yogurt. In the morning there are breakfast pastries, toast and jam, as well as coffee and tea from the small machine.
Philadelphia United Airlines Unitedclub Lounge
Bar
In such a small lounge, it is odd that most people cram into the bar, however this is the most sociable area. There is a small TV – generally on sports – and often dozens of people crammed into the space. There are the usual complementary beers (two on draft), wines (house white and red) and spirits, for which you have to pay the standard $1 tip. There is however a pretty comprehensive selection of spirits to buy. Beware of the clock in the bar: it invariably is 10 minutes slow, so don't depend on it for catching your flight, or you may end up spending much longer than you planned to in here. The bar, alas, is shut on Saturdays.
Business Facilities
There is free wireless Internet from T-Mobile HotSpot (you have to ask for a card at reception) with a photocopier in the meeting room. There are newspapers, but they tend to disappear by mid-morning, on the rack by the food bar, and few magazines, but don't expect too much: a copy of hemispheres is about as far as it goes.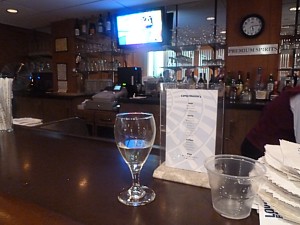 Philadelphia United Airlines Unitedclub Lounge
Bathrooms
At the far end of the Philadelphia UnitedClub are the toilets (follow the 'restrooms' sign) and these really show the age of the lounge: they are very tired.
Access
Usual United rules.
Since to move of US Airways to American Airlines, and oneworld, there are no longer other lounges you can use. That is a problem: the United Club closes insanely early, at 7.30pm.