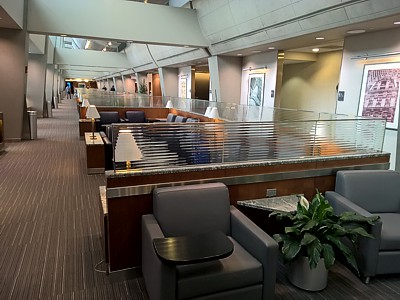 Philadelphia American Airlines Admirals Club Lounge
The main American Airlines Admirals Club in Philadelphia for Domestic flights is this one above the B/C Concourse.
To find it head to the main Philadelphia marketplace with all the eateries between gate 18 and gate 1, then take the escalator beside the windows, double back on yourself, and there is a big long reception desk, which leads onto the righthand half of the lounge. There is also a life behind the Dunkin Donuts at the entrance to B.
The lounge itself is a delight: vastly better than most other Clubs in the US (and indeed, knocking socks off the PHL Red Carpet Club) it is big, bright, airy, recently renovated, and with a great view of the gates on one side, and the marketplace on the other. If anything, it proves AA can do it, if it tries. Except it used to be a US Airways Club, until taken over by American Airlines.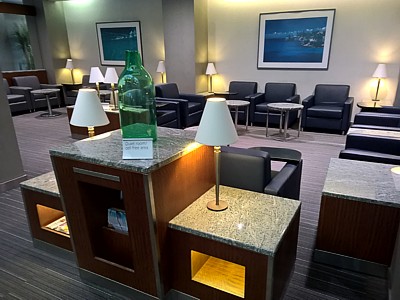 Philadelphia American Airlines Admirals Club
All along the floor under the big A frame of the roof there are seating areas divided by big glass screens, with low down coffee tables and dainty little lamps.
It is a place of subdued hush, and miles away from the anacky down by the gates or the 60s horrors of the D concourse.
Finding somewhere to sit is generally not a problem, although getting a prized seat near the windows is harder.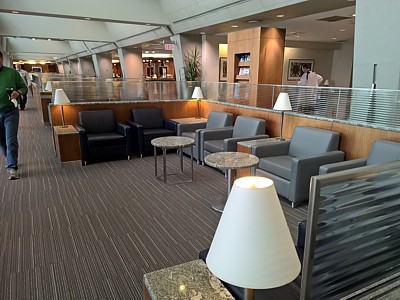 Philadelphia American Airlines Admirals Club Lounge
Food
Food however is a disappointment. There is just a small food counter, which has apples, biscuits, and nuts. And that's it.
However in the evening there is a small menu on the bar counter, which some more substantial fare, so long as you pay for it.
Bar
There is of course a small bar, halfway along the Club. It is very pleasant too, with plenty of stools to sit on at the bar, and watch the two small TV screens above the bar.
Alas local licensing laws mean that the bar has to charge a minimum of US$1.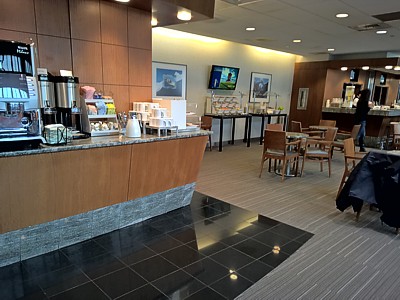 Philadelphia American Airlines Admirals Club
Of course there is a 'mandatory' tip for the barman too– but somehow you don't mind that (too) much in this place.
There is a selection of six local beers, including of course Bud and Corona, and cheap house spirits, or you can fork out for the premium stuff, including little bottles of Sparkling Wine.
Bathrooms
There are spacious shower suites.
Business Facilities
There are a few magazines, and local newspapers in a rack by the food bar, but that's it for entertainment, other than the two TVs above the bar.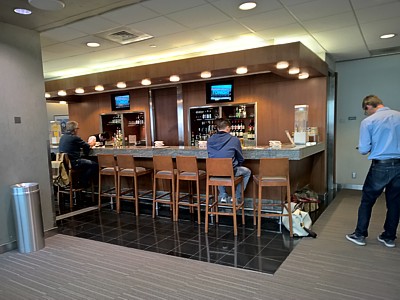 Philadelphia American Airlines Admirals Club Lounge
There is free wifi, and a work area with six rather slow computers, and what is called a PrintPod, where you have to pay for the printer.
Access
American Airlines Admirals Club members get free access, American Airlines First and Business Class passengers departing on a same-day international fight.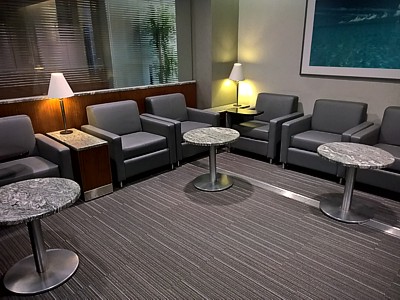 Philadelphia American Airlines Admirals Club
You can buy a day pass, but at $50 for the day, it is poor value.