Glasgow Airport Guide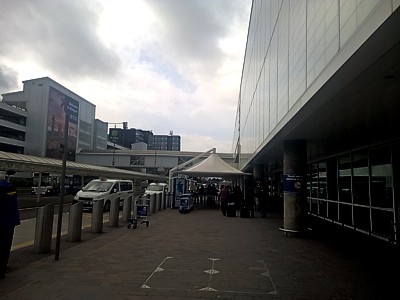 Glasgow Airport
Glasgow Airport, is the second busiest airport in Scotland, and is 6 miles (11 km) west of Glasgow city centre.
With 7.7 million passengers a year it is quite busy, and the eighth busiest airport in the UK. It is also well know for having some of the highest concentration of bars of any UK airport.
However for some passengers landing and expecting to be in the wilderness of the highlands, Glasgow airport is a shock. It is very much a working, somewhat down at heel, airport, with a vast volume of package tour passengers. Long hall is very much in the minority here.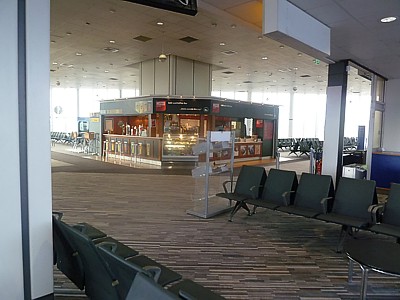 Glasgow
Also know (officially) as Glasgow Abbotsinch International Airport, or Port-adhair Eadar-nàiseanta Ghlaschu (in Scottish Gaelic). Don't confuse it with Glasgow Prestwick Airport, which was the old international airport, and is 32 miles from the city centre, and used mainly by low-cost airlines, with a mere 900,000 passengers a year. Unlike Abbotsinch, it does have a direct rail connection.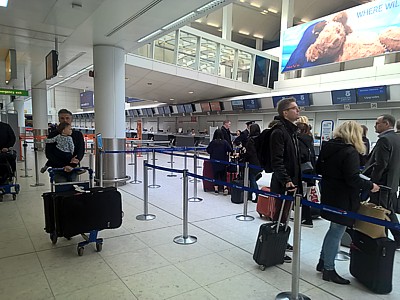 Glasgow Airport
Wireless internet access is available throughout Glasgow Airport for a fee (first 30 minutes are free of charge), and there are also fixed internet kiosks and desks. A postbox is located in the check-in area.
Shopping is OK at Glasgow Airport, but really no great shakes.
However, for bars, Glasgow airport comes into its own. It really is a great place for a day long bar crawl.

First & Business Class lounges at Glasgow Airport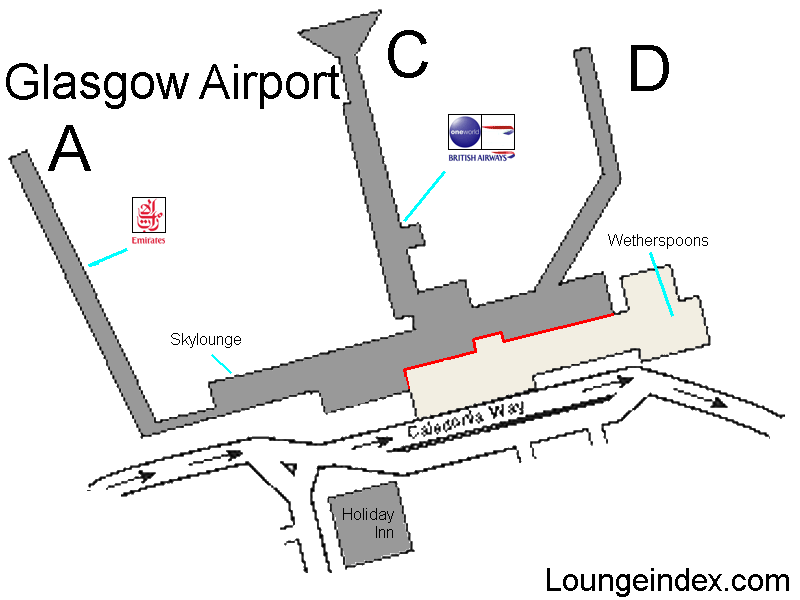 Glasgow Airport Terminal Map
Glasgow Airport transportation
Glasgow Airport shuttle bus services
The airport is currently linked to Glasgow City Centre by Glasgow Shuttle bus service 500. This is run by First Glasgow under contract to Glasgow Airport. Started in 2011, the service runs 24 hours a day, direct via the M8 motorway. McGill's Bus Services service 757 links the airport with Paisley Gilmour Street railway station, Paisley town centre, Erskine & Clydebank. This bus accepts National Rail tickets between Glasgow Airport and any railway station.
First also run the the 747 route, which travels to Glasgow city centre via Braehead and the West End of the city.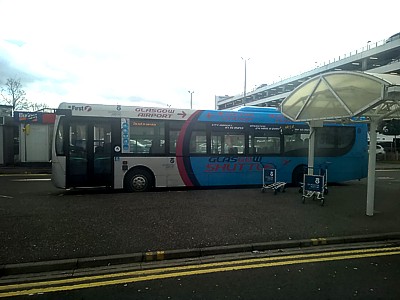 Glasgow Airport Bus
Glasgow Airport taxi services
Getting a taxi to and from Glasgow Airport is usually trouble free.
Metered taxis are available 24 hours a day. The taxi rank is immediately outside the terminal building. The fare to the city centre is around £25, and the journey time is approximately 20 minutes, depending on traffic conditions
Car Hire at Glasgow Airport
Major car hire operators are located in the Arrivals Halls. To save time and ensure you get the car you want, book your rental in advance. Rental car operators from Glasgow Airport include:
Europcar
,
Thrifty
,
Avis
and
Budget
.
Glasgow Airport Hotel
There is just one airport hotel at Glasgow airport.
The Holiday Inn Express Glasgow Airport is situated directly opposite the terminal. There is the Great Room restaurant, which has a varied menu, and the hotel provides free Wi-Fi internet, business facilities and valet parking services.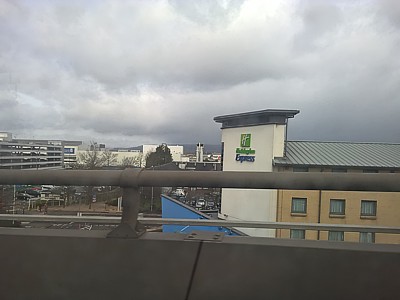 Glasgow Airport Bus
Another from the same chain, the Holiday Inn Glasgow Airport is just a couple of minutes walk from the terminal. The Holiday Inn Glasgow features an on-site restaurant, lounge and business centre equipped with 18 meeting rooms.
The Ramada Glasgow Airport is a good budget option minutes from the terminal via a paid-for shuttle service. Those staying on business will appreciate the free internet access and choice of meeting rooms.
Glasgow Airport Bars and Restaurants
The number of bars at Glasgow airport has to be seen to be believed. There are a vast number of them: you could spend all day on a bar crawl of this place.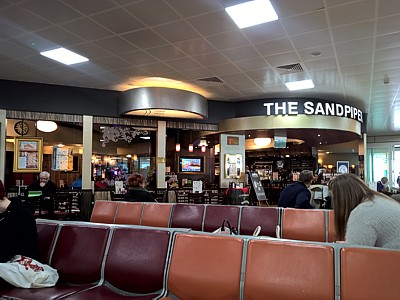 Sandpiper Glasgow Airport Bar
Sandpiper Bar
Open: 0400-2300
Landside
Very much the first bar you come to at Glasgow Airport, the Sandpiper is a classic Wetherspoon pub, on the ground floor close to T2.
Wetherspoon are a champion of micro-breweries, and so often have some good Scottish real ales in presence here. Plus the usual Stella and Kronenburg.
Food is good with the usual cheap Wetherspoons grub. The melting chocolate pudding is very good indeed.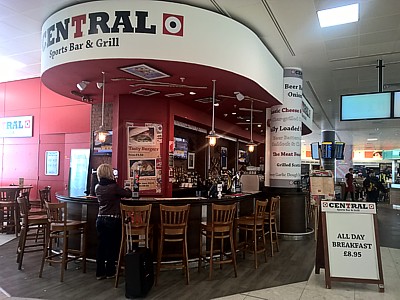 Central Glasgow Airport Bar
Central Bar
Open: 0400-2300
Landside, just before security
The last pub you come to before leaving Glasgow Airport, the Central sells itself as a sports bar and grill.
Beer is the usual Guinness or Stella. However the food is very good, with a vast array of food including some great burgers. The swiss mushroom one is very good. The Pizzas are a little on the pricey side, but still worth it.
Frankie & Bennys Glasgow Airport Bar
Frankie and Benny's Glasgow Airport
Open: 0400-2300
Airside
Designed as a classic 1950s American diner, it actually doesn't do a bad job. The atmosphere is good, and the food not bad.
There is the usual full cooked Scottish breakfasts and quintessentially America pancakes. Pizzas are good.
This place promises all food will be cooked within 15 minutes. Often, it manages it.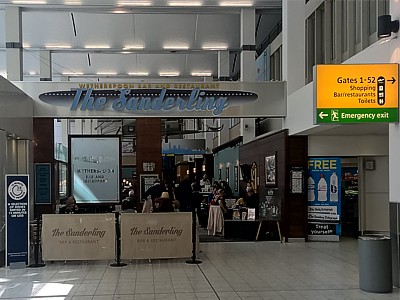 Sanderling Glasgow Airport Bar
Sanderling Bar
Open: 0400-2300
Airside
Another Wetherspoons, this time after checkin. It's one of the few Wetherspoons which will serve a pint at 4am.
The atmosphere isn't great, being just a large open bar, but with pints of real ale from £3.15, you can't go far wrong.