Geneva Airport Guide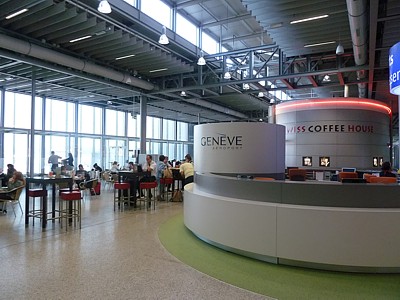 Geneva Airport Main Terminal
Geneva Airport is a small airport serving, not surprisingly, Geneva and the main snowfields of the western Alps. It is only 2 miles north of the city centre, and as such is almost within walking distance of the city and the Lake.
Officially known as Genève Aéroport, it is quite small, in the steel warehouse style of airports. It was built as a temporary terminal during the 1970s, and due to be rebuilt as a new terminal named 'Aile Est' by 2016. At the moment shopping and facilities are really quite poor.
Passport control at the airport can be complex, as Switzerland is not a member of the EU, but is a member of Schengen. Adding to this, Geneva Airport is built over the Swiss-French border and the airport has an entrance in both countries. Passengers on flights to or from France do not have to go through Swiss customs and immigration controls if they remain in the French sector of the airport.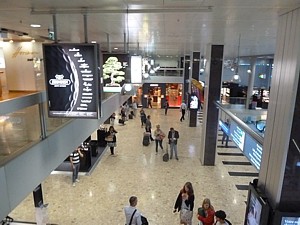 Geneva Airport Terminal 1
Geneva airport has two passenger terminals, T1 and T2. However in reality almost everyone uses T1.
Geneva Airport International Terminal 1
Terminal 1, also known as T1 or the Main terminal (M) has 5 piers. Three of these are very small strange, round buildings right in the middle of the airport apron. They are connected to the Main Terminal by long thin underground tunnels. Two of the three in-field terminals have been upgraded with jet bridges, while at the other you still walk over the tarmac to your plane.
The main concourse of T1 is a Schengen area, as are Pier A and pier D. There is no passport control at these gates.
The long low corridor of Pier C is used for widebody longhaul aircraft. The Air Canada, United (both Washington and Newark), and the Swissair Geneva to New York flights all use this Pier, which resembles an out of use garden centre.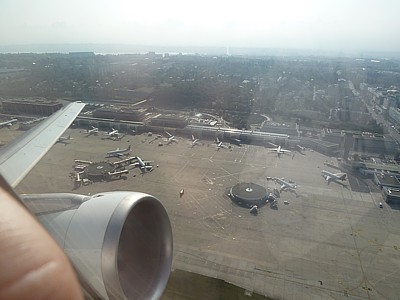 Geneva Airport The three in-field terminals
Geneva Airport International Terminal 2
Terminal 2 or T2 is an oddity. It is only used for winter charter flights. This terminal was built in 1946, and is the original terminal at Geneva Airport. There is one small cafe, and no duty free shops. Passengers are bussed to the gates.
This building is so old it appears in the cartoon book The Adventures of Tintin in "The Calculus Affair."

First & Business Class lounges at Geneva Airport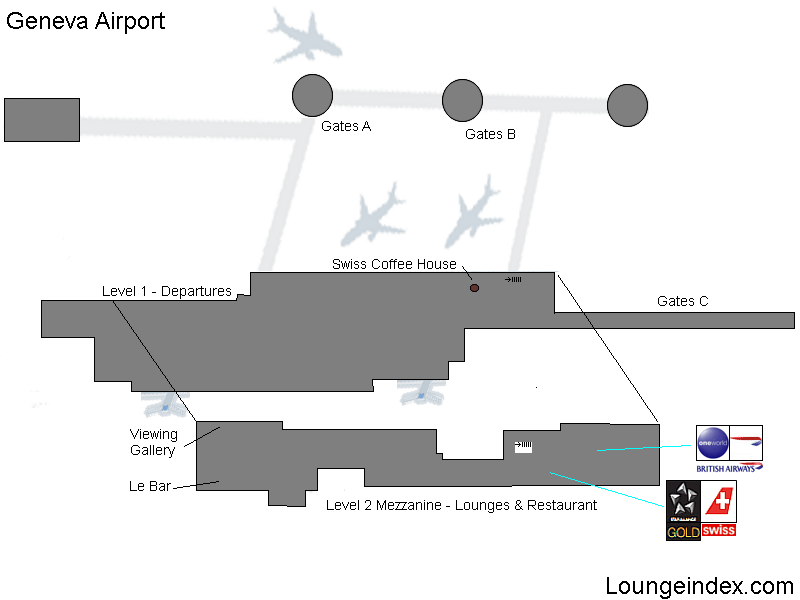 Geneva Airport Terminal Map
Geneva Airport transportation
Getting to and from Geneva Airport is very simple. In fact, the airport is so close to the city centre, you can walk it, and many people do.
Geneva Airport train
The airport has its own railway station with trains to the main Geneva-Cornavin station. Train tickets costs 3CHF and are valid for one hour. Tickets can be purchased at machines at the station.
A promotion for tourists and those in transit is a free transport ticket to the city of Geneva, on offer at off peak months. Head to the Geneva Transport kiosk in the airport arrival terminal. This ticket is valid for 80 minutes anywhere in Geneva but you must collect the ticket before you leave the baggage claim area.
International trains leaving from Cornavin include the SNCF (French National Railway) high-speed TGV service — there is a direct service from Geneva to Paris with a journey time of three hours as well as a direct service to Nice with a journey time of six hours.
The Geneva airport to Chamonix train also leaves from Cornavin – but it is not exactly direct. At Cornavin take the Bellegarde train, where you change for trains to St-Gervais-les-Bains, and then change onto the narrow-gauge mountain train begins and rolls to Chamonix.
A more direct – and much prettier – route is to get the train direct from Geneva airport direct to Martigny. Then take the narrow-gauge mountain train up and over the Alps to Chamonix. This route is spectacular, and rates as one of the world's most thrilling mountain train. In total it will take about 6 hours.
There is also another train station in Geneva, the Eaux Vives station. There are also trains from here to Chamonix.
Geneva Airport shuttle bus services
Local buses stop at the airport, and these can often be more convenient for a hotel. Tickets cost 3CHF to get to the city.
The number 10 bus leaves every 15 minutes from 06:00 to 23:00. Get off at the 22-Cantons stop for train station. Bus 5 also goes to the central railway station but along a different route passing by close to the UN building and stopping at Rue Lausanne. Both buses then continue to the southern side of the city.
There are also long-distance buses to Annecy in France, and also seasonal buses to the ski resort of Chamonix , leaving at 1545 each day.
Geneva Airport taxi services
Getting a taxi to and from Geneva Airport is usually trouble free.
There is a small taxi rank directly outside arrivals. Geneva airport to city by taxi costs approximately 30CHF and takes 10 minutes.
Car Hire at Geneva Airport
Major car hire operators are located in the Arrivals Halls. To save time and ensure you get the car you want, book your rental in advance. Rental car operators from Geneva Airport include:
Europcar
,
Thrifty
,
Avis
and
Budget
.
Geneva Airport Arrivals
There is a UBS bank with ATMs and exchange machines in the arrival area.
Geneva Airport Hotel
There are two airport hotels at Geneva airport.
Hotel Nash Airport is located a ten minute walk from the International terminal: just walk up the Av Louis Casal, and then up the Chemin de la Violette.
The Geneva Airport Holiday Inn is a bit more of a walk. You have to walk up the Route de Pre-Bois, and it can take 15 minutes. Beware that it is located right at the end of the active runway.
The Crowne-Plaza Geneva is also close: it is also on the Av Louis Casa.
Geneva Airport Left Luggage
Left luggage at Geneva Airport is simple – although there is no Geneva Airport Left luggage office.
Instead, head to the railway station, and go to the CFF baggage arcades, beside the CFF/SBB counter. Leaving a bag costs CHF 10 per day and per baggage. They also accept skis, surfs and snowboards.
Geneva Airport Bars and Restaurants
There is a small food court, with the usual Starbucks, Burger King etc, on the left hand (Eastern) side of the departure concourse, after security.
With a certain amount of humour for what seems to be a motorway service station, it's called 'Les Jardins de Genève'.
Although techinically Swiss, and not part of the euro-zone, all outlets at the airport accept Swiss Francs (CHF) and euro. Change is given in the same currency. Prices are shown in Swiss Francs; the exchange rate is shown on the receipt after you buy something. The exchange rate is sometimes not that favourable.
Le Bar
Open: 0530-2200
Airside, foodcourt
Having a drink at Geneva Airport is, oddly, a problem. There really isn't anywhere special.
Le Bar is the moderately best option: it is the drinks section of the food court. At least there are three beers on draft, a small wine list with French wine, and a few spirits on the shelf.
Restaurant & lounge Altitude
Open: 0700-2200
Airside
The Genveva Airport Altitude restaurant & lounge bar is best known for it's view - and what a view it is. One of the prettiest at any airport, you can look over the tarmax to the Jura mountain range.
Food is very expensive, but pretty decent. The wine list is amazing.
You'll find Altitude on the top most floor - take the lift by the food hall.