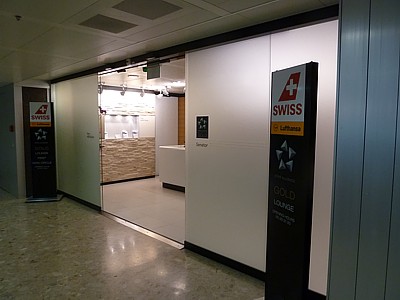 Geneva Swiss First Class Lounge
The Geneva Swiss First Class lounge is slightly smaller than the Senator lounge next door – but a much much better place to be. Sleek, stylish, and above all with a sense of space. There is only one Swiss flight with First Class leaving each day, and as such this lounge is deserted for much of the day.
To get to the lounge, after security control (but before passport control if you are extra-Schengen), go up the stairs (or escalator) to the upper Mezzanine floor, and the joint reception desk for First and Senator is right ahead of you. First is on the left.
The First Class Swiss Geneva Lounge is really just a small box, but a very pleasant one, with a grand total of 12 armchairs, and a few more dining chairs around the bistro area.
Check out the wall behind the bar. Over ten tonnes of limestone from the Jura Mountains was used in the walls. The lounges are the product of a close collaboration between SWISS, Avireal, and the Nose corporate identity agency.
Food
Food is very good indeed. At breakfast time there the usual croissants and pastries, with butter and jam, or cold cuts and cheese.
There is also a hot breakfast option, with chicken sausages, scrambled eggs, and toast. There is also yoghurt and cereal, and fruit.
At 11am the selection changes, with a good salad bar, plus two large tourines with hot options. There is also a small menu of self-order items.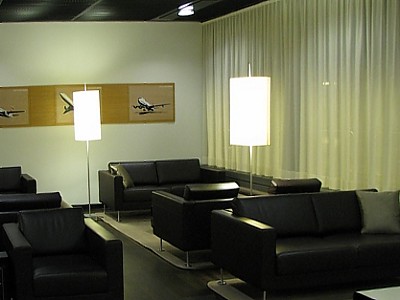 Geneva Swiss First Class Lounge
Bar
The bar in the Swiss First Class Lounge Geneva is open all day.
The wine selection is great – there are several bottles of very good white in a bucket, and three of red. Champagne is Moet, and is also on the worktop.
Beer is Becks in bottles.
Spirits are also very good. There are about a dozen bottles on the shelf infront of the limestone wall, including some rare whiskeys plus JW Blue.