Madrid Airport Guide
NEWS: A dedicated rail connection linking Madrid Barajas Airport directly to the city centre opened in September 2011.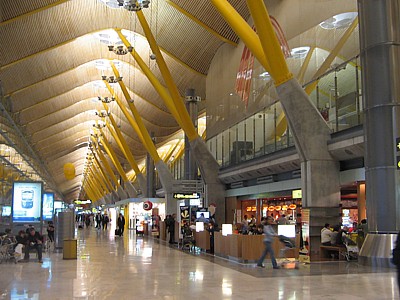 Madrid Airport
Madrid Airport is a vast sprawling airport just 13km (8 miles) northeast of Madrid city centre, and so close you land right over the heart of Puerta del Sol, Madrid's historic centre.
The airport is the main international serving Spain, and a core hub of Iberia. The merger with BA means that many people transit flights here than you'd expect. It is the world's 11th busiest airport.
Madrid-Barajas Airport to give it it's proper name (in Spanish it is Aeropuerto Internacional de Madrid-Barajas) derives from the adjacent district of Barajas, which has its own metro station on the same rail line serving the airport, and which is a historic area in its own right.
Wireless internet access is available in VIP lounges and restaurant areas in all terminals. Additionally, there are almost 100 internet points positioned throughout the terminals.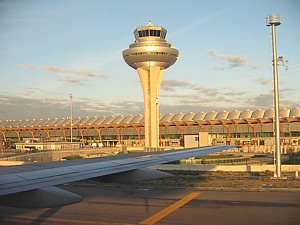 Madrid Airport
A free 24-hour shuttle bus transfers passengers between the terminals and the long-stay car park. The T4 building is linked to its satellite building (T4S) through a monorail. There is also a free shuttle bus which connects T4 with the other terminals (journey time: 10 minutes).
Madrid Airport International Terminal 1
Madrid Airport Terminal 2
There are nurseries in Terminals 2 and 4, a children's playground in Terminal 2. Pharmacies are located in Terminals 1, 2 and 4
First & Business Class lounges at Madrid Airport
Madrid Airport Terminal Map
Madrid Airport transportation
Travellers should know that many bus, limousine and shuttle bus services operating to and from Madrid Airport usually require pre-booking.
Madrid Airport train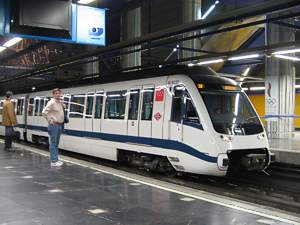 Madrid Airport Renfe Train Service to airport
The good news is there is a brand new train to Madrid Airport. It is operated by
Renfe
, and trains operate along the recently opened C1 rail connection between Madrid Barajas Airport Terminal 4 and Prínicipe Pio station in the city centre.
The fare is €2.15EUR, and the journey takes 40 minutes. The train stops en route at Chamartín (after 11 minutes) and Atocha (after 25 minutes)
You can, if you really want, that the suburban metro from Madrid airport to the city centre. Madrid Metro line 8 connects Madrid Barajas Airport with Madrid's city centre station Nuevos Ministerios in the heart of Madrid's financial district. The journey only takes 12 minutes and costs €2EUR.
Metro trains leave from the underground stations at Terminals 2 and 4.
Madrid Airport shuttle bus services
EMT
(Madrid Municipal Transport Company runs public bus services between Madrid Barajas Airport and central Madrid's Avenida de América station.
Bus 200 stops outside the baggage reclaim area of Terminals 1 and 2, while bus 204 stops outside Arrivals at Terminal 4 (journey time: 30 minutes).
There is also a shuttle but. Shuttle: Terravision (Terravision) offers shuttle bus services from Madrid Barajas Airport to the city centre (journey time: 20-30 minutes; fare: €8EUR).
Madrid Airport taxi services
Getting a taxi to and from Madrid Airport is usually trouble free.
Taxis are available from outside all terminals (journey time: 20-30 minutes; fare to city centre from about €20EUR).
You should make sure the meter is turned on at the beginning of the journey.
Car Hire at Madrid Airport
Major car hire operators are located in the Arrivals Halls. To save time and ensure you get the car you want, book your rental in advance. Rental car operators from Madrid Airport include:
Europcar
,
Thrifty
,
Avis
and
Budget
.
From the M40 (ring road) encircling central Madrid, head onto the A2 (in the direction of Barcelona) and take exit 12 to the M14.
Madrid Airport Hotel
There is just one airport hotel right next to Madrid airport: the Novotel Madrid Campo de las Naciones, although there are many others a short drive away: the airport is virtually in the city as it is.
The 4-star Novotel Madrid Campo de las Naciones has a free shuttle bus ride if you don't want the walk. It has an on-site restaurant, and an outdoor pool.
Madrid Airport Left Luggage
Madrid airport luggage storage is handled by a company called Pacific. The Madrid Airport Left Luggage desk is available in Terminals 1, 2 and 4.
Car parking
Long- and short-stay car parking is provided at Madrid Barajas Airport within six public parking areas. P1 (short-stay parking) is an outdoor car park located in front of the terminal building; P2 (short-stay parking) is an indoor car park with direct access to terminals T2 and T3. A 'parking express' facility (for stays of less than 30 minutes), is located at Terminal 2.
Madrid Airport Parking is also available long stay with 1,655 spaces; a free shuttle operates between the long-stay car park and all terminals.
Madrid Airport Bars and Restaurants
There are more than 30 cafés, bars and restaurants at Madrid Barajas Airport, distributed throughout the terminals