Gran Canaria Airport Guide (Las Palmas)
A new terminal for Gran Canaria airport is under construction. It will double the current area, giving up to 40 gates available for aircraft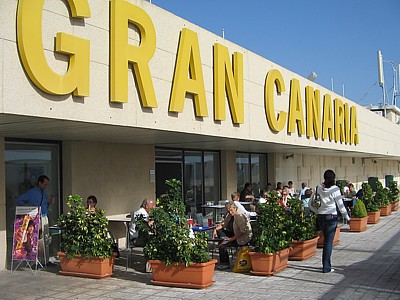 Las Palmas Gran Canaria Airport
Gran Canaria Airport is the main airport serving the Canary Islands on Gran Canaria Island. It is by far the largest airport in the Canaries, and is the fourth largest within Spain. Never the less the terminal is small and rather decepid.
The airport is located on the Eastern shore of Gran Canaria, 19 km (12 miles) south of the main town of Las Palmas, and 25 km (16 miles) north of the popular tourist resorts on the south coast.
Gran Canaria Airport is also known as Las Palmas Airport - after the main town on the island. There is at present only one passenger terminal, which was built new in 1970. Work has began on a new passenger terminal, west of the current one.
The airport's passenger traffic has a curious profile: it is either bucket and spaders from the UK, high end tourists from the Nordic countries, or a few of the locals making their way to the mainland. As a result, airlines and routes are a little unusual. There are no direct flights to Heathrow - but a very intensive service to Luton, Stanstead and Gatwick. Madrid has several competing airlines, but there is an intense winter schedule with regular airlines to Helsinki, Oslo, and Copenhagen. Germany is charter only, and forget trying to fly to Africa, which is just over the horizon: noone wants to fly there.
The airport is a favourite with plane spotters, as there is an airbase of the Spanish Air Force to the east of the runways. F/A-18 Hornets, and the Eurofighter Typhoon often line up behind the passenger jets.
Las Palmas Airport International Terminal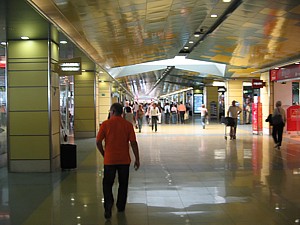 Las Palmas Gran Canaria Airport
The airport has one terminal which opened in March 1973. It was later extended in October 1991 with a small lean to extension.
The terminal is split into three zones. Zone A is for European Union Flights, Zone B is for International flights outside the European Union and Zone C is for flights to the other Canary Islands.
A 24-hour deli is located in Zone A (before security), however other shops are more basic. There is also an internet cafe in Zone A.

First & Business Class lounges at Las Palmas Airport
Las Palmas Airport transportation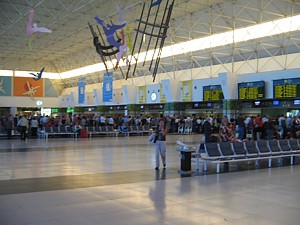 Las Palmas Gran Canaria Airport
A vast majority of the traffic to Gran Canaria is on a charter flight: as a result public transport options are basic. Taxi service is considered the cheapest way to get around the island as it has few bus services.
Many bus, limousine and shuttle bus services operating to and from Las Palmas Airport usually require pre-booking.
Las Palmas / Gran Canaria Airport shuttle bus services
There are domestic bus services operated by
Global
between Gran Canaria Airport and Las Palmas. It takes about 30 minutes, and the fare is €2.50EUR. However, buses are not that frequent. Bus services depart from right outside the airport terminal.
Bus 60 runs to Las Palmas' Parque de San Catalina and Parque de San Telmo.
Bus 66 runs to Faro de Maspalomas.
Bus 5 connects Gran Canaria Airport to the main beach resorts of the south.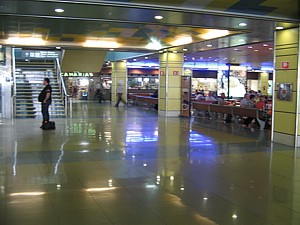 Las Palmas Gran Canaria Airport
Las Palmas / Gran Canaria Airport taxi services
Getting a taxi to and from Las Palmas Airport is usually trouble free.
There is a good taxi rank outside the arrivals areas of Zones A and C.
The fare to Las Palmas is around €26EUR, and around €50EUR to the resorts in the south.
Car Hire at Gran Canaria Airport
Major car hire operators are located in the Arrivals Halls. To save time and ensure you get the car you want, book your rental in advance. Rental car operators from Las Palmas Airport include:
Europcar
,
Thrifty
,
Avis
and
Budget
.
Gran Canaria's main motorway - the GC1 - runs directly past the airport. It is very quick to get to Las Palmas in the North and to the beaches and resorts in the South.
Car parking
Las Palmas airport car parking is quite good. It is right in front of the terminal building in a car park with around 1,500 parking spaces.
There are automatic payment machines accepting credit cards and euro coins.
Las Palmas Airport Bars and Restaurants
There are few bars in the airport terminal.