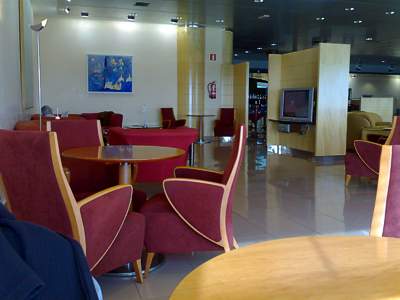 Las Palmas Sala Galdos Lounge
Iberia have recently closed their dedicated lounge at Gran Canaria Airport Las Palmas (which was at the far north of the building), and now at LPA, Iberia, along with all the other airlines, share the quite respectable VIP Sala lounge, run by the airport.
However you must request an access voucher at checkin - the staff on the lounge will not let you in without one. Ordinarily this wouldn't be a problem, however the Iberia staff at Las Palmas have no concept of whether you should be allowed in with oneworld Sapphire or Emerald cards. It may help to bring along a list of your Frequent Flyer schemes' benefits.
The actual lounge is large, bright and welcoming. There is one large central area, with windows overlooking the runway, with a bar at the far end, and a smaller room behind the bar. The bathrooms (no showers) are at the far end, above which is the departure screen. Announcements are not made in the lounge. There are 3 phone booths, but no computers. There are two televisions, which are left on pretty much continually.
Food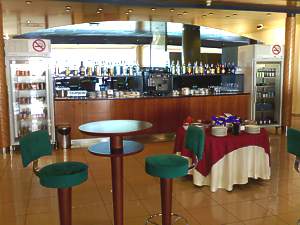 Las Palmas Sala Galdos Lounge
Food
is very poor, with packets of crisps, and two different types of biscuits. And that's it. Next to the front desk is a table on which is one copy of each of the main Spanish papers - and there's a stern warning not to take these out of the lounge.
Bar
The
bar
is pretty good, with a mind boggling array of whiskeys, a couple of different types of gin (Beefeater and Bombay) and a terrible polish vodka. There are two fridges - the one on the right has a good selection of Spanish beers.
The one on the left has lots of milkshakes and fruit juices. Somewhat surprisingly, there is no wine. Avoid sitting on thin spindly seats next to the bar - not only are they very uncomfortable, they are also unstable.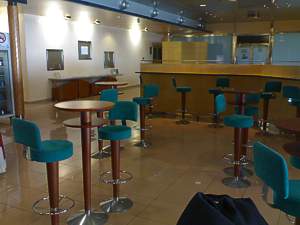 Las Palmas Sala Galdos Lounge
Bathrooms
In lounge
Business Facilities
None.