Barcelona Airport Guide
NEWS: Terminal 2 is undergoing extensive renovation. Iberia and BA have moved from Terminal 2 to Terminal 1.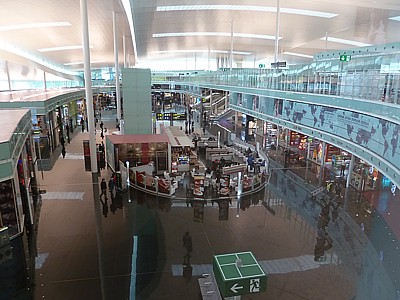 Barcelona Airport Terminal 1 Sky Centre
Barcelona Airport is 12km (7 miles) southwest of the city of Barcelona. It is surprisingly large and busy, the second largest in Spain behind Madrid Barajas Airport and 31st busiest in the world. The main terminal - Barcelona Terminal 1 - is
huge and brand new
, while the older terminal - Barcelona Terminal 2 - is
old and decrepid
, and notorious by passengers forced to walk along it as one of the world's longest.
The airport is known universally among the Spanish as 'El Prat' Airport: from it's real name: Aeropuerto de Barcelona-El Prat. Not surprisingly the name El Prat is also widely used by the one million Brit who use the airport every year: in the UK, the name Prat has somewhat different connotations. In fact the Prat moniker comes from the municipality of El Prat de Llobregat where the airport is located.
Almost all of the traffic at Barcelona Airport is domestic and European. The airport is a hub for Iberia and Air Europa, and was a hub for Spanair (known locally as the flying Spanner) until it went bust in 2012. There are very few long haul routes, with just a few to the US, Singapore Airlines to the island state, and Emirates to the middle east.
Many passengers are surprised to find Barcelona also operates the world's busiest route - the Barcelona–Madrid air shuttle service, known as the "Puente Aéreo" (in Spanish), or literally "Air Bridge", with 971 flights per week. Since February 2008, when a Madrid–Barcelona high-speed rail line was opened, flights have steadily been reduced, and it has now been eclipsed by the Melbourne to Sydney route, Tokyo to Osaka, and LA to San Francisco.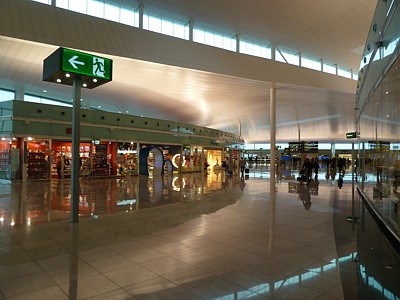 Barcelona Airport Terminal 1 Sky Centre
There are many ATMs and currency exchange services throughout Barcelona Airport.
Paid-for Wi-Fi hotspots are available throughout both terminals.
There are two terminals at Barcelona Airport. Terminal 1 is the brand spanking new terminal. Terminal 2 is, oddly, the older terminal. To transfer between terminals at Barcelona, apedestrian walkway links the A, B and C areas of Terminal 2. A shuttle bus operates between Terminals 1 and 2.
Barcelona Airport Terminal 1
Terminal 1 is brand new: it is a really lovely terminal, and was finished in 2009 - just in time for the start of Spain's Financial Crisis. And you can partly see why there was a crisis: little expense was spared in building the new terminal.
Barcelona Airport Terminal 2
The ancient Terminal 2 is the sum of the previous Terminals A, B and C, and occasionally you may hear them refered to as such, although the should be called T2A, T2B, and T2C.
Following the opening of Terminal 1, and the move of almost all airlines to T1, Terminal 2 became a deserted goast town, until the airport authorities lowered landing fees at the height of the financial crisis to attract low-cost carriers.
Although called Terminal 2, this is the oldest terminal, with the central core built in 1968 ready for the first 747 service to New York. This still stands - it is currently the oldest wing of Terminal 2B. In 1992 construction of the other two arms of terminal 2 (A and C terminals) included jetways for direct access to the aircraft, ready for the Olympics.
There is a post office on the ground floor of Terminal 2B, along with a pharmacy.

First & Business Class lounges at Barcelona Airport
Barcelona Airport Terminal Map
Barcelona Airport transportation
If you are going from Barcelona Airport to the city centre, from the new Terminal 1 chances are you are better off on the bus. From Terminal 2, the train is the better option - simply because there is a train station in Terminal 1, and the main bus pickup point is in Terminal 2.
Travellers should know that many bus, limousine and shuttle bus services operating to and from Barcelona Airport usually require pre-booking.
Barcelona Airport train
The airport railway station is linked to Terminal 2 by a walkway: just walk straight ahead once you are through customs.
The rail line is run by Renfe. It is on line R2, a suburban train which links Barcelona Airport with the city centre. Alas, the line isn't exactly direct: it curves all the way around the outskirts of Barcelona going through a 270 degree arc before ending up at Maçanet-Massanes terminus station.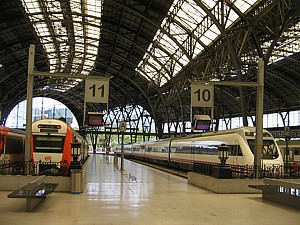 Barcelona Airport Train Maçanet-Massanes station
This is a very pretty station - but it's not near very much except the marina, and there are few other trains. Thankfully the train also stops at Barcelona Sants station and Passeig de Gràcia station, where there is a transfer to the Barcelona Metro system. If you get a hotel near either of these two stations, it can save a lot of stress in getting back to the airport.
The station is in Terminal 2 - free shuttle buses run from Terminal 1 to the rail station, but this can add a good half hour onto your journey - from Terminal 1 you are better off on the bus.
Journey time: 38 minutes; fare: €3.60EUR.
In the future a new station will be built, which will connect the station to line 9 of the Barcelona Metro.
If you are flying into T1, you can also catch the PR1 bus to the nearby El Prat train station, where there are trains every 15 minutes to the city centre.
Barcelona Airport shuttle bus services
The main shuttle bus services to Barcelona city centre are run by
AeroBusBCN
. It has a fast direct service to Plaça de Catalunya, and departs from in front of the terminals. Buses are frequent - they leave every 5 minutes, every day of the year. At Plaça de Catalunya the bus leaves on the right hand side (east) side of the square. Buses are large, and blue - you can't miss them, but make sure you get the right one: they have A1 or A2 Aerobus on the front, depending on whether they go to T1 or T2.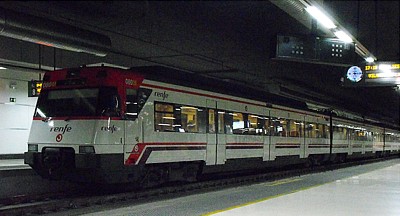 Barcelona Airport Renfe Train
The Aerobus costs 5.75EUR for a single, or 10EUR return (and are valid for 9 days).
There are also local suburban busses, run by AMB. These depart from Terminals 1, 2B and 2C and terminate in various destinations in central Barcelona. The journey time is a good 45 minutes; fare: €5.50.
There is also a night bus operating at 20-minute intervals from 2200-0500.
Barcelona Airport taxi services
Getting a taxi to and from Barcelona Airport is usually trouble free, except at peak times (4pm-6pm) when you may have trouble picking one up in the city.
Taxi ranks are located outside both the terminals.
The fare is around 25EUR, and the journey takes around 30 minutes - but much longer in heavy traffic.
Car Hire at Barcelona Airport
Major car hire operators are located in the Arrivals Halls. To save time and ensure you get the car you want, book your rental in advance. Rental car operators from Barcelona Airport include:
Europcar
,
Thrifty
,
Avis
and
Budget
.
To get to the airport from Barcelona city centre, take the Barcelona ring road, and turn off at the Barcelona-Castelldefels C-31 motorway (which also connects with the Barcelona-Sitges C-32 motorway). From here, turn off at exit 192 to join the airport access road.
Car parking
There are public car parks with space for around 20,000 cars at Barcelona Airport.
Short-stay parking areas are located directly in front of each terminal; the PA and PC car parks are directly connected to Terminal 2 via air-bridges.
The long-stay car park is a short distance from both terminals and is linked via a shuttle bus service.
Barcelona Airport Hotel
There are two airport hotels at Barcelona airport: however, it really isn't a pretty place to stay, and it is much cheaper to stay in the city.
Your main options are:
Hotel Tryp Barcelona Airport: This is the closest hotel to the terminals at Barcelona Airport. The 205-room Hotel Tryp Barcelona Airport is getting a bit old. but it has a free shuttle to the airport.
Marriott Renaissance Barcelona Airport Hotel is within walking distance of the terminals at Barcelona Airport, but there is also a free airport shuttle service. Hotel facilities include a bar, on-site restaurant and a swimming pool.
Barcelona Airport Left Luggage
Barcelona airport luggage storage is a self service affair.
Within Terminal 1 there is a 24 hour self-service facility, however it is hidden away. Follow the signs to lost property, on the upper floor of the building - P2 (note: the airport follows the US not the European convention when naming floors - this is the second floor) - an area known as 'La Plaza'. The minimum period that you can pay for is 24 hours. A small locker is 4.30EUR, while a large one is 5.50EUR.
The Barcelona Airport Left Luggage facility in Terminal 2 has been closed. You can no longer store luggage here.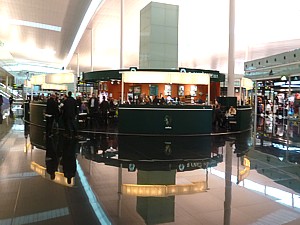 Barcelona Airport Medas Beer Bar
Barcelona Airport Bars and Restaurants
Most facilities at both terminals are airside: there are only a few cafes landside before you go through security.
There are many more bars in Terminal 1 than there is in Terminal 2; however most in Terminal 1 are on the Schengen side: don't go through passport control too early.
Medas Beer Bar
Open: 24 hours
Terminal 1, Airside, Schengen, P1
This is a great little bar right in the heart of the concourse with a huge variety of beers. There is also a small selection of tapas and some sandwiches, but really, people just come here for the beer.
Gambrinus
Open: 0800-2300
Terminal 1, Airside, Schengen, P1
This is another small little beer bar. There is Cruzcampo beer on draft.