Rome Airport Guide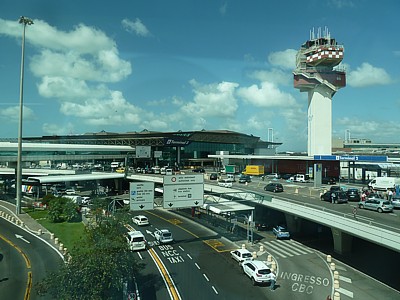 Rome Airport T3 Rome Leonardo da Vinci-Fiumicino Airport Terminal 3
NEWS: There will be a new Rome Airport in as soon as 30 years. Called Masterplan Fiumicino Nord to 2044, AdR calls for two new runways and four new terminals, to meet an estimated 100 million passengers a year.
If you are heading to Italy, chances are you'll end up at Rome Airport - or to give it its full name, Rome Leonardo da Vinci Fiumicino Airport Guide, better known to all the locals as plain simple Fiumicino Airport - hence the normally unfathomable airport code of FCO.
Rome Fiumicino Airport is located just 20 miles (35km) west of Rome, right on the coast near the small resort of Fiumicino. By far Italy's largest airport with nearly 40 million passengers a year, the sixth busiest airport in Europe, and the world's 29th busiest airport.
A Rome Airport guide also generally forgets to mention it is also well known as being a bit of a dump, with a spiders web of rundown buildings, connected by old draft walkways via narrow dark concrete stairwells. Some buildings are relatively last decade, but others date from 1961 when the airport opened, and are still in use.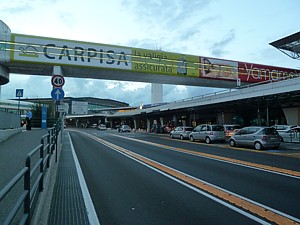 Rome Airport T2 Rome Fiumicino Airport Terminal 2
Incidentally, don't confuse the large international Rome FCO airport with the tiny Rome Ciampino Airport which remains for a few domestic and charter operations. Ciampino Airport (CIA) is much closer to the centre than Fiumicino Airport (FCO), and was planned to close in 1961 when FCO opened. It didn't.
Rome Leonardo da Vinci-Fiumicino Airport is however a nightmare to spend any time at or indeed get around: with poor signage you can end up in on unregarded dump of a terminal arm - not realising that a mere 30 minutes walk up and down into another terminal there might actually be a bar you want to spend time at. There are some good shops at the terminal - but others are very down at heel.
There are five terminals at Rome Airport. Just to confuse you more there has been a renaming of the terminals. Terminal A has been renamed T1, and its extension AA has become T2. B and C became T3 (with a T3 satellite) and the remote T5 has remained as T5 (for check-in for international non-Europe flights; you are then bussed to the Main T3 building).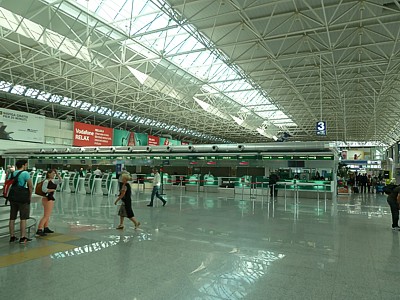 Rome Airport T1 Rome Leonardo da Vinci-Fiumicino Airport Terminal 1
Rome Airport Domestic/Schengen Terminal 1 and Terminal 2
T1 & T2 are used for all Alitalia trans-Europe Schengen flights, and it's best to consider both of them together, and they are linked both landside and airside (post-security).
Rome Airport International Terminal 3, T3Sat, and Terminal 5
It is also best to consider Terminal 3 and 5 together. Terminal 3 has two parts (the old B and C buildings - which are roughly used for Shengen and Non- Shengen flights) from which you can walk between then, and a remote satellite terminal, T3S. Terminal 5 is an oddity - it is used for check-in for international non-Europe flights; you are then bussed to the T3 satellite building.
First & Business Class lounges at Rome Airport
Rome Airport Terminal Map
Rome Airport transportation
ALthough there is a good Rome Airport Train, virtually all tourists use Taxis or take a bus direct to their hotel. When you take the train, you will find out why.
Rome Airport train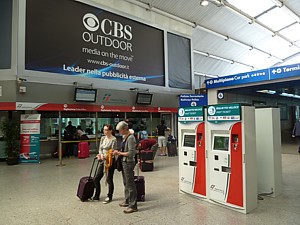 Rome Airport Train Ticket Hall
Theoretically, there is great public transport to and from Rome Airport, with a direct, fast, Rome Airport Train, called the Leonardo Express train. It may remain a mystery as to why so few tourists use it, until you too have the misfortune to try it. Suffice to say, the railway is very much geared up for locals, and trying to work out how to use it is a nightmare.
Trains run every 30 minutes to Rome's Central railway station, take 35 minutes, and the fare is a mere &euro14.
From the airport terminals, take the spinally walkways past the car parks, until you get to the railway station right in the middle of them. Here, you are presented with a dozen or so ticket booths loudly proclaiming that they will sell you a ticket to Rome: ignore all of them, as they are run by travel agents who will charge you a large mark-up on your ticket. Instead, head to the small rail office - or indeed use the machines - for a return to Rome.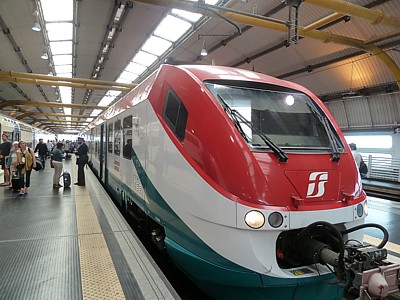 Rome Airport Train At Fiumicino Airport
Next, get your ticket validated: there is a small stamping machine on the platform, but no one will tell you about this, until the guard on the train comes round to stamp tickets: if you haven't validated, it's a 100 euro fine, and a possible jail sentence. This is known by the train staff as the train tax.
Finally, find your train: all the departure boards just say 'Rome'; the only way to see if it really is the airport express, is to look for the small letters on the side of the train saying 'Leonardo Express'.
In the other direction, it is just as much hassle, with few signs at Rome's Central railway station for the Leonardo Express; it is right at the end of the concourse, but this time with a small sticker on the platform saying this is where it departs from. You need to queue to buy a ticket from the central ticket office, if you forgot to buy one.
There are also local trains at the airport station - these run every 15 minutes and stop everywhere en-route to Tiburtina Station (fare: 8 euro).
Rome Airport shuttle bus services
From Rome Leonardo da Vinci-Fiumicino Airport
CoTral
busses take around an hour to reach the city centre (tel: 800 174 471;). The fare one way is five euro.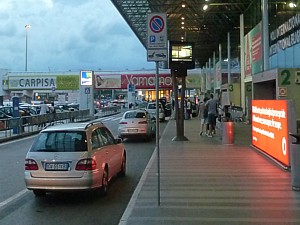 Rome Airport Taxi Rome Terminal 2
Rome Airport taxi services
Getting a taxi to and from Rome Airport is usually trouble free. Taxis are readily available outside Rome Airport terminals, however the 25 minute (2 hours in heavy traffic) is much more expensive than the train.
It costs about 75euro to take a taxi ride to the centre of Rome from the Airport, and that's if you find a white licensed metered taxi. There are plenty of touts, who will promise you the 'cheapest possible ride' - and then charge you a couple of hundred euro when you arrive.
Car Hire at Rome Airport
Major car hire operators are located in the Arrivals Halls. To save time and ensure you get the car you want, book your rental in advance. Rental car operators from Rome Airport include:
Europcar
,
Thrifty
,
Avis
and
Budget
.
Rome Airport Departure Tax
Departure taxes now form part of your ticket price.
Rome Airport Hotel
There is just one airport hotel at Rome Leonardo da Vinci-Fiumicino Airport: the
Hilton Rome Airport Hotel
. It is connected to the airport via a rather dank overground walkway.
The Rome Airport Hilton offers on-site dining and meeting facilities. Other services include an indoor pool, Jacuzzi, gymnasium and a children's playground.
One perk is that free shuttle buses operate from the Rome Airport Hilton to the centre of Rome, but take much longer than the train opposite.
Rome Airport Left Luggage
Rome airport luggage storage is handled by a decidated private company. A left-luggage service is available in T3, International Arrivals, in the basement.
Car parking
Rome airport car parking is quite good. Indeed, there is a rack of car parks you have to walk over the get to the main terminals.
The main Rome A90 ring road, leads to the E80/A91 Motorways which goes directly towards Rome Leonardo da Vinci-Fiumicino Airport.
Rome Airport Bars and Restaurants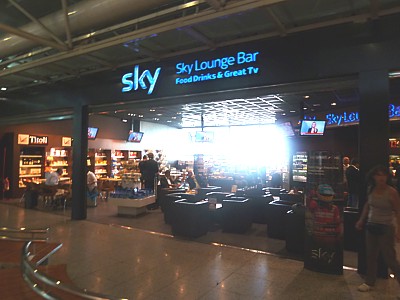 Rome Airport Sky Bar
Rome Airport Sky Bar
Open: 0600-2300
Airside, T1
One of the few decent bars at Rome is the Rome Airport Sky Bar: located in the small shopping precinct above the terminal it takes some finding if you are changing flights at Rome, it is however easy to find after check in - it's right after security.
Sponsored by Satellite broadcaster Sky, there are screens everywhere. Other than there, there is beer on draft and a small wine choice.