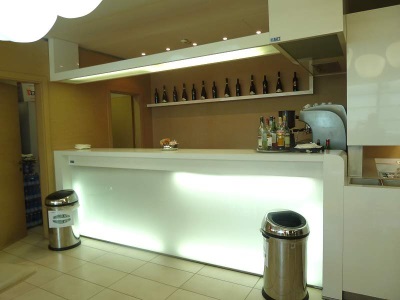 Rome Alitalia Borromini Lounge
The Rome Alitalia Borromini Lounge in Terminal 1 is Alitalia's key hub lounge, for most of its flights. It is neat but soulless, having the atmosphere of a dentist's waiting room, an notorious for poor food, and at best a so-so bar.
As the only Alitalia airside lounge at Rome, its biggest hub, from where most of the Schengen flights depart from, it seems odd that the lounge should be so poor, but that's really a hangover from when few AZ flights left from the D gates: and indeed nowadays most passengers use the lounge landside at check in anyway, so it seems, this poor relic is just there if you really really need an airside lounge too – some considerable walk from the Alitalia gates. The Alitalia Borromini Lounge in is post-security – but it takes a long walk from the lounge to get to the B gates Alitalia uses.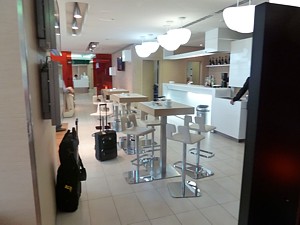 Rome Alitalia Borromini Lounge
And indeed, walking seems to be the main point of the Rome Alitalia Borromini Lounge in Terminal 1. It can be found in the middle of Terminal Area D (the old Terminal 2), up the escalators, and opposite the Avia lounge that all the Star Alliance airlines use. Once through the door, there is a small white hut where the lounge guardians sit, and after a curt welcome you are in – to in effect a corridor, high up in the terminal, with views out through sloping windows with little airside view.
The Alitalia Schengen Lounge Borromini is split into a dozen or so areas with high red walled partitions, making it seem much more claustrophobic than it is. At the far end on the right is a small business area, while on the left is the bar, food area, and at the far end a small nap room.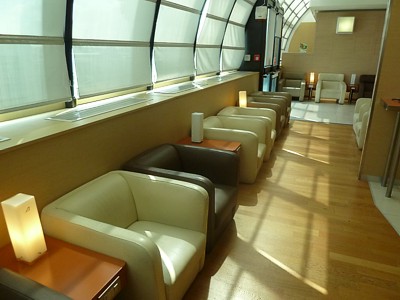 Rome Alitalia Borromini Lounge
Seats are all of a low down, cream leather affair, with small coffee tables. There are plenty of power sockets between them, all with Euro style round pin plugs. Close to the bar there are some spinally bar stools and high white tables. Small white table lamps complete the classy Italian look. And indeed, the lounge looks stylish, and with relatively few customers it is certainly a haven of calm compared to the main Rome airport downstairs.
Where it all falls down is at the bar, the food, the computers, and every other type of facility. Even the staff seem not to want to be here: certainly few of the passengers seem to hang around for long.
Bar
The bar at the Rome Alitalia Lounge is definitely not a selling point. It offers one type of Italian beer, while beside the bar is a tray of five spirit bottles. Wine is the pits, with only cheap Italian sparkling wine, or house white or red on offer. Indeed it is so poor, the Alitalia Dolce Vita lounge landside with its Pilots bar is so much better.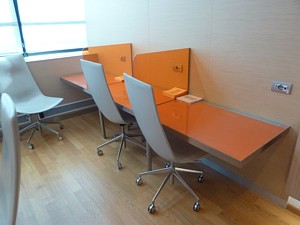 Rome Alitalia Borromini Lounge
Even worse, the bar is 'staffed' and this means you have to walk up to the bar, and wait forever to get servered, as the slowly, ever so slowly, bring it to you.
Food
If you think the bar is bad, food in the Alitalia Rome Lounge is worse, with just one small fridge to the right of the bar.
Under the fridge are three plastic covers. Lift each cover, and under one there are classic British Rail sandwiches. Under the other two are small, cheap, bowls of pasta. Cold. A nearby microwave can heat the pasta if you really want some. And that's it.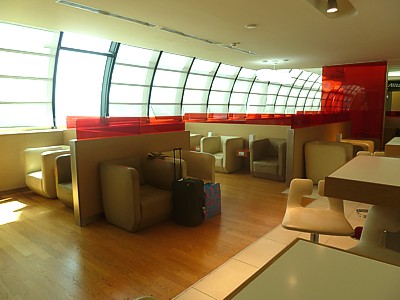 Rome Alitalia Borromini Lounge
Business Facilities
There are two computers and a printer, plus free wifi in the Rome Alitalia Lounge Terminal 1.
There are two TVs high up on the wall showing Italian 24 hour news.
There is a newspaper rack, but only with a few Italian newspapers.
Access
If you aren't flying Business Class, or a Skyteam Elite member (which gives free entry) you can buy entry for 30 euro, or a stupendous 600 euro for a full year's access.
Incidentally, the lounge situation at Rome is confusing, particularly if you read some of the old guides to lounges at Rome Airport.
The old Rome Alitalia Bramante Lounge (Terminal 1, B Gates) has closed. So has Air France's lounge (Le Fontane) in what was Terminal 2, but which is now Terminal 1 lean-to.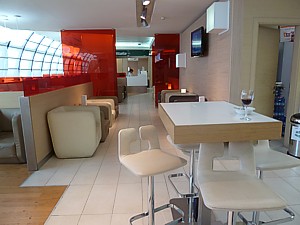 Rome Alitalia Borromini Lounge
Most people flying out of Rome Terminal 1 (on Schengen flights) use the brand new Alitalia Dolce Vita lounge landside, before security, which has a great bar and flight simulator, which is vastly better.
But if you need an airside lounge in Terminal 1, the only option on Alitalia now is the Borromini Lounge in Terminal 1 Area D.