Athens Airport Guide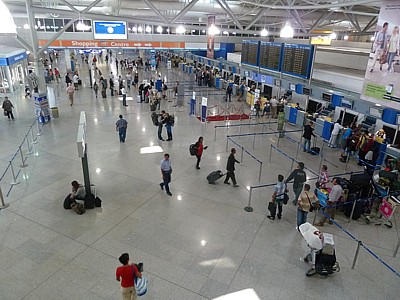 Athens Airport Departure hall
Athens Airport is the small airport serving central Greece, Athens, and is itself a major stopping off point on between Northern Europe and the Greek Islands. In high summer it can be packed – but in midwinter can be all but deserted. Athens airport is 20 km (12 miles) to the east of central Athens.
The airport is designed in a slight unusual fashion, with all security done at or near to the gates; this means as a passenger you should go to your gate as late as possible, as there are little or no facilities after security.
There is however extensive shopping in three main areas, only one of which is landside, before the boarding pass check. This shopping area is directly behind the central check in desks. There is a small food court here, above which there is a restaurant, and a McDonalds' (which features some of the best views in the airport).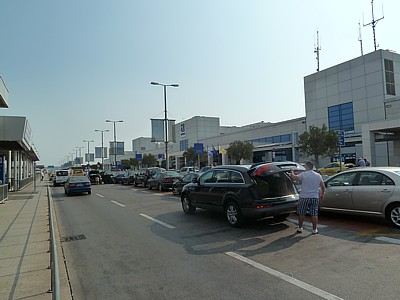 Athens Airport The main dropoff road at departures
There are two separate shopping areas after the boarding pass check, but before security: in effect in the left and right (or north and south) arms. The north area is Schengen (inter-Europe and domestic). Anyone with a boarding pass for that day can enter this area, and you can easily leave it. The south area is Non-Schengen (UK & longhaul). Only those with flights to these locations can enter this area, which is after passport control.

Athens The old Olympic longhaul fleet at the abandoned satellite terminal
Everyone checks in and transits via the Main Terminal. There is also a small Satellite Terminal (Actually to the south of the main terminal, but in line with it): access to this is via a narrow foot-tunnel: there are stairs by gate A5 in non-Schengen departures.
Facilities in the Satellite terminal were limited to a small cafe. There were plans for a new above ground link to the midfield satellite terminal, and for it to be used for inter-Schengen, but these are on hold following the Greek financial crisis, and in the summer of 2012 the Athens Airport Satellite terminal was closed and used to park abandoned aircraft. All of the old Olympic Airways longhaul fleet of A340 aircraft were parked here while attempts were made to sell them. Ironically at the time, even more geriatric Boeing 747-200 from Helenic Imperial used the Satellite when they took over Olympic's old routes to New York and South Africa. These now use the main terminal.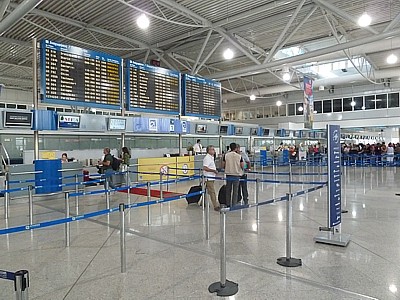 Athens Airport
In world terms, Athens Airport is a tiddler. Although 15 million travellers a year pass through, most of them do so from June to September, and at other times the airport can seem charmingly small. It is the thirtieth busiest airport in Europe, way behind places like Helsinki, with traffic to London dominating, Cyprus second, and Paris and Rome third and fourth.
Athens Airport is the major hub and base of Olympic Air and Aegean Airlines, and is officially known as Elefthérios Venizélos (after the creator of the Second Hellenic Republic).
Athens Airport was opened in 2001, and is already showing its age: although anything would be better than tiny geriatric and now closed Ellimikon airport that was in the city centre.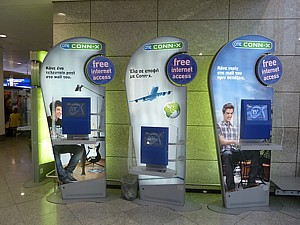 Athens airport Free internet Kisok
Athens Airport free internet
There is free internet in Athens Airport, both via Wifi (which isn't particularly fast, but useable) and free internet kisoks. The main batch of these kiosks is landside, directly under the museum. Note that only a few of the kiosks allow you to use Javascript which means that only a few will allow access to services like hotmail. In the picture the kisok on the left has Java, the older one on the right does not.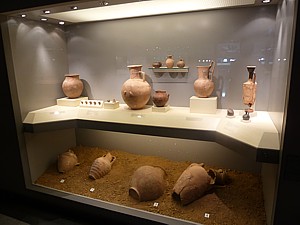 Athens airport Museum
Athens Airport Museum
If you have a few hours to kill at Athens Airport, it is worthwhile wandering up to the Athens Airport Museum. It is on the balcony on the top floor, along the corridor to McDonalds.
The museum will only take up 15 or 20 minutes of your time, but it is a facinating display of 172 archaeological findings dating from the Neolithic and Early Helladic through the Post-Byzantine period, all of which were found on the airport site.

First & Business Class lounges at Athens Airport
Athens Airport Terminal Map
Athens Airport transportation
Travellers should know that many bus, limousine and shuttle bus services operating to and from Athens Airport usually require pre-booking.
Athens Airport to Piraeus Port
To get from Athens Airport to Piraeus Port, the best way – and the cheapest – is generally to take the blue Metro at the airport, and then change onto the green metro to Piraeus at Monastiráki interchange station. The journey takes about an hour. You can take a direct bus, but it is longer, and not as frequent.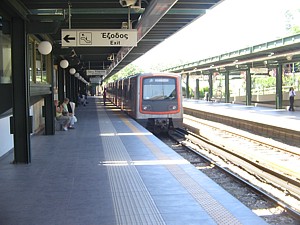 Athens Metro at Monastiraki
Athens Airport train
NEWS: The blue line metro has now been extended to the airport. Airport trains have an airplane symbol on their front destination board
.
Athens airport was designed specifically with a rail station in mind. It is a shame that more people don't use it: that is, until you use it yourself, and then you do what everyone else does – take a taxi.
There are two train services – which depart from the same platform. Make sure you take the correct one. The walkway to the train station connects on the departures level. From arrivals you need to exit, walk over the taxi area, over the road, and take the grinding escalator opposite the Sofitel.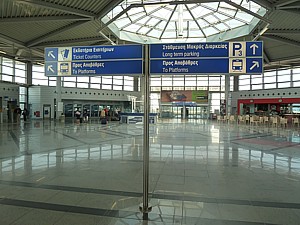 Athens airport Railway station
There two Athens Airport trains are:
Metro The airport Metro line is an extension of Line 3 (blue line) which takes you to the city centre Syntagma and Monastiráki stations. From the Airport, the metro train takes 40 minutes to reach Syntagma, and takes 43 minutes to reach Monastiráki. It costs 8euro one way. Don't forget to validate your ticket before going down to the platform and boarding a train (there are validation machines at the top of the escalators in the ticket hall).
Suburban railway to Larissis Railway Station. The suburban trains are more comfortable than the metro, but Larissis station is very definitely not in the centre of Athens – or anyone you'd really want to walk around in the dark. It's not exactly unsavoury, but it's not very convenient either. Fare is 6 euro one way.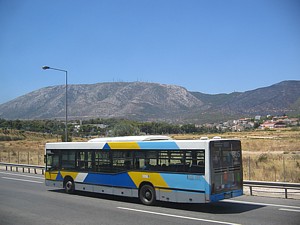 Athens airport Suburban Bus
Athens Airport shuttle bus services
There are Athens Domestic Bus services to the airport.
Bus X93 goes from the airport Kifissos Bus Terminal (where there are intercity buses). X95 goes to Syntagma Square, every 20 minutes. X96 goes to the Port of Piraeus, every 30 minutes, and X97 goes to Dafni station on Athens Metro Line 2 every 60 minutes. The bus takes at least an hour, and nearly 2 hours to get to Piraeus port.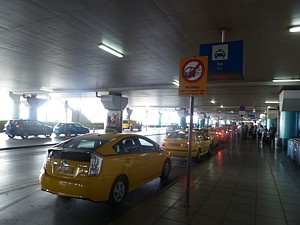 Athens airport Taxi
Athens Airport taxi services
Taxis are available at the designated Taxi waiting area located by exit 3 of the arrivals level - just slightly to the right as you exit customs. All cabs are yellow, and all
should
use the meter for every ride.
Taxis in Greece are cheap, but the drivers are experts at taking tourists who have just arrived 'for a ride'. This is less common than it was, but still occurs, particularly late at night.
The taxi starting fee is 1euro, then 0.4 euro a km within Rate 1, which applies through to the airport. There is also a 4euro fee to/from the airport. Don't tip. But do round up the price to next euro.
Although Athens airport is 20 km (12 miles) to the east of central Athens, it is at least 30 km (19 miles) by road, due to intervening hills.
Car Hire at Athens Airport
Major car hire operators are located in the Arrivals Halls. To save time and ensure you get the car you want, book your rental in advance. Rental car operators from Athens Airport include:
Europcar
,
Thrifty
,
Avis
and
Budget
.
The airport is accessible by the Attiki Odos toll highway from the centre and northern Athens, Varis-Koropiou Avenue from the western part, Laurio Ave. from the South, and Spata-Loutsa Avenue from the East.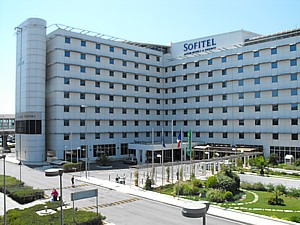 Athens airport Sofitel Hotel
Athens Airport Hotel
There is just one airport hotel at Athens airport: the Sofitel. Plans were being made for a much cheaper alternative such as an Ibis before the Greek financial crisis hit: they are now on hold.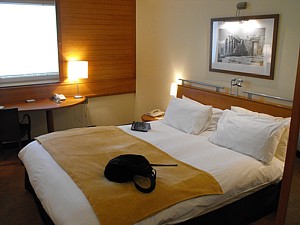 Athens airport Sofitel Hotel
The Sofitel at Athens airport is part of the accor chain, and great for late / early morning flights are you can just walk into the concourse. Rooms are luxurious, with ingenious sliding wooden panels over the windows to keep out light and sound. However the pool is a major disappointment (just one depth, and inside) and the bars are astronomically priced: it is cheaper to eat in the airport itself.
Athens Airport Left Luggage
Athens airport luggage storage is handled by a company called Pacific. The Athens Airport Left Luggage desk is after the luggage claim area and customs. Exit, and then walk all the way to the left. It is open 6am to 2am, and is quite cheap, at 10 euro for a large suitcase for the day. They are quite used to storing backpacks for weeks for people going to the islands: but the fees mount up: budget on maybe 300 euro for a month.
Athens Airport Bars and Restaurants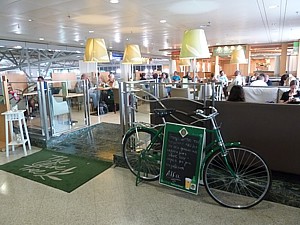 The Olive tree restaurant
The Olive tree restaurant
Open: 1030-2200
Landside, upper floor, by the Chappel
The Athens airport Olive Tree restaurant is by far the best restaurant at the airport: it has a pleasant sit-down dining room overlooking the runway; however the waiter service can be slow. Expect a decent meal to take at least two hours - it's only really suitable if you have a long wait before a long haul flight.
The restaurant is on the upper floor near the museum, with a decent selection of western and Greek dishes. It suffers a bit with noise from the nearby McDonalds. It is a little expensive - but vastly cheaper than the Sofitel opposite the airport. Hence there are always a number of refugees from the nearby hotel.
The restaurant does a Greek platter and Ouzo. All in all, it's not bad.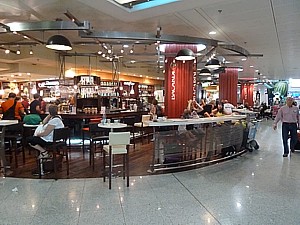 Athens airport Bacardi Bar
Athens airport Bacardi Bar
Open: 0600-2330
Landside, beside food court
If you want a decent bar at Athens airport, you are going to be so out of luck. Athens just doesn't do pubs. What there is, is a small bar attached to the coffee franchise beside the food court, behind the central departure board at the airport.
That's not to say that it's bad - indeed, compared to the Star Bar airside it is wonderful - but Greek atmosphere, it doesn't have. Indeed, it could be a bar at any airport in the world.
The range of spirits and Ouzo is impressive. Wine is basic, and beer is Heiniken only.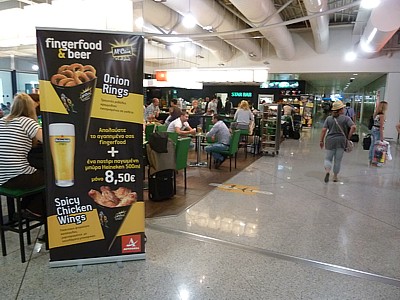 Athens Star Bar
Star Bar
Open: 1100-2300
Airside, by gate A7
The only airside bar on the Schengen side after passport control, but before security, is the Star Bar.
As airport bars go, it is decidedly average. The seats are comfy, but cleaning is poor meaning there are often piles of rubbish on the tables.
Fosters or Carlsberg is on draft. Food consists of things they can fry the life out of. And that's about it. It's a stopoff point if you made the mistake of going through passport control too early.