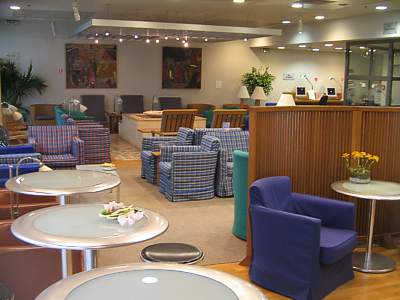 Athens British Airways Lounge
NEWS: Renovations of the Lounge at Athens are complete. The lounge is now a new Galleries lounge
At the remote outpost in Athens it's a delight to find that there is a small but full equipted Terraces. Compared the smoggy overpriced hell that can be the city, its lovely and welcoming.
Unusually it's after passport control, and before security. Head all the way down the shopping arcade, and it's after the vast Olympic lounge, and before the Swissport lounge.
Past the reception desk - which is the only way of finding out about flight departures (there are no screens in the lounge) there are large windows - alas, overlooking an office block, not the runway - a bar on the left, comfy seats around a fountain on the right, some sunloungers, computers on the far right, and a small smoking room.
In the lounge there is a glass cabinet with lots of duty free items for sale. There is everything from Oozo to little models of the Pathenon, and even JW Blue.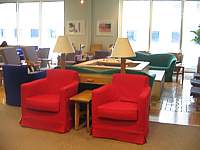 Athens BA Lounge
Food
Food isn't great in the British Airways Lounge Athens, but is at least there. A couple of hours before each flight a tray of rolls is put out, with ham, cheese (Brie), salami, and, very oddly, pesto & tomato options.
Bar
The
Bar
is pretty good, with a full selection of Spirits including Gordon's Gin, Regal, Baileys, Grand Marnier, JW Red, Smirnoff, and two types of Oozo. Cans of Amstel & Heiniken are in the fridge. Alas, there is only one type of red & White wine (bad Greek ones) in the round holes in the bar top. There are jugs of Orange & Tomato Juice, and a coffee machine.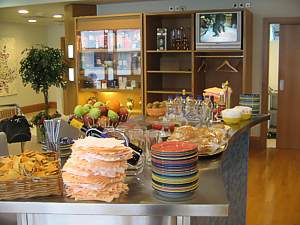 Athens British Airways Lounge
Bathrooms
There are no toilet or shower facilities in the lounge.
Business Facilities
The
Combiz
business centre is really just a couple of desks at the far end of the room, There are two computers which are pretty slow (press Enter to get past the password login screens) a fax & photocopier. There are also four desks where you can plug in a laptop.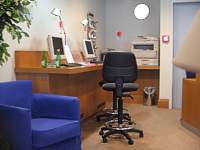 Athens BA Lounge
Newspapers are in the rack to the left of the bar, and there is a full selection of Greek papers, but only the Daily Mail from the UK. To the left of the bar is a Television, normally left on BBC World. It is alas high up in a cabinet in the wall, and as such watching it can be a right pain - only the high seats at the bar give a decent view. Anywhere else and you'll get a permanent crink in your kneck.