Toulouse Airport Guide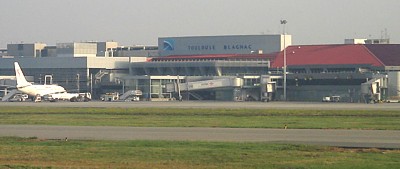 Toulouse Airport
Toulouse Airport is a large modern airport in the southwest of France.
If you are heading skiing in the Pyrénées or south to the Med, chances are you'll do so via Toulouse Airport. Toulouse Airport is just 6 km (4 miles) west northwest of the city of Toulouse.
Aéroport de Toulouse - Blagnac to give it its correct name is also well known as the base for Airbus and ATR, who assemble aircraft at the airport. If you want to see plenty of A380 super-jumbo, instead of Heathrow or CDG, Toulouse is the best bet: as a result the airport caters well for plane spotters.
If you have time to kill at the airport, don't miss the historic aircraft displays, including Air France Concorde F-BVFC.
Toulouse Airport International Terminal
The main terminal of Toulouse Airport is long and thin. There is an excellent viewing gallery on the top floor. There is a bank in the arrivals hall (Hall B), where there are also ATMs.
A post office is located in Hall C in the arrivals area.

First & Business Class lounges at Toulouse Airport
Toulouse Airport transportation
Travellers should know that many bus, limousine and shuttle bus services operating to and from Toulouse Airport usually require pre-booking.
Toulouse Airport shuttle bus services
City buses serving the town centre leave from door C of the airport terminal. The journey takes 20 minutes, and it costs around €5EUR. The main stops at Toulouse city centre are the bus station, Jean Jaurès, Jeanne d'Arc and Compans Caffarelli.
There is a Hotel Shuttle bus from Toulouse airport. Shuttle buses pick-up and drop-off at four city centre stops, close to the airport. Shuttles depart every 20 minutes during the day.
Toulouse Airport taxi services
Getting a taxi to and from Toulouse Airport is usually trouble free.
Taxi: Taxis leave from a taxi rank situated outside Arrivals door C. The fare to central Toulouse is typically €22EUR (€25 during the night).
Car Hire at Toulouse Airport
Major car hire operators are located in the Arrivals Halls. To save time and ensure you get the car you want, book your rental in advance. Rental car operators from Toulouse Airport include:
Europcar
,
Thrifty
,
Avis
and
Budget
.
Car rental desks are situated in Arrivals, Halls B and C.
Toulouse Airport Hotel
There is just one airport hotel at Toulouse airport, in walking distance of the terminals: all others run a shuttle bus.
The Radisson Blu Hotel Toulouse Airport is new, and is part of Rezidor's 'boutique-style' brand. It takes about 3 minutes to walk it from the terminal at Toulouse-Blagnac Airport.
There is a free 24-hour shuttle buses. Facilities include a fully equipped fitness centre/spa, free Wi-Fi access, and meeting and conference space.
Toulouse Airport Left Luggage
Toulouse airport has no Left Luggage desk at all.
Car parking
Toulouse airport car parking is quite good.
Short-term parking (up to 24 hours) is available at P0 and P1.
Long-term parking is available at the P2, P5 and P6 car parks. A free shuttle bus service connects these car parks to the terminal building. The first 30 minutes' parking is free in all car parks except P3.
From Toulouse city centre, follow the signposts for Bordeaux, Auch and Blagnac to leave the city by the Allée de Barcelone. At the junction with the A620, follow signs for Bordeaux and join the A620-E9. At junction 31, branch right onto the A621 towards Blagnac. At junction 2, take the right hand lane, signposted 'Aéroport Blagnac, Grenade' to join the D901. Toulouse-Blagnac Airport is located off junction 4 of the D901.
Toulouse Airport Bars and Restaurants