NEWS: Renovations of the Salon La Croix Du Sud at Toulouse Airport are complete. Ther are new seats with much warmer colours with red and orange. Space has doubled to 70 people on the ground floor and second floor area with a capacity of 30 people which will open by the end of the year.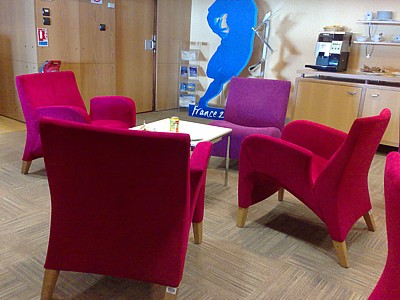 Toulouse Salon La Croix Du Sud Lounge
The lounge at Toulouse Blagnac is pretty dire, as Airport Lounges go. It not even operate by a separate company, but is instead part of the council run airport. It's spent a fortune on natty logoed cups - and little to go in them. Rather like Blagnac itself, which is a tiny rural airport, which would be ignored normally if it didn't have the really big guns of the airport world calling in for the vast airbus factory opposite the tiny terminal.
If you are on the Gatwick flights, finding this lounge is a bit of a struggle (as is check in, thanks to the ex-Easyjet staff who now man the counter).
Go to the far end of hall C, around the makeshift barriers, all the way back, past security, and then in the tiny holding area before passport control go left, left again, up the concrete stairs with no signs, along the walkway with a plywood door halfway along.
At the far end is a sign saying Salon VIP La Croix Du Sud. You have reached a haven of peace, because noone else can find it. It is known by the ex-pat locals as the Crock of Sudds.
The Toulouse Blagnac Salon La Croix Du Sud lounge is a tiny little box of a place, with a seating capacity of 100 - this is much larger than the old small lounge with seating for just 35 people.
The only Toulouse airport lounge, it takes in everyone from Priority Pass to BA executive club members, to the French Frequent Fliers.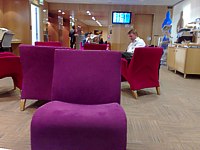 Toulouse Salon La Croix Du Sud Lounge
As is the normal format for contract lounges, you walk in half way through to a lounge that has two halves: but each side is idential. On each side there are identical rather hard armchars, around three tables.
Food
Food is amazingly poor, with just peanuts and biscuits. There are no newspapers, other than the local Toulouse freebie. There is also a coffee machine.
Bar
On other sides of the room is a fridge (in the wall) with the self sevice bar. In here are several good bottles of white, and quite exceptional champagne.
There are also several beers, including Blanc and Kronenbourg.
On the small bar counter there are a couple of bottles of red, and the self-serve spirit bar, which is pretty poor. There's a bottle of whisky, vodka, and a random spirit on optics screwed to the wall.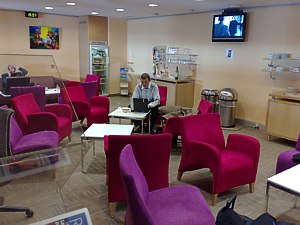 Toulouse Salon La Croix Du Sud Lounge
Bathrooms
In Lounge.
Business Facilities
Each side has one
computer
with free internet access, and a very odd French keyboard, on a worktop on one side of the room.
Newspapers and Magazines, Free internet access, Fax, TV, Flight Information
Access
The lounge is a full Priority Pass Lounge. Or it can be worthwhile buying entrance because the price is so low: just 15 euro per person, and unlimited beers.