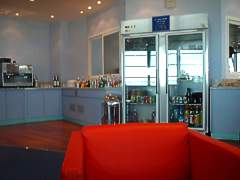 Nice Salon Cap D'Antibes Lounge
This lounge is cursed, blighted even, by being after Schengen security. This means you have to pass through passport control to get to it - however passport control is only staffed after 1920. So if you arrive early, check in, and go past security, you can have a long wait before you can get into the lounge. Once past passport control, head to the lift on your right.
The lounge is well worth it though, with fantastic wine, and great food, but very small. The Seating Capacity is 53.
There is a lousy selection of newspapers as you go in, on the left. There is normally one copy of a UK paper, such as the Times. At the far end of the lounge is a widescreen TV, and one internet computer.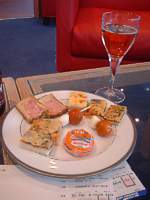 Nice Salon Cap D'Antibes Lounge
All in all its a great lounge to kill an hour or two. Alas, it does not open late, and indeed it also shuts early before the main flights leave.
Food
Food is mainly nibbles, but there are plenty to choose from here too. There are miniture crossants and pastries, trays of miniture pizzas and welsh rarebit in the fridge, along with other indeterminable nibbles, plenty of cheese and biscuits.
Bar
The well stocked
bar
has two types of red and white wine, plus Champagne, and even a pink Champagne. If someone has swiped the bottle of champers for their table, spares are kept in the main fridge, on the lowest shelf, behind the white tray. Boxes of cheese are also kept there.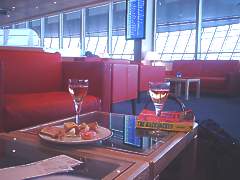 Nice Salon Cap D'Antibes Lounge
There are plenty of spirits (including some cherry variants you may not have heard of) and an amazing array of beers. Heiniken, Kronenbourg, Buckley, Chimay, and incredibly Belgium Kriek Cherry trappist beer. There is also a good coffee machine.
Bathrooms
Toilets in lounge.
There is one shower - ask at reception for a towel.
Business Facilities
Internet, Fax, Telephone, Newspapers an Magazines, TV, Flight Info.