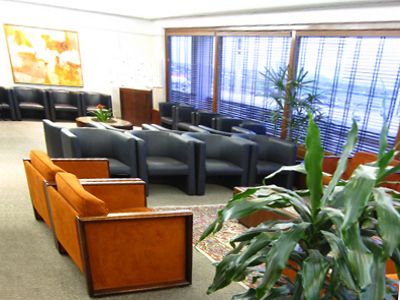 Rio De Janeiro Admirals Club
Rio De Janeiro American Airlines Admirals Club is pleasant, but not exactly large, and can be a bit manic late in the evening when there are three long-haul flights leaving at once.
The lounge is airside, in the Blue Sector behind a restricted area on the mezzanine level, just past the duty free upstairs with the rest of the clubs. There is a rather bluff looking wooden door, with just the AA stars on it: the club door is closed and you have to press the buzzer to get in.
The main area of the lounge is just a white walled cell, with a strange curvy ceiling. There are a couple of potted palm trees, but that doesn't help the atmosphere much. There are three seating banks, with the usual AA squashy arm chairs, and a televisions on the wall of the lounge, which is usually on CNBC. There is also a small corridor that leads past an area with a couple of dining tables, and a small office area in an alcove.
The lounge was revamped late in 2009, althought it is starting to show its age again.
There are windows in the lounge, but really not a very good view. Not that it matters for the late British Airways flight, when the lounge becomes horribly crowded, with passengers for the AA, Iberia and British Airways flight all crammed in. It is hard to find a vacant seat at these times, and then it is topped off with children running around.
Food
Food offerings in the Rio De Janeiro American Airlines Admirals Club are very limited, in the basic AA style, and not up to the usual standards you would expect at Heathrow.
There is no hot food, just sandwiches, soup, crackers, olives, nuts and cheese bread (pćo de queijo). However if you ask the staff for other choices of food than what is out, sometimes they have better stuff hidden in the kitchen!
There are the usual containers of AA nuts in this lounge, and another one of what is optimistically called Ranch Mix.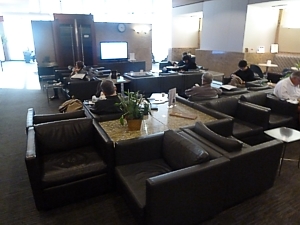 American Airlines
Bar
Drinks are free at the Rio De Janeiro American Airlines Admirals Club, but pretty basic, with just Devassa on tap. There are a few spirits, and one bottle of red and another of white.
Bathrooms
There are bathrooms with toilets and showers in the Rio De Janeiro American Airlines Admirals Club.
Business Facilities
There is Wireless Internet throught the lounge, along with two faily slow PCs. There are newspapers, and magazines on a rack.