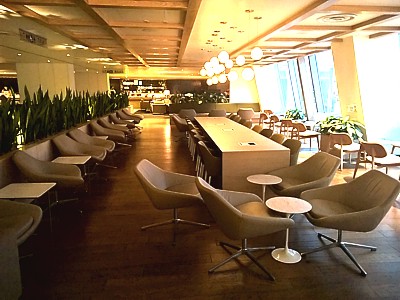 Los Angeles Qantas oneworld Business Class Lounge
NEWS: The brand new Qantas Business Class Lounge at Los Angeles is now open.
Read the full story here:
oneworld LAX business class lounge open
.
The Qantas Business Class at Los Angeles TBIT is many things. It is owned and run by Qantas, and has a distinct Aussie vibe, but with the move of all oneworld airlines into TBIT, it is also the British Airways Los Angeles Lounge, and the Cathay Pacific Lounge LAX. Branding however is distinctly oneworld. You have to hunt hard to see the Red Roo's signature.
Which is a shame, as the quasi- oneworld lounge for 'top of the alliance' airlines Qantas, British Airways and Cathay Pacific shows what can be done when designing a lounge from scratch, and is a world away from the older cramped Qantas and oneworld lounge at the Los Angeles international TBIT terminal.
The Qantas Los Angeles Business Class Lounge has seating for 600 travellers no less, and in the evening it needs them. It gets packed when all the late night flights are about to depart.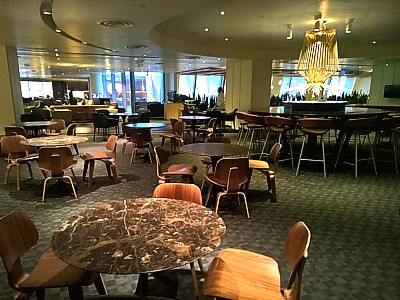 Los Angeles oneworld Business Lounge
The oneworld LAX lounge has what is described as a "uniquely LA look reflecting a contemporary design reflecting Californian culture", with the feel and food offering reflecting the location, similar to the brand new Qantas Singapore and Hong Kong lounges, but without the roo.
You find the lounge by taking the escalator up one floor to the balcony in the International TBit terminal, and along to the right. Look for the oneworld logo, not the red roo of Qantas.
When you walk in through the doors, you immediately see a key feature, the iconic central glass atrium to bring natural light and sunshine into the lounge.
Lounge designers Woods Bagot worked with Qantas around this brief, using mid-century American-designed furniture and warm woods, and a vital part of this is an internal circular fireplace around which passengers can sit and relax. That is off to the far right, beyond the bar, which in itself is notable.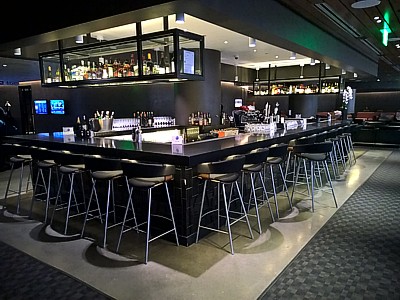 Los Angeles Qantas oneworld Business Class Lounge
A new extension to the Qantas Los Angeles Business Lounge opened in 2015 and gave even more space, and means you can walk around in a circle. Indeed, doing so from reception means you pass the service desk, along a balcony with good relaxing chairs, to the far end (where there is generally a lot of space) with lots of recliner seats, and a long dining table, up to the dining area with food counters, back right again where the bar is, and to the left, where at the far end is the fire.
Food
The Qantas oneworld Los Angeles Business Lounge isn't just about the space. It is also about the food.
Qantas consulting chef Neil Perry has worked to ensure that the food in the lounge is top-notch, and it is influenced by "US West Coast" cuisine plus the multicultural nature of Los Angeles, including Italian, Mexican, Chinese and Korean cooking.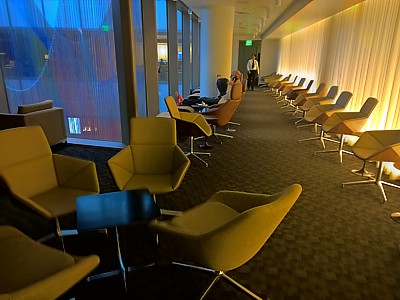 Los Angeles oneworld Business Lounge
The hot and cold buffet is centred around the Californian food carts which are such a feature of the city. They have freshly prepared dishes such as crumbed cod tacos with red cabbage coleslaw and lime chipotle mayo, pulled pork tacos and Asian-spiced chicken wings.
Unlike Hong Kong, there is no dedicated dining room, but now the new area is open there is however the Qantas signature daily plate with matching premium wine and beer. This starts about 6pm.
Bar
The Qantas oneworld Los Angeles Business Lounge bar is a great place to hang out, and features some great New World Wines, and some unusual Californian beers. There is no real serve yourself area, however the bar staff are friendly and will also pour cocktails for you.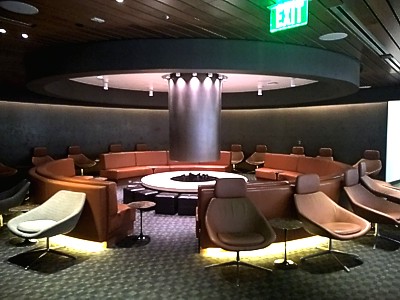 Los Angeles Qantas oneworld Business Class Lounge
These include Mezcal Margaritas! And just look at the vast array of spirits behind the bar. There is a special cocktail list - just ask.
The bar offers almost as good a wine selection as the oneworld Business Class lounge in Sydney, but with some Californian wines for good measure, as well as ones from New South Wales and Victoria.
There are also premium Australian and Californian wines and champagne.
Bathrooms
The Qantas Los Angeles Business Lounge has no less than 16 shower suites featuring Australian Aurora Spa products.
The shower staff hand out towels - amenities are in the showers themselves.
Business Facilities
There are surprisingly no computers in the lounge.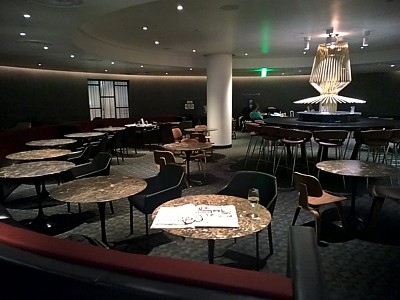 Los Angeles oneworld Business Lounge
However the Los Angeles oneworld First Lounge has ultra fast and free WiFi with wireless printing.
There is a very god newspaper rack with Aussie, Hong Kong and English newspapers, as well as some American ones.
Access
To access the oneworld Los Angeles Business Lounge you'll need to be booked into First or Business Class on oneworld, British Airways or Cathay Pacific flights, or be a top-tier Sapphire or Emerald member of any Oneworld airline's frequent flyer program, including Qantas Gold Platinum and Platinum One, BA Executive Club Gold and Silver and CX Marco Polo Diamond or Gold.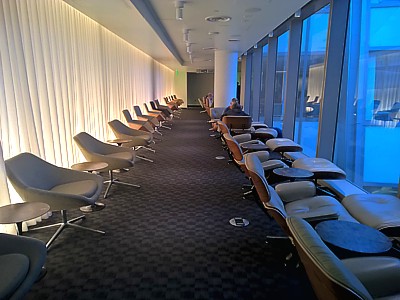 Los Angeles Qantas oneworld Business Class Lounge
Thanks to the brand new airside connection between the international TBIT terminal, and the domestic Terminals 3 and 4, you can also access the oneworld Business LAX Lounge on domestic American Airlines itineraries, and also on the American Airlines international flights, so long as you have oneworld Emerald or Sapphire status on an airline other than American Airlines.
There is no pay-in access, except for members of Qantas, where the lounge is the Los Angeles QantasClub.