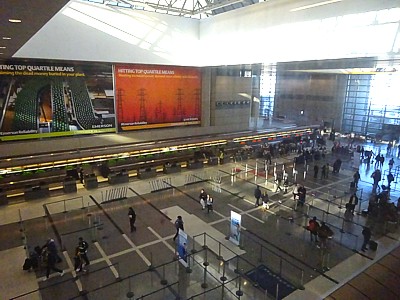 Los Angeles Airport TBIT
Los Angeles Airport Guide
NEWS: A $200 million Metro Rail station at Aviation Boulevard on the Crenshaw/LAX Line will connecting to terminals 1-8 to the light rail system by 2026.
The vast Los Angeles International Airport complex, known to almost every passenger just as plain LAX (it's IATA code) is one of the largest airports in North America, however it is only the seventh busiest airport by passenger traffic in the world, way behind London Heathrow, Tokyo, or Dubai.
Never the less it seems big, and it is one of few US airports with four parallel runways. Partly why it seems so big - and part of the problem - is that each airline was allowed to build it's own terminal, and these are all separate, just offering chaotic connections served by buses. New walkways are helping, but it really is a depressing, unglamourous airport.
The nine largely disconnected terminals were mainly built in the 1970s with depressing interiors.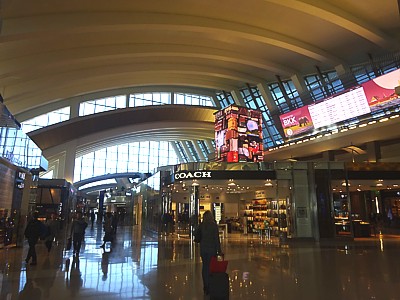 Los Angeles Airport TBIT
Los Angeles International Airport is surrounded by the city itself - and so it should only be a short journey to your destination - and yet there is no transit link to the city, adding to annoyance. The Airport was planned to be on the Los Angeles Metro Rail Green Line, however opposition from local taxi drivers prevented any direct rail link.
Despite the airport being well past its prime, LAX is advertised a the premier "Gateway to the Pacific Rim", perhaps as an indication that it is easier to fly out of, than get to.
Inter-terminal connections are easy: Terminals 4, 5, 6, 7 and 8 are connected airside, via an underground walkway (in the case of terminals 4, 5, 6) or a corridor tacked on the side of the terminal (Terminal 7 and 8). There is also a brand new airside connector between Terminal 4 and the TBIT.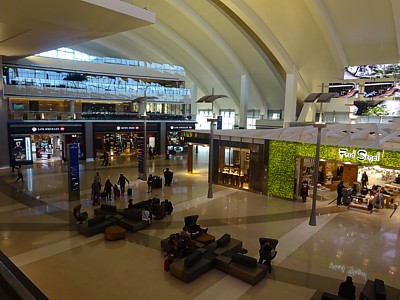 Los Angeles Airport TBIT
Los Angeles Airport International Terminal - TBit
Passengers either love or loath the Tom Bradley International Terminal (TBIT). However, you can't ignore it. Most international airlines leave for here, except for American Airlinesm, United and Delta. It is by far the smartest terminal at LAX, but it is also a bit grubby and down at heel.
Built in 1984, and rebuilt in 2013 at a cost over four billion dollars, it has 18 gates, and a vast central concourse, in which Southern California scenes and eccentric videos are played on seven huge multimedia screens.
It has many popular LA restaurants including Umami Burger, 800 Degrees, Larder, Ink.Sack and Lucky Fish, and by far the best shopping of any terminal at LAX. From the American Airlines Terminal 4, it is an easy walk airside to TBit.

First & Business Class lounges at Los Angeles Airport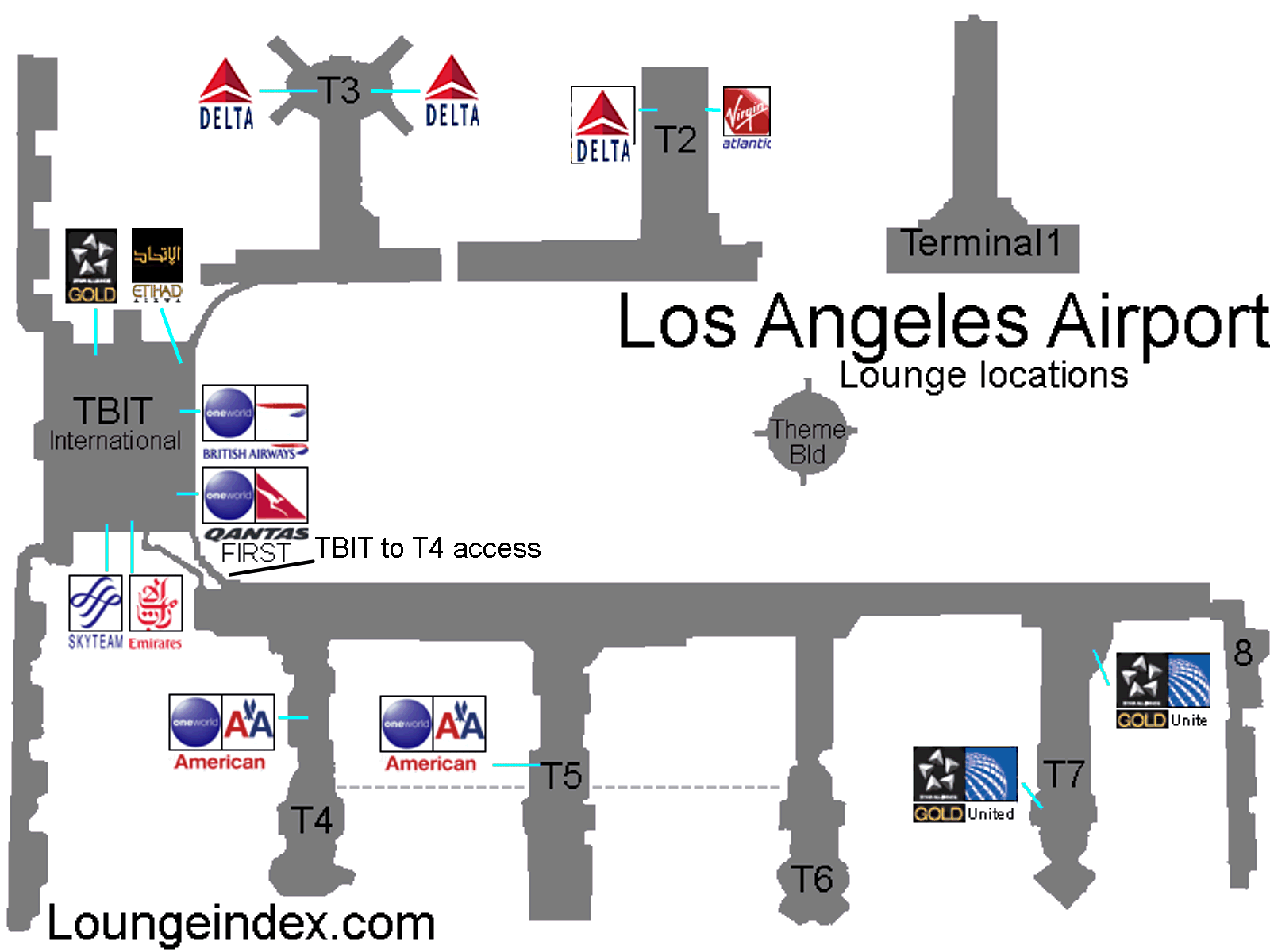 Los Angeles Airport Terminal Map
Los Angeles Airport transportation
Travellers should know that many bus, limousine and shuttle bus services operating to and from Los Angeles Airport usually require pre-booking.
Los Angeles Airport train
There isn't one.
The main shuttle bus "G" offers a free connection tothe Aviation station on the Los Angeles Metro Rail Green Line.
The line was planned to connect directly to the airport terminals, but opposition from local taxi and car park owners prevented it's construction.
Los Angeles Airport shuttle bus services
The FlyAway Bus is a nonstop motorcoach/shuttle service run by the LAWA, which provides scheduled service between LAX and Downtown Los Angeles, the San Fernando Valley (Van Nuys), West Los Angeles (Westwood), Hollywood and Santa Monica.
You may also hear mention of the Irvine FlyAway Bus, however this service has been axed.
Los Angeles Airport taxi services
Getting a taxi to and from Los Angeles Airport is usually trouble free.
Authorised Taxicab Supervision Inc has a pickup area near the central terminal area to pick up passengers. There are also a number of private shuttle companies also offer limousine and bus services to LAX Airport.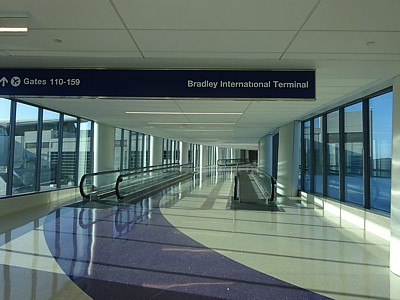 Los Angeles Airport TBIT connector walkway
Car Hire at Los Angeles Airport
Major car hire operators are located in the Arrivals Halls. To save time and ensure you get the car you want, book your rental in advance. Rental car operators from Los Angeles Airport include: Europcar, Thrifty, Avis and Budget.
Los Angeles Airport Hotel
You are never going to be able to walk to the airport hotels at Los Angeles airport. The airport is just not designed for it. However, all the main hotels are in one long strip along W Century Blvd.

The closest hotel are the Concourse Hotel, and the Sheraton Los Angeles Airport Hotel.

Further along W Century Blvd is the Hilton Los Angeles Airport hotel. It is an inexpensive solution for a lengthy transit, and has a good view of the runways, a surprisingly decent pool, an Italian restaurant called Andiamo, and a nice Executive Lounge. There is a transit bus every half hour from the airport. Make sure you get the right Hilton - there is also an Embassy Suites by Hilton on the same road.
Los Angeles Airport Bars and Restaurants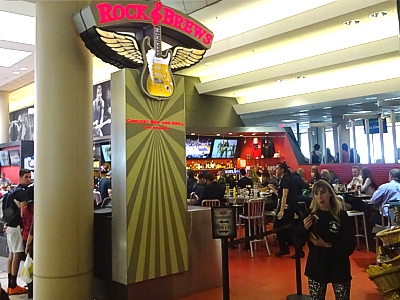 Rock and Brews Los Angeles Airport Bar
Rock and Brews Bar
Open: 0500-2300 Airside, Terminal 5 & T1
If you want a vibrant 'Rock Infused' bar, with craft beers and a lot of noise, head to Rock and Brews Bar LAX.

The list of beers is long - from Hoegaarden to Dogtown, Spaten to Michelob. Food is more down to earth, with Garlic Cheese Fries, several Burgers ($15.25 for the ultimate), and Artisan pizzas.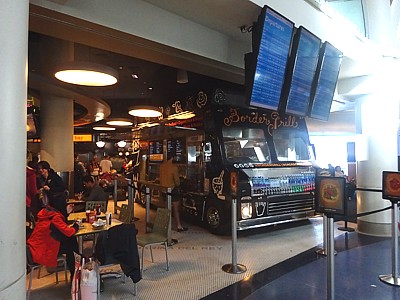 Border Grill Los Angeles Airport Bar
LAX Border Grill
Open: 0700-2300 Airside Terminal 4 & TBIT
The Border Grill is well known at Los Angeles Airport - if only for the fact that it serves out of a van in Terminal 4, as well as a restaurant in TBIT. Yes, a van, in the middle of the airport terminal, just like the truck in the city.

The LAX Border Grill is based on the bold foods and flavors of the popular Border Grill restaurants and the Border Grill Truck, a "party on wheels" apparently, featuring gourmet tacos, quesadillas, ceviches

There is a full bar, which serves very good cocktails.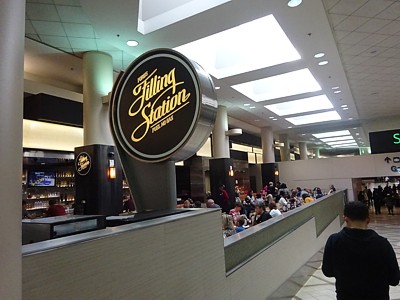 Ford's Filling Station Los Angeles Airport Bar
Ford's Filling Station Bar
Open: 0700-2300 Airside
Very much a traditional Airport eatery, Ford's filling station LAX serves up the usual burgers and buns. The BLTA (bacon, lettuce, tomato and avocado) with fries, hot wings and taquitos is what this place is known for - and justifiably so.

Beer is quite expensive, but it does serve wheat beer.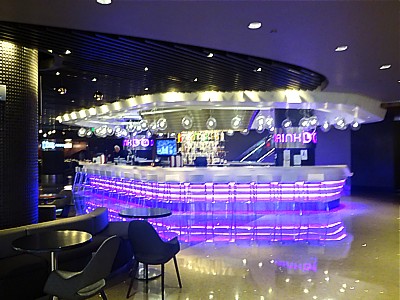 Drink LA Los Angeles Airport Bar
Drink LA
Open: 0900-2300 Airside, TBIT, Mezzanine Level
Drink LA describes itself as a "groundbreaking new airport concept", although exactly why is a mystery. It is an airport bar, however it does a good job at it, serving decent wines, beers, and cocktails.

You can also get some food, with Tapas and small plates along with sweeping views of the terminal.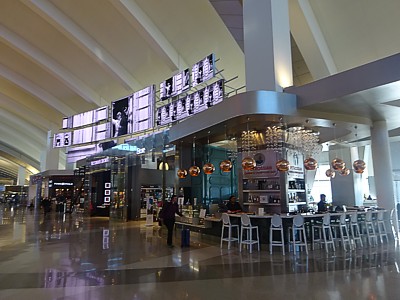 Starbucks Evenings Los Angeles Airport Bar
Starbucks Evenings
Open: 0500-2355 Airside, TBIT, ground Level
Starbucks Evenings is both a coffee shop - and a bar! It is a brand new concept for Starbucks, and along with the usual coffee and other standard offerings from the global coffee giant, Starbucks Evenings serves beer, wine and tapas. Yep, I kid you not.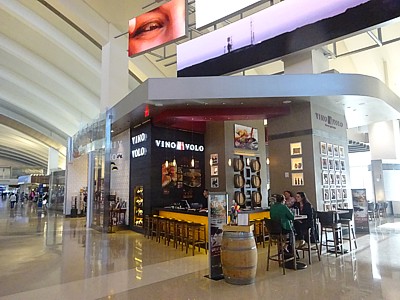 Vino Volo Los Angeles Airport Bar
Vino Volo
Open: 0900-2200 Airside, TBIT, Ground Level
The name, 'Vino Volo' means wine flight in Italian, and that's exactly what this place does. Vino Volo has great staff who can run through the wine list, and offer suggestions on charcuterie and cheese pairings. It's a pretty good place to watch the passengers walk through the terminal too.