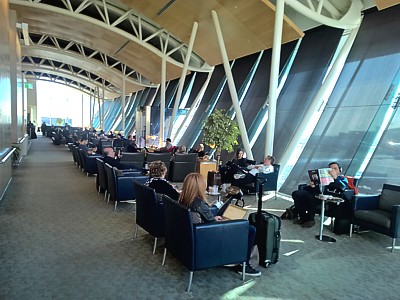 Los Angeles Admirals Club
NEWS: The American Airlines Admirals Club at Los Angeles Airport Terminal 4 is currently under renovation.
Read the full story here:
AA lounge refurnishment
.
The Los Angeles American Airlines Admirals' Club Terminal 4 is either the best place to start and end your journey, or a rather desolate and down at heel airline lounge, depending on whether you normally hang around domestic or international airline lounges.
There is no denying it is all rather dated, and desolate, however at the same time it is one of the best American Airlines lounges in the country. The two are not a contradiction.
Whatever, enter through the doors in the middle of Terminal past the Qantas kangaroo logo (this used to be the LAX Qantas Club too) to the reception and up the stairs or lift.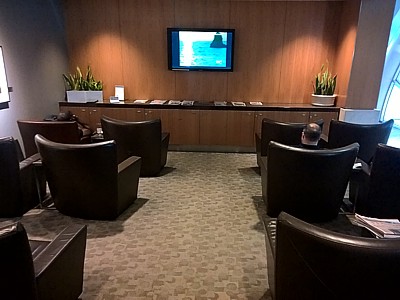 Los Angeles Admirals Club
If you get given a door card, with no explanation, it means you also have access to the flagship lounge too.
The LAX lounge is one of the largest Admirals Clubs in the USA, and has dramatic tall ceilings, open architecture, light filled spaces, and outstanding views of the tarmac. Thankfully, it also has a number of seating areas, so you can avoid some of the louder passengers who seem to infest the lounge. Indeed, the open seating arrangement gives little privacy, and the lounge can get amazingly busy.
As you walk in, you are first presented with a vast room and floor to ceiling windows. There is a bar here too, and snacks on the left hand side. At the far end is a quiet area with a TV, work booths, and computers.
Los Angeles Admirals Club
To the right there is an ancient relaxation zone with noise-reducing headsets which play CDs, but the system is very old.
Carry on around, and there is another quiet room. This time with team and coffee machines. Then around further there is another Business Centre.
There is a kids' room with videogames.
Bar
The long large bar is a very sociable area, and offers a wide selection of drinks and cocktails.
Only house wine and spirits are complimentary, and oddly you are expected to tip even for free drinks.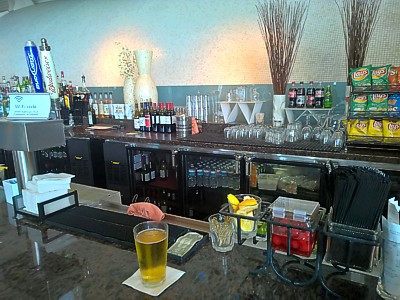 Los Angeles Admirals Club
International premium passengers receive a coupon for a premium drink.
Food
Food wise, the Los Angeles Admirals Club a poor selection of complimentary basic snacks is available, with just carrots and celeary, and dip.
If you want to splash out, there is an expensive menu, with prices that could astound you.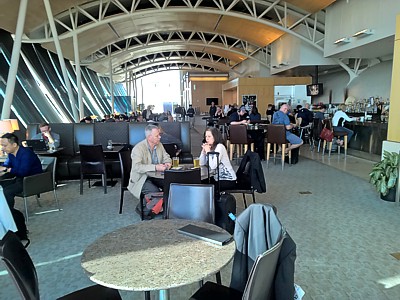 Los Angeles Admirals Club
Bathrooms
There are spacious shower suites.
Business Facilities
Computers at the end of main hall.
Access
American Airlines Admirals Club members get free access, American Airlines First and Business Class passengers departing on a same-day international fight.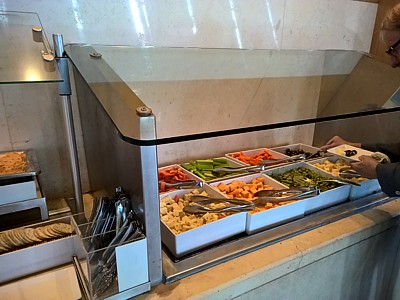 Los Angeles Admirals Club
You can buy a day pass, but at $50 for the day, it is poor value.