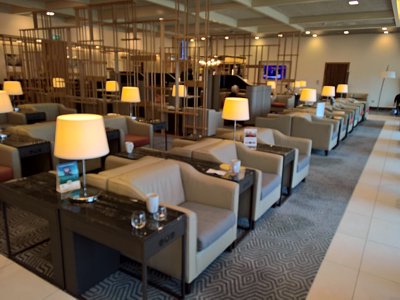 London Heathrow Singapore Airlines Silver Kris Lounge
The Singapore Airlines Business Class Lounge Heathrow is both new, and quite a special lounge, using the airline's "home away from home" design. There are separate First and Business Class sections, each with showers, a tended bar, and dining. The Singapore Airlines Silverkris lounge Heathrow terminal 2 has space for over 200 passengers.
First, however, you need to walk to the Singapore Airlines London Lounge. And it is quite a long way, over in the remote satellite building. From check-in and through security, you have to walk through the main part of LHR Terminal 2, down a level, down the escalators to the underground tunnel to T2B, up into the new terminal's satellite area, to the top level, from where you see the welcome 'Golden Pigeon' logo of Singapore Airlines, and then up in the lift again as if you were going to the United Club.
Turn right at the top, and at the end of a small corridor is the golden artwork around the reception desk at the far end. Got that? Good - you'll need a drink by the end of the walk, as it is very long indeed. At least it is close to gate B36 which Singapore Airlines use for its A380 service to the Lion City.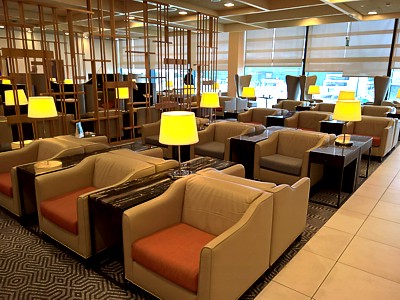 Singapore Airlines London Heathrow Lounge
Business Class (and Star Alliance Gold) is on the right. Once into the Singapore Airlines Heathrow lounge London Terminal 2 proper, it's clear it is very long, and thin. Indeed, by reception is a small 'touchdown' area which you could mistake for the lounge proper, but this area just has a few chairs, and a computer, plus coffee machine. No, the main part of the lounge is further on, up the long corridor.
You then enter into the main part of the Singapore Airlines Heathrow Lounge, a large square area, with the bar on one side, and plenty (indeed, a veritable forest) of wooden pole room dividers. It is all lovely bright and clean, all in Singapore Airlines company colours, although after just a few years use it is already starting to wear down around the edges.
Great floor to ceiling windows illuminate the area, and there is a great view of the runway and the apron leading to Terminal 2 proper, the non-satellite bit. At the windows are Singapore Airlines famous high wingback chairs. These new signature armchairs are almost identical to the Cathay Solus Chairs but square. There are also what are called 'private cove' areas, with small seats in an enclosed area for those wanting privacy.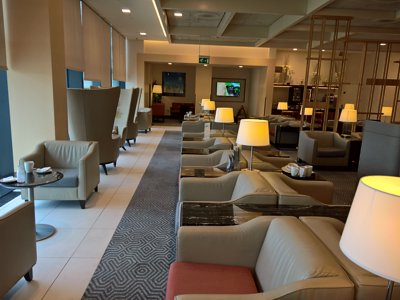 London Heathrow Singapore Airlines Silver Kris Lounge
It is clear that at London Heathrow, Singapore Airlines has firmly embraced what it calls a "residential concept" with its lounge. This means a much more homely feel to the lounge, with sofas and small enclosed spaces, rather than the previous 'one room' lounge offering, typified by the SilverKris lounge at Brisbane.
Renowned architectural and interior design firm ONG&ONG designed the lounge, which actually does work to make you feel calm, in a more homely enviorment, before the horror of a good 12 hours on a plane to Singapore.
In the furthest corner of the Singapore Airlines Heathrow Lounge is a children's play area.
Toilets and bathrooms are also in the far corner, up a corridor beside the magazine rack.
In the entrance hall there is a Gallery space with wall art very similar to that at Sydney.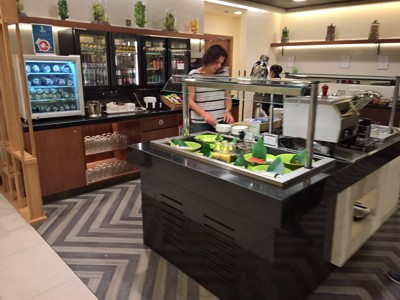 London Heathrow Singapore Airlines Lounge
There are some curated art pieces, and the space will provide the focus for a range of cultural and calendar-linked events and showcases throughout the year - such as around Christmas or Lunar New Year.
Food
Food in the Singapore Airlines Heathrow Lounge is in the corridor before you get to the lounge 'proper'.
There is an island refectory table with a hot and cold trough, with a vast array of cold cuts, cheese and salad.
Against the wall is another refectory with four hot dishes. These have, as you might expect, breakfast for the two morning flights, and dinner for the two evening ones. Breakfast has full 'Dingly Dell' Sausages, bacon, scrambled egg, and mushrooms. Meanwhile, for dinner, Singapore Airlines offer a 'taste of Singapore' themed menu is changed regularly and incorporate "authentic local culinary delights cooked freshly by on-site chefs." It is actually not that bad.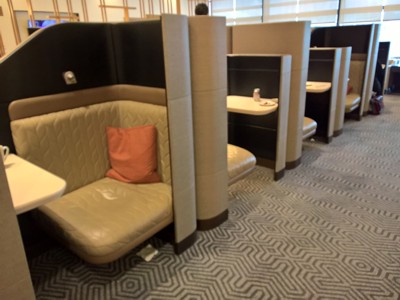 London Heathrow Singapore Airlines Silver Kris Lounge
One thing not to miss is the ice cream fridge, including Singapore Sling flavour.
Bar
The bar in the Singapore Airlines lounge Heathrow Terminal 2 is, surprising, fully staffed, with a large bar area at the corner where the refectory area meets the lounge proper.
The barman will mix up cocktails for you, of which there is a large selection, including of course Singapore Slings. The barman will also pour the wine. It really doesn't go down well to get your own. There is a wine bucket with two whites, two reds on the counter, and Champagne.
Beer, unusually, is Old Speckled Hen. On flights from London, Singapore Airlines also serve this on board. However, you can get a Heineken if you really want to.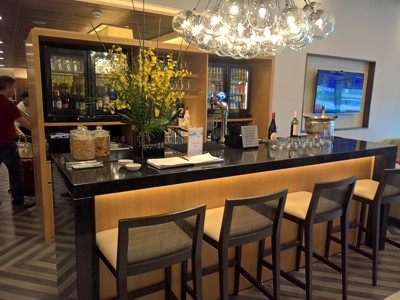 Heathrow Singapore Airlines SilverKris Lounge
There is also a small fridge in the dining area with Tiger, Hen, and London Pride in bottles.
Bathrooms
There are showers in the Singapore Airlines London Lounge. They are large and spacious, with amenities and towels.
Business Facilities
Business facilities in the Singapore SilverKris Lounge at London Heathrow's T2 terminal are pretty poor. There is just one computer, with a printer, by reception.
There is of course free wifi in the lounge, and it is very fast indeed.
There is a good newspaper rack in the corridor, with the Times, Telegraph, and Daily Mail.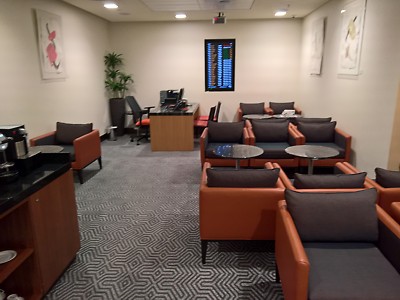 London Heathrow Singapore Airlines Silver Kris Lounge
Access
Access to the Singapore Airlines lounge Heathrow Terminal 2 is just for Business and first class passengers on Singapore Airlines or other Star Alliance airlines.
There is the usual admittance for top tier frequent flyers, such as PPS Club and Kris Flyer Gold members and Star Alliance Gold members, Virgin Atlantic Flying Club Gold, and Virgin Australia's Velocity Platinum and Gold card-holders.
The staff at the Singapore Airlines Business Class Lounge Heathrow can not check Virgin status online, so you'll need the real card, or assurance that you have renewed if you don't have the card back from Virgin yet.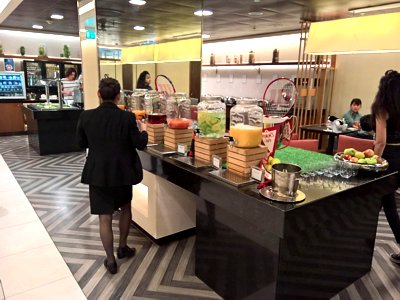 Heathrow Singapore Airlines SilverKris Lounge