London Heathrow Airport Guide
NEWS: The new London Heathrow Terminal 2 has opened, housing mainly Star Alliance airlines. Terminal 1 is next for redevelopment, and will be reopened by 2019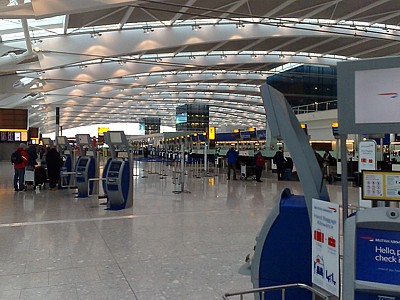 London Heathrow Airport Terminal 5 check in
London Heathrow Airport is a vast mega-airport which totally dominates air traffic in London, the UK, and indeed most of Europe. It has two parallel runways along and terminals on a vast site surrounded by London's suburbia.
Located just 14 miles (22 kms) west of Central London it is famous for many things - not least the fantastic view of the city on final approach, because the two runways result in most approaching traffic skimming over the streets of London.
Many passengers approach Heathrow Airport (known as just plain Heathrow to pretty much everyone in aviation) with either awe (just look at those passenger numbers) trepidation (much has been written about LHR nightmares - leading to many people who have never been there to regard it as the worst airport in the world. It is certainly not) or joy - the latter reserved mostly for the fantastic new Terminal 5, which has to be one of the most inspiring airport terminals in the world. One thing is for sure: Heathrow is neither easy, cheap, or hassle free.
Heathrow deals with more international passengers than any other airport around the globe: from this rather un-regarded part of Hounslow you can get a direct plane to virtually any destination on the planet. Many people who travel through Heathrow don't actually leave the country. It is of course the busiest airport in the United Kingdom and the third busiest by flight numbers in the world. Nearly 80,000 people work there, and 70 million people step through the doors every year - that's an average of 200,000 a day. Over 40% are heading to Europe, but New York, Dubai, and Dublin are the most popular destinations.
Which makes it surprising, when you stand in the middle of the roundabout that is right at the heart of the airport that the place looks like such a dump. And a disorganised one at that, with no coherent architectural style or athetics, with disorganised straggles of passengers queuing through ever lengthening security lines, mix in that ever present pong of Jet A1, the sheer cost of flying out of LHR (taxation adds an extra £184 to a premium economy long haul flight) and it's no wonder some passengers give it a wide birth.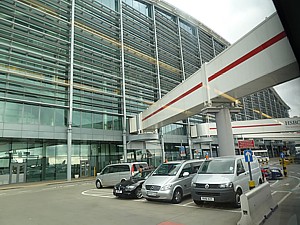 Heathrow T5 from the airside bus
There is wifi in all terminals - but you have to pay for it. ATMs are liberally spread around all arrival and departure areas.
Heathrow: Travel between terminals
For terminal to terminal Heathrow transfers it pays to know Heathrow (and have an EU passport!). If you can
exit the terminal
, and enter the UK, do so to save a long wait for an airside transfer. Terminals 1 and 3 are a very short walk from each other, and most passengers walk (landside) through underground walkways which takes about 5 minutes, but regular passengers take the shorter walk at ground level for a bit of fresh air (or Jet A1).
Heathrow transfers terminal to terminal are more of a pain if you want to go from the central area to Terminal 4 or 5, or between T4 and T5. There is an airside bus from the transfer areas, and while the transfer (Terminals 4 - 8 minutes, or Terminal 5 - 12 minutes) is short, the bus is not that regular (every 15 minutes) and you can have a 20 minute wait to go through transfer security. For these transfers, if you have a UK or EU passport, it is much quicker to go airside, and take the tube or Heathrow express, which is free terminal to terminal (see below). Never, ever, take a cab between terminals.
London Heathrow Airport Terminal 1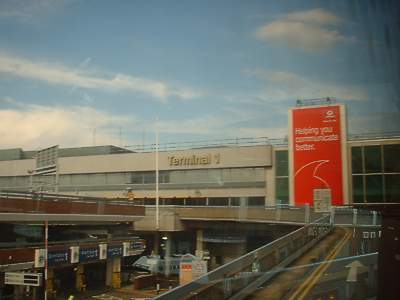 Heathrow Terminal 1
London Heathrow Airport Terminal 1 has undergone a massive rebuilding programme over the past few years, and these are complete. Terminal 1 began operating in 1969, so it was well due for an overhaul.
The redesign of the terminal saw the opening of an 'Eastern Extension', which doubled the size of the departure lounge and created many more shops. In the rebuild all of the domestic gates became part of the international terminal 'ish', which means you have a strange walk to get to them. However the result is a very long walk.
Boots the chemist in Terminal 1 dispenses prescriptions (it is the only one at London Heathrow to do so).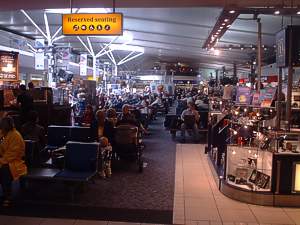 Heathrow London Heathrow Terminal 1 Airside Departure hall
London Heathrow Airport Terminal 2
London Heathrow Terminal 2 was called the Europa Building when it opened in 1955.
It is currently closed for a complete reconstruction, to be completed in 2014. It will then be Heathrow's main hub for Star Alliance operators.
London Heathrow Airport Terminal 3
London Heathrow Airport Terminal 3 dates back to 1961, when it was called the Oceanic Terminal, and was designed for long-haul routes. For this reason, many long haul airlines are still based here.
The redevelopment of Terminal 3 forecourt was completed in 2007. It included a new four lane drop-off area and a large pedestrianised plaza, with a large canopy to the front of the terminal building.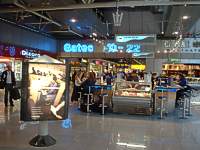 London Heathrow Airport Terminal 4
London Heathrow Airport Terminal 3 has an L shaped checkin, with all the Virgin desks on the side as you walk in from the tube station, then the racks of checkin counters. After these go up the stairs to the second floor of the departure hall, where there are more shops and a boots, before going into the main hall.
There is a post office in Terminal 3.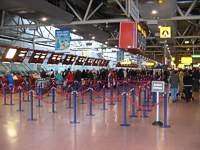 Heathrow Terminal 4
London Heathrow Airport Terminal 4
London Heathrow Airport Terminal 4 is a long way from the central core of Terminals 1 2 and 3. Terminal 4 is situated to the south of the southern runway, and when first opened in 1986 was designated for British Airways.
It is now home to SkyTeam airlines, and a few other airlines that haven't found a permanent home at Heathrow.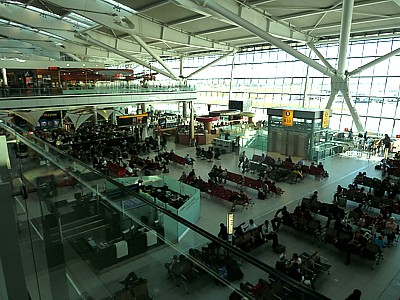 London Heathrow Airport Terminal 5 shopping area
London Heathrow Airport Terminal 5
Many people have heard of London Heathrow Airport Terminal 5 - and some still worry about it, thanks to all the trauma of it's opening day in 2007. However, Terminal 5 now runs very smoothly, except for the usual hicups at security.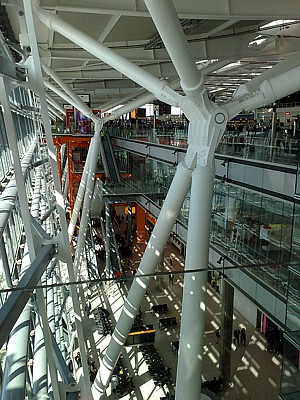 London Heathrow Airport Terminal 5
It is vast, with an area of 300,000 square metres in the central core building alone. It cost £4.3 billion to build, and it is generally a delight to fly from or to. There are over 100 shops and some 20 restaurants and bars, and capacity for 35 million passengers a year. It holds a number of records - it is the largest free-standing structure in the United Kingdom, was the subject of the longest public inquiry in British history. Passengers descend to the transit to B&C via the longest escalator in Europe. The new T5 control tower 285 ft in height - the tallest in Europe and twice the height of London's Nelson's Column.
Terminal 5 consists of a four storey main terminal (Concourse A) and two satellite buildings (Concourse B and C) linked to the main terminal by an underground people mover transit. A new Concourse D is planned with another 16 aircraft gates.
Landside at T5A there is the main check-in hall, and a number of shops and a decent bar. Airside the departure lounge is packed with retail stores.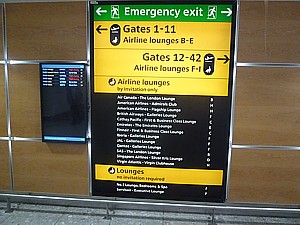 Heathrow Terminal 3 Lounges - follow the lounge letter
First & Business Class lounges at London Heathrow Airport
Some of the best First & Business Class lounges in the world are to be found at London Heathrow Airport. And come to that, some of the most miserable small boxes in the world too. There is a vast array of lounges to choose from if you are travelling in First or Business Class, but slim pickings if you want a pay-per-access (or what in the US is called a pay-in) lounge. The airport owner, BAA, has also classified airline lounges by letter - in Terminal 3 in particular, this can be confusing.
There is no access to the Heathrow departure lounges on arrival: arriving and departing passengers are strictly segregated. Hence, there are arrival lounges specifically with breakfast and showers for premium long-haul passengers before they head to hotels or meetings. Without a premium ticket, or a Gold BA card, you're stuck using the public showers in arrival in T3 and T4.
Lounges are also strictly segregated according to terminal: you can only go airside with the right boarding pass for that terminal. You can't nip from T5 to T3 just to use the lounge, for example. The old airside walkway from T1 to T2 has been closed.
Heathrow Pay Lounges on departure are limited to Servisair in Terminal 1 and 3, and the Heathrow No.1 Traveller Lounge in Terminal 3. The Heathrow pay lounge in Terminal 4, the 4Deck lounge Heathrow Terminal 4 (neé Holideck Lounge Heathrow) has closed.
There are no pay-in or Priority Pass Lounges at Terminal 4 or 5. Indeed, Priority Pass Heathrow access is a real pain. Unless you are at least a Silver on BA / oneworld or in Biz/First, you'll be stuck in the bar.
Heathrow Pay Lounges on arrival are even harder to come by: there is just one option if you are not in Business or First. The American Airlines Arrivals Lounge at Heathrow Terminal 3 (Called AArivals) will allow any passenger who has just arrvied to buy their way in for US$90 + VAT (20%)or £68GBP. This is seriously not worth it, unless you are desperate for a shower and some food early in the morning.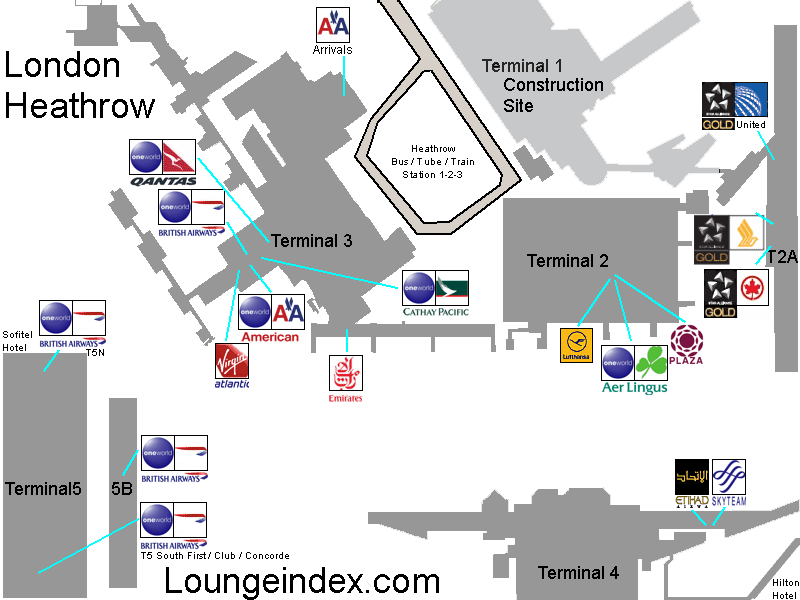 London Heathrow Airport Terminal Map
London Heathrow Airport transportation
Travel from London Heathrow to city centre is easy and cheap - but not always that quick. Even though the airport is close to the city centre, and indeed you will fly over the city on arrival, the urban density means it make take longer than you think.
Almost everyone who is a native Londoner will take the tube (underground) by default. The only exceptions are if you are in a hurry, when the Heathrow Express is marginally faster, or your destination is near Paddington, where there is Heathrow Connect. Few people other than backpackers will take the bus. There are also taxis, but they are astoundingly expensive, and rarely any faster.
London Heathrow Airport train
NEWS: Free travel has been introduced for Oystercard holders between the Heathrow stations on the Piccadilly line
There are three rail options to travel from London Heathrow into London city centre (called 'downtown' by some US visitors, but never by anyone in the UK). Note that the main train station is the central area is called 'Terminal12&3' (or just 'Terminal 1&3' while Terminal 2 is being rebuilt).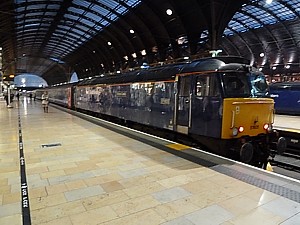 Heathrow Train at Paddington Station
The Heathrow Express is a direct non-stop train service links London Heathrow Airport to London Paddington Station. It takes 20 minutes, and costs £18 online, £19 at ticket offices, or £24 if bought onboard. It is £34 return online. Last train is at 23:25. Trains leave every 15 minutes from Terminals 1&3 and 5. The service to Terminal 4 has been axed, and replaced with the Heathrow Express Terminal 4 'shuttle' to T12&3 (Mondays to Saturdays).
Heathrow Connectis a domestic train which stops at intermediate stations, including Ealing Broadway which is on the tube. The Heathrow Connect only leaves from Terminal 1&3, and Terminal 4. You have to go onwards from T1&3 on the Heathrow Express to T5. The journey takes 25 minutes, and trains leave every half hour. In that time, you could have got to central London on the tube. Fares £9.10 for a single. Oyster cards are not valid to Heathrow. Travel between Terminal 4 and Terminals 1&3 is free.
The Underground, which is universally known to everyone in London as the Tube. There are separate stations for Terminals 1&3, Terminal 4 and Terminal 5. Trains use the Piccadilly Line, direct into central London, taking 55 minutes. For the tube, pick up an Oyster Card at Heathrow (£5 from the vending machine), and pre-load it with money. A Journey into central London costs £5.30 - £4.20.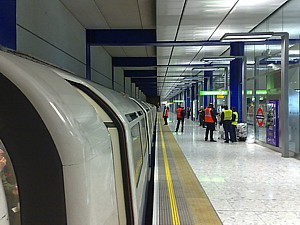 Heathrow Tube station at T5
The tube journey route is odd: take care to stop off at the right station on the way to Heathrow. Trains either go to Terminal 4, then Terminal 123, or to Terminal 123 and then Terminal 5. This is simply because the station at Terminal 5 was planned - and indeed half built - as part of a T4-T5-T1 loop, but when Terminal 5 was built it was decided to build a much larger brighter station. The abandoned works for the old T5 station still lie on the loop.
London Heathrow Airport bus services
There are many local
bus
services to Heathrow. All stop at the
Central bus station
(between Terminals 1 and 3) as well as at Terminals 4 and 5. The bus station is open 24 hours a day and the Travel Centre is open from 06:00 to 22:30.
Overnight, the N9 bus service operates to central London from both the Central Bus Station and T5. It run Hounslow,Chiswick, Hammersmith, Kensington, Trafalgar Square, Aldwych.
National Express coaches run from London Heathrow Airport to hundreds of locations around the UK. If you are heading to the Southwest, such as to Southampton, it can be much quicker to get the coach than a train to central London, and then out on the tube again.
If you in a hotel near to Heathrow, you should know about the Heathrow Free Bus Zone. Once called the Heathrow Free Flow Bus to Go area (what an unwieldy name!) it allows you to travel for free on a bus around Heathrow. The zone is quite large: just tell the driver you are in the free zone, and plan to use it.
There is also a railair coach from Heathrow to Reading, Woking and Watford Junction stations, from the Heathrow Central Bus Station. A Single is £14.00, a day return £15.00, or a return £22.00 to Reading.
London Heathrow Airport taxi services
You are not seriously thinking about getting a taxi from Heathrow to central London are you? Stop right now, and get on the train. Just do not do it. OK, Getting a taxi to and from London Heathrow Airport is usually trouble free, but the journey costs £90, and can take well over an hour. The train is far quicker and cheaper.
Heathrow Taxi rank at T5
Licensed black cabs are available outside all the terminals, and you may also be hassled by taxi touts. These people operate illegally, and will often charge double that of black cabs: report them to the police on sight.
Car Hire at London Heathrow Airport
Major car hire operators are located in the Arrivals Halls. To save time and ensure you get the car you want, book your rental in advance. Rental car operators from London Heathrow Airport include:
Europcar
,
Thrifty
,
Avis
and
Budget
.
Car hire desks are on the arrivals level of each terminal.
London Heathrow Airport Arrivals
Click on
Live Arrivals Heathrow
for London Heathrow Arrival Times.
London Heathrow Airport Hotel
There are a vast number of hotels
near
London Heathrow Airport, but near can be a relative term. Some who say they are nearby can be a good half hour away stuck in the cargo facility (Hilton T5, we look to you), while other (yes, looking at you Radisson Heathrow and Park Inn Heathrow) overlook the active runway - but are some way away by road.
At Terminal 5 the Sofitel London Heathrow is brand new and connected to Terminal 5 by a covered walkway. There are two restaurants and several bars in the hotel - or you can nip out to the ones in the terminal.
At Terminal 4 the Hilton Heathrow Terminal 4 is also connected by a covered walkway to Terminal 4. It is quite swish, with three restaurants, a fitness centre, and an indoor swimming pool, but it is showing its (20 year old) age. There is also at Terminal 4 the Yotel which is a capsule hotel located in the arrivals hall in Terminal 4. It has tiny rooms arranged in a cabin-style layout. Each room has a shower, free Wi-Fi, and a TV.
There are NO hotels in the central area at Terminal 1,2, 3. From here, you are best taking the free-flow bus out to hotels like the Radisson.
London Heathrow Airport Left Luggage
London Heathrow Airport luggage storage is handled at each terminal, once you pass through customs.
Most of the left luggage companies operate 0530-2300 with the exception of Terminal 1 which opens at 0600.
Car parking
London Heathrow Airport car parking is quite good, but expensive.
Each terminal has its own short-stay car park.
Long-stay car parks are private operators including NCP. These car parks are linked to the terminals by a courtesy shuttle bus, which can take some considerable time.
At Terminal 5, the car park is linked to the main Terminal 5 building by the famous Personal rapid transit system. Here you sit in a small bubble car, which runs along a 2.4 mile (3.9 km) elevated track. It is great fun - and free. It will eventually transport passengers around the perimeter fence to Terminals 1, 2 and 3.
London Heathrow Airport Bars and Restaurants
Terminal 5 Bars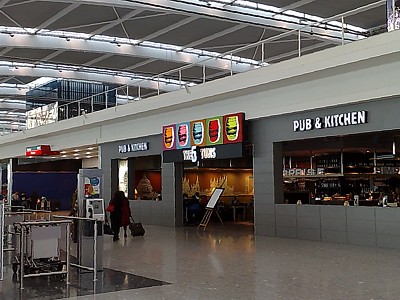 Five Tuns Wetherspoons at Heathrow, LHR T5
Open: 0530-2300
LHR T5, Landside
There is just one pub in Terminal 5 before security, but it is a good one. The Five Tuns is a classic gastro pub with an ultra modern decor.
The bar is OK, with standard Stella or Fosters on draft, but also with a couple of real ales too. The wine list is not too bad at all, but quite pricey.
However this bar mainly exists for its food. The eggs Benedict is very good indeed, and there is also a decent Welsh rarebit.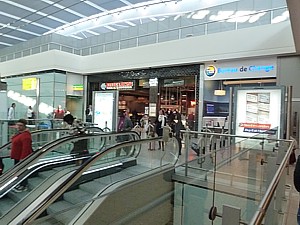 Huxleys Bar Heathrow, LHR T5
Huxleys Bar - LHR T5 - Airside
Open: 0630-2300
LHR T5, Airside, North
At the extreme northern end of the terminal, Huxleys is standard airport bar in the guise of a British brassiere. It has lots of 'classic' British dishes - imagine toad in the hole, bangers and mash, etc, but it's not too bad at all. Unusual for an airport bar, it has a full afternoon tea and a half decent children's menu.
Crown Rivers - Wetherspoon's - LHR T5 - Airside
Open: 0530-2300
LHR T5, Airside
The Crown Rivers Heathrow Terminal 5 is a standard Wetherspoon's pub, but in their upmarket style. If you need a pint airside, it's probably the best bet. The main problem is getting a seat: there is real competition among people who have settled down for a good hour or two before their flights, and lay all their bags around the outlying seats just to claim a space.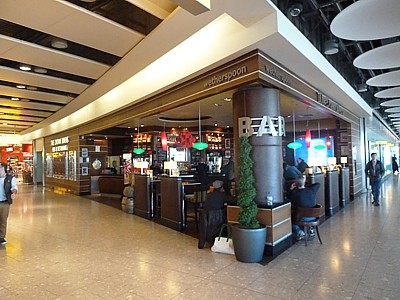 Crown Rivers Wetherspoons at Heathrow, LHR T5
Incidentally, if you really need to know, the bar takes its name from the two royal rivers, Longford and The Duke of Northumberland's River which were diverted when Heathrow Terminal 5 was built. The Duke of Northumberland's River was built in the 15th century to power the Isleworth water mill.
Wetherspoon Express - LHR T5 - Airside
Open: 0600-2300
LHR T5, Airside, Satellite B
The what? Yes, Wetherspoons have got the 'Express' bug, just like Tescos. Except this one is at the B Gates in the Satellite, in case you need a desperate last pint after the trek from the A gates. Indeed, there isn't really much of a bar here at all: just a curving bar counter, and you take your pint onto the airport seats opposite.
Terminal 4 Bars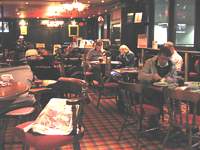 Wetherspoons LHR T4
Wetherspoon's bar at LHR T4 - Landside
Open: 1100-2300
LHR T4, Landside
This bar is in a strange location - and only regular traveller end up finding it. From departures it is down the stairs halfway along, opposite KLM. Whereas from arrivals it is on the strange landing up the stairs halfway up to departures.
Service is dreadfully slow - the staff realise that few people will come back for a second serving, so really just don't bother. However it is a pretty decent bar to hangout in if you are forced to do so landside. Not too smokey, with OK food, and 2 TVs (alas showing sky) despite it's strange location it works. Cider is £1.20 a half.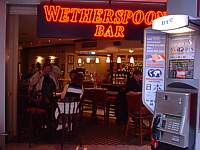 Wetherspoons LHR T4
Wetherspoon's bar at LHR T4 - Airside
Open: 1600-2300
LHR T4, Landside
A very standard Wetherspoons, with the usual range of draft beer (Guinness, Heiniken & Stella on draft), rather dingy faded benches, and no music. It's right by the racks of payphones, so the usual entertainment is to be had by listening to people phoning home - and pretending to be nowhere near terminal 4.
Wetherspoons LHR T4
Food is pretty good, with good variation on burgers. Service is remarkably fast, as perhaps it should be in an airport where there and many people catching flights. Alas the clientele in here resembles pond life with little to recommend them - it's pure chav territory getting cheap flights to Florida. The two TV show continual sky sports. There are departure TVs, however these are hung from the rack in the middle of the bar - don't sit here if you want to see when your flight leaves.
Of interest, historical photos of Heathrow dot the walls.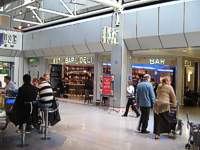 Est Bar Deli LHR T4
Est Bar & Deli Airside
Open: 0600-2300
LHR T4, Landside
This is by far the classiest place to drink at LHR Terminal 4. People who come in here generally know how to behave, and will often even make their flights despite having drunk 14 glasses of Chardonnay beforehand. Beer on draft includes Hoegartten - although at £1.95 a half you may think twice - Stella and Staroprammen.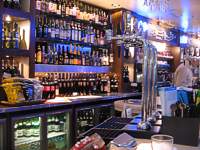 Est Bar Deli LHR T4
Admittedly service is very slow, but the Hoegatten on draft makes up for that, as does the wonderful food. Even the olives on a platter are something to send a postcard back home about... when you get to your destination.