NEWS: Qantas has opened its brand new Business and First Class lounge at London's Heathrow Airport.
Read the full story here:
New Qantas London lounge opens
.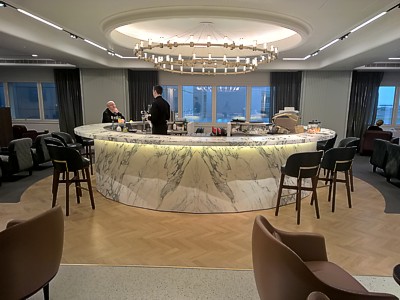 Qantas London Heathrow Lounge
The brand new Qantas Business and First Class lounge at London's Heathrow Airport is now open. It's easy to find - it is the first lounge you come to when you leave the main shopping and duty free area, however it's main reason is to serve as a pitstop and a firm favourite first stop before the long haul to Perth or Sydney.
There are two separate levels, dominated by two large bars, and it is one of the best places at Heathrow Terminal 3 to pop in for a drink. The London Qantas Lounge has the signature features of Qantas' award-winning facilities in other ports with local touches such as local food and beer, which make for a distinctively UK experience.
Downstairs there is a la carte service in the dining room, with 23 tables against a banquette. There are five seats at the bar on each side, but the ones on the far side are perhaps a little low. Those who just want a gin are at the seats on the other side.
However, it is the food and drink which single out this Qantas outpost.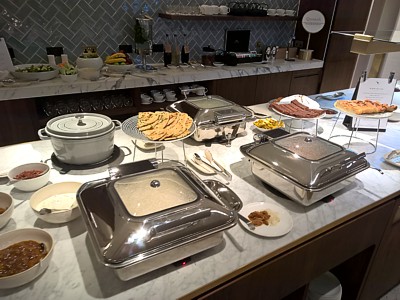 Qantas London Lounge
The new lounge features the same Rockpool menu as found in Sydney and Melbourne, giving the same dining experience many passengers have grown used to in Australia.
The premium Qantas lounge occupies a split-level space in Terminal 3 that has the capacity for over 230 passengers. From the back of the top bar there are views over the apron at Heathrow, the second busiest airport in the world. However, most of the lounge is inside, without windows, and has a brief of London at Twilight, which designers Woods Bagot used to great effect with warm-coloured timbers, and deep tan sofas.
Alas, what should be the lounges Signature feature, the vast marble staircase, is a leftover from the days when the lounge was run by SAS and Air Canada, and it was hastily patched when SAS took over. Mind you, it does have some retro cocktail bar chique.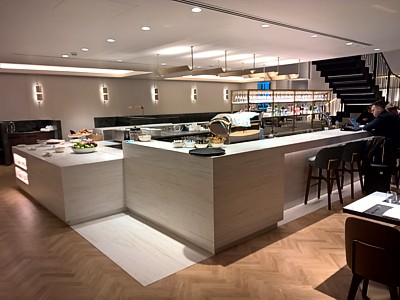 Qantas London Heathrow Lounge
For most of the lounge there are the same chairs sofas and other furniture we've grown used to in Los Angeles and Brisbane, with Woods Bagot working on both of those lounges. Next to virtually every seat are mains power sockets (UK design only) plus twin USB outlets, which light an LED to show they are on when you plug into them.
There are also two private rooms, at the back of the top floor, but given they have no windows can be a little stuffy.
Food
The food in the Qantas London Lounge is a pleasant blend of Australian and UK cooking.
There is a morning menu, until 11am, and then a lunch menu from 1pm, with menus on the tables.
Most passengers will be there for the breakfast on the Melbourne flights, with a large buffet spread, including fruit salad and yoghurt pots with fruit toppings, chia pudding, and bircher muesli. Hot options include a mushroom and goats cheese tart, home made muffins, and a wide selection of pastries.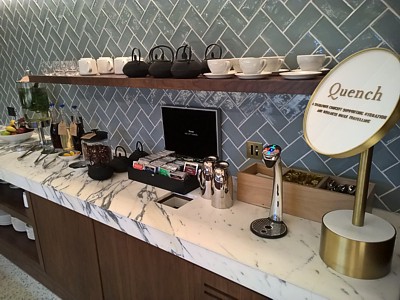 Qantas London Lounge
Hot Brunch plates are brought to your table, with eggs benedict, Quinoa kedge with smoked salmon and a poached egg, and an omelette with roasted mushrooms and tomatoes. From 1pm there is hot food upstairs, with a vast array of that British staple, curry. It includes chicken tikka masala with all the trimmings, piaf rice, vege biryani, and tomato and thyme focaccia. There is a vast salad bar with a chicken and broccoli salad, potato salad, and mixed leaves.
Pastries, including a great Victoria sponge, is available.
In the evening the menu changes again, with a selection of Australian and British dishes, including the green chilli sauce drizzled oversalt and pepper squid which is a firm favourite of the Qantas First Lounges in Sydney.
If you are there for afternoon tea, don't miss the tea cups and saucers by Miranda Kerr for Royal Albert. Tea, of course, is served in a proper pot, and there are scones with Devon clotted cream, served on plates by David Caon.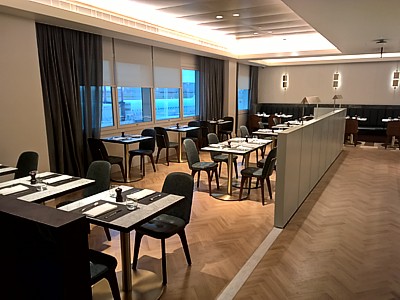 Qantas London Heathrow Lounge
Bar
However, it is the two staffed bars which are the highlight of the lounge.
The Qantas London Lounge at Terminal 3 feature a full-service round marble cocktail bar beneath a brass chandelier upstairs serving cocktails designed by the Rockpool bar in Sydney's Hunter Street. Variants include the famous Rockpool Bellini, a Pink Lady, hopped Pina Nueva, a Blood Rum Punch, Italian sour, and a great Chipotle Margarita. Indeed Rockpool cocktails dominate, with drinks similar to the famous Rockpool bar in Sydney's Hunter Street.
Ask for a cocktail menu, and the staff will oblige.
Downstairs, it's all about Gin. Not content with the usual London staple of Gin and Tonic, there are a dozen gins to try, including the best of the Hampshire gins, Beefeater. Bombay Sapphire is one of the few of the gins of the Solent not to appear. Other British gins include Hendricks, Tanqueray No 10, Sipsmith Opihr and Islay's The Botanist gin.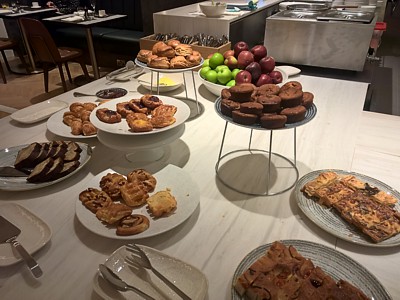 Qantas London Lounge
It also has some uniquely Australian gins, including Four Pillars from Victoria, and the famous Green Ant gin from Adelaide, plus Sullivans Cove Hobart No 4 single malt, and Byron Bay Dry Gin.
Both bars serve barista-pulled coffee, however this is the shortfall, as there is nowhere to just walk up and get a drink yourself, other than at the Quench water bar upstairs. For a simple cup of tea, you have to ask the waiter, who asks at the bar, and then the barista makes it. Service can be slow.
There is no Champagne for most customers, however there is sparkling wine for Platinum of First Class customers, however they need to know this, and request it. It is the Petaluma Croser, a non-vintage sparkling wine. This classic blend of Pinot Noir and Chardonnay offers a delicate bouquet of fresh citrus and white peach with a light yeastiness on the nose. There is a dry long finish, with every ounce of the Adelaide Hills it is from.
The London Qantasclub also has French Champagne, Perrier Jouet, for a few select customers, including those with a First Class ticket, Platinum One frequent flyers and holders of a Chairman's Lounge card.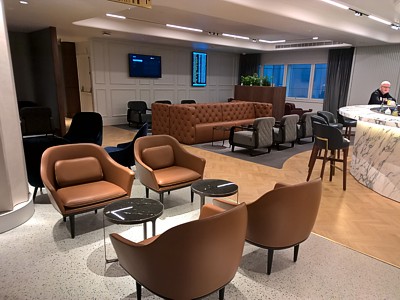 Qantas London Heathrow Lounge
Given the lack of Champagne, if you are on Qantas or Emirates you may find it better to decamp to the London Heathrow Emirates lounge, where Veuve Clicquot Yellow Label sits around for all Business Class customers. First customers might also head to the Cathay Pacific First Lounge.
Bathrooms
There are six full shower suites, in designer white marble, and Aurora Spa amenities.
Business Facilities
There is also a small business area, with one solitary PC and a printer. Wifi is free, and fairly fast.
Newspapers are poor, and there are few magazines.
Access
The London Qantas lounge is a joint Business and First Class lounge, and as such is open to Gold and Platinum Qantas Frequent Flyers and Qantas Club members, as well as British Airways Silver and Gold members, and first and business class travellers.
There is no paid access on the door.
Qantas London Lounge
If it is busy, don't forget there are no less than seven oneworld lounges available for passengers at Terminal 3, if you have oneworld access, with two British Airways lounges (First and Business Class), two from Cathay Pacific (First and Business Class, both newly refreshed) and American Airlines newly revamped LHR Admirals Club and Flagship Lounge.
Qantas passengers with a QF ticket, on Emirates, are however directed to the Emirates lounge, however the rules for accessing the London Heathrow lounges changed on the day of opening, and now any customer with Emirates Gold/Platinum Skyward Members on Qantas or Emirates can access either lounge. Details are here on the Qantas website.
Qantas currently runs two daily flights out of London Heathrow, with an evening A380 flight to Sydney at 20:45, and a lunchtime flight at lunchtime to Melbourne via Perth. As a result, the lounge opens at 8am, until 8.30pm, but with two sharp peaks in service, in morning and evening, however during the day it can be remarkably busy with British Airways and Finnair customers.