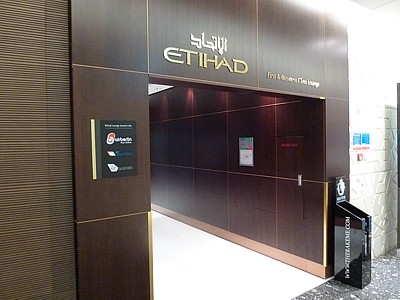 London Heathrow Etihad Premium Lounge
NEWS: Frequent Flyers are temporarily being restricted to the Etihad Premium Lounge at London Heathrow. Frequent flyers with elite status travelling in economy with Gold status are now sometimes being asked to wait until the lounge is emptier before being allowed in.
There is now a brand new lounge at London Heathrow for Etihad. As befits the airline which is raapidly growing, and gaining increasing Europe to Australia traffic, it has a large new lounge in Terminal 4. However, with three A380 flights a day, the lounge can become seriously packed. And then some.
The lounge is at the end of LHR Terminal 4. When you're in front of the SkyTeam Lounge you can either take the elevator or the winding staircase down to the Etihad Lounge, which is one level below the main concourse.
The Etihad lounge London Heathrow is large with decent leather sofas - they come from the renowned Italian manufacturer Poltrona Frau. And it must be said, the main part of the lounge does look very nice. The lounge itself it split into several walled off areas, with classy wooden dividers or curtains.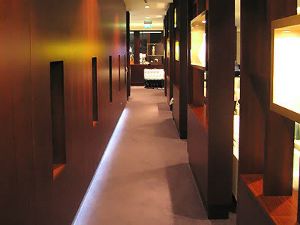 London Heathrow Etihad Premium Lounge
The Etihad Heathrow Lounge is the usual shared first & business class facility, so there are no special services for first class passengers.
The main problem with the Abu Bhabi Terminal 4 Lounge is that it is rammed before each flight, and can be standing room only when the A380 flights leave. As a result, the lounge is now starting to introduce a rule that it is mainly for Business and First Class only, and those with a Gold Frequent Flyer card may sometimes be asked to wait until space becomes available.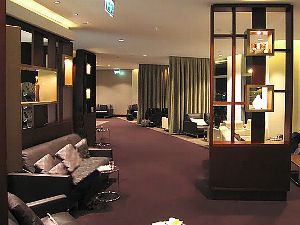 London Heathrow Etihad Premium Lounge
Finally there is also the Children's area, which is equipped with books, toys, TV and a children's dining menu. There are even nannies who watch over the children.
Food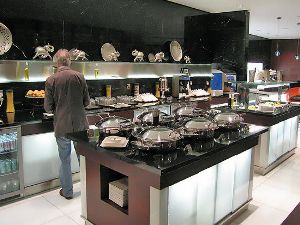 London Heathrow Etihad Premium Lounge
The food options are pretty good: Arabic in flavour, but with a decent buffet. The selection of refreshments includes hot and cold buffet dishes, which offers a la carte and snack menus.
Bar
There is a quiet decent bar area here, with some good new-world wines. The cocktail list is good, and will mix up cocktails even for the early morning 9am departure.
Bathrooms
Bathrooms and showers are in the lounge. There is even a small spa.
Business Facilities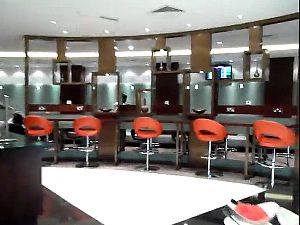 London Heathrow Etihad Premium Lounge
There is a study themed timber panelled business centre which is equipped with six fairly new computers - they are iMacs. There is free internet access and wifi, and thankfully around the lounge fairly good power points for laptops.
There is a telephone in the business centre, and a fax.