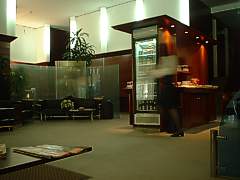 Palma De Mallorca Independent Sala VIP Miro
The Sala Miro Lounge at Palma De Mallorca airport are quite hard to find. They are located
before
security, so ensure you go to them, and leave before your flight is called. To find them go up to the top floor just before security, then right past the chemist with the green front.
There are two parts to the lounge, with a smoking and a non-smoking part, and you can't walk between the two.
On the non-smoking side there is a TV area behind the screen, with Spanish TV and a cartoon channel.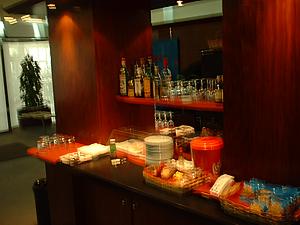 Palma De Mallorca Independent Sala VIP Miro
There is a conference room on the lower level reached by the stairs past the food pod.
Food
Food is mainly cheese and biscuits and packets of peanuts. There are also sandwiches at some times.
Bar
The drink selection is very good, with many types of spirits, a fridge at each end of the food pod stuffed with beer and wine (but no champers) in small 187ml bottles you can take out (Take a bag to stop the woman on reception from moaning at you).
Bathrooms
None in lounge.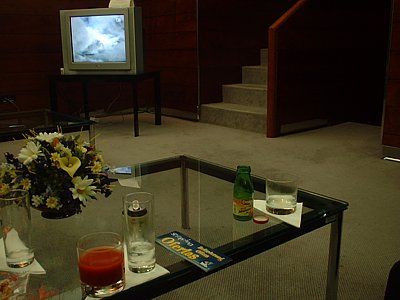 Palma De Mallorca Independent Sala VIP Miro
Business Facilities
Newspapers are either Spanish or German.
There is a TV and 3 internet computers (free of charge).