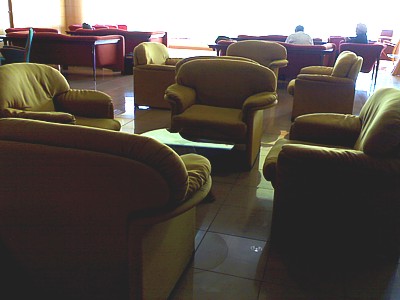 Palma De Mallorca Independent Sala Formentor Lounge
The Sala Formentor Lounge at Palma De Mallorca is by far the better lounge at Palma De Mallorca airport.
For a start it is very bright and roomy, with a great view over the runway. There are plenty of white leather sofas on stripped pine floor boards, with lots of pot plants.
In the inner part of the lounge, the seats haven't been updated, and are the still the generic blue airport ones.
Food
Food in the Sala Formentor Lounge is quite good, with sandwiches during the day, and small pastries.
Bar
The bar is very good in the Sala Formentor Lounge, with a vast rack of free-pour spirits. Wine is however quite poor. There are cans of beer in the fridge.
Bathrooms
None in lounge - go outside.
Business Facilities
Spanish and international newspapers ,TV , 3 internet computers (free of charge).