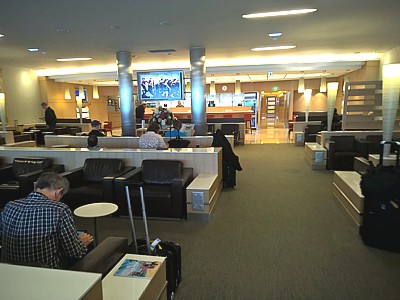 American Airlines Paris CDG Admirals Club Lounge
NEWS: Food at the Admirals Club in Paris CDG has recently been upgraded. A full hot breakfast is now available.
The brand new Paris American Airlines Admirals Club lounge is now open. Totally different to the old AA CDG Club in the satellite, the lounge is light and bright, but rather ordinary and sadly a bit of a disappointment. Indeed, so dull is it, most regular passengers use the Cathay Pacific CDG lounge next door, and as such an American Airlines Paris lounge review is quite a rare bird - few on the 'review lounges' circuit bother to come in here.
Called the Salon American Airlines Paris CDG on all the signs, the American Airlines lounge is now high up in T2A, in the long connecting shopping aisle between T2A and T2C at Charles d 'Gaulle, so it is accessible if you're flying from either the A (American Airlines) or C (British Airways) terminals.
You'll need to come in here after the horror of check in at Paris CDG T2, which is grim, zoo like, and which you are forced to go to even if you have already checked in online, for the mandatory grilling at check in about just why you want to get on a plane today.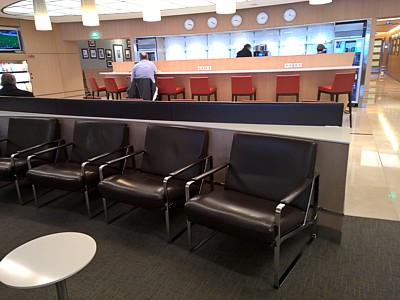 Paris CDG American Airlines Lounge
Thankfully they also hand out pink express cards which allow you to zip through security. Once past passport control, head to Ladurée (a famous French macarons bakery) and take the lift on the right, or the stairs, which head to oval void, next to the Paris Cathay Pacific lounge, and around the circle with Emirates and Etihad next door.
There isn't a reception as such, just three podiums where your boarding card is given a perfunctory check, and then you are in - into the new Admirals Club at Paris CDG, which is a large square room with 6,400 square feet, and room for 128 passengers.
Perhaps the best feature of the new club is the new touch-down viewing area with recliners offering great views of the runway. The rest of the lounge had enclosures around both sides, and a large open area around the middle. Oddly, right in the centre of the lounge, opposite the windows, is the Business Centre with computers - it is neither private nor really inductive to doing any work.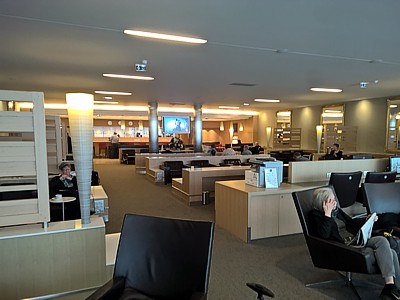 American Airlines Paris CDG Admirals Club Lounge
The other thing that is really striking about the main part of the new American Paris Club is that everything is square. There are square dividers for the square armchairs, with square high partitions between the four seat banks at each side. In the middle of the seats there are however some round tables - but miles away from the seats. Hence, the regular sight of passengers bringing over food, and dragging a table to their seat.
However, the food area is curved, at the far end of the lounge. Here there is a buffet corridor, and a curved bar area where you can park up, and plug in your mobile phone for a quick charge.
Above the lounge there are large TV, all on CNN, with the volume low.
Vast framed mirrors, a huge floral display, and an odd roman statue on a headless angel by the windows complete the New Paris Admirals Club.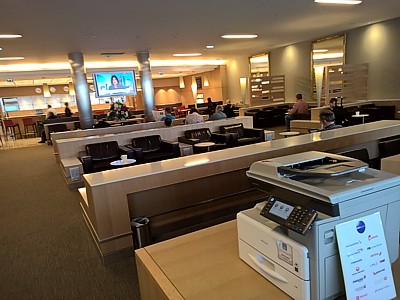 Paris CDG American Airlines Lounge
That's not to say that the American Airlines Paris Admirals Club isn't an OK lounge. It is vastly better than the old dungeon in the T2 Satellite. However, it really is pretty poor compared to the Cathay lounge next door, which has hot food, faster computers, and real champagne.
Food
There are freshly-prepared hot and cold foods such as homemade soups, entrees, salads and desserts. The salad is pretty good, and of course comes with French Dressing.
Breakfast in the Paris CDG Admirals Club has been upgraded, as this is when the majority of flights depart, with smoked salmon, several types of cheese, quiche Lorraine, and prosciutto ham. Or if you want a hot breakfast there are scrambled eggs, baked tomatoes, sautéed mushrooms, sausages, bacon, boiled eggs, and fresh mini-banquettes.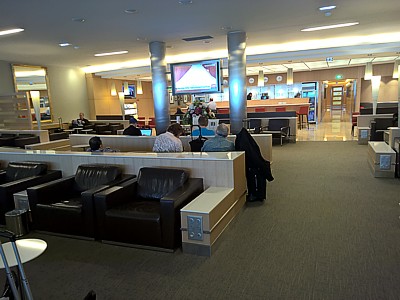 American Airlines Paris CDG Admirals Club Lounge
There are also some decent deserts and yoghurts on ice in the cooler.
Bar
The bar is OK, but perhaps not the best. There is sparkling French wine, and an OKish white and red in the cooler slots in the bar top.
However spirits are just weird, with nothing that you'd recognise. However, it is all free pour.
Beer is Heineken in the fridge. There are several jugs of juice, with orange, tomato, and pineapple.
There is also a self-serve coffee machine that makes lattes, espressos, and cappuccinos.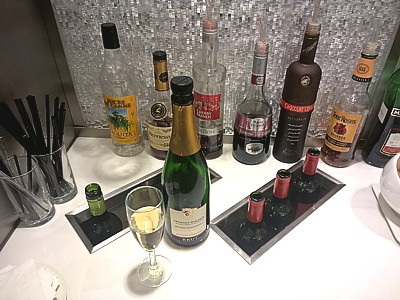 Paris CDG American Airlines Lounge
Bathrooms
Bathrooms are in the lounge, and there are 'Spa-like' showers too. Ask at reception for an amenity kit.
Business Facilities
There is free wifi, and it is good and fast.
The computers are relatively new, and there is a printer next to them.
There is a newspaper rack, which includes UK newspapers such as the Mail and Times.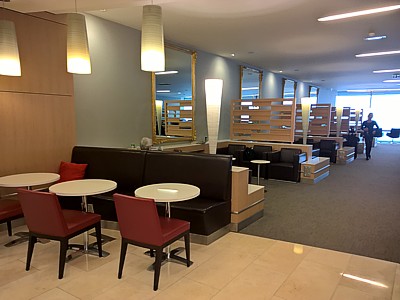 American Airlines Paris CDG Admirals Club Lounge
Access
The American Airlines Paris CDG Admirals Club Lounge is open to all Business and First class passengers as you might expect, plus those with a Gold British Airways Executive Club Card, or Platinum on American Airlines.
The Paris AA lounge is also one of the few lounges at CDG which sells entry - but at some cost. A single Day Pass costs US$50, or US$99 for a new one month membership.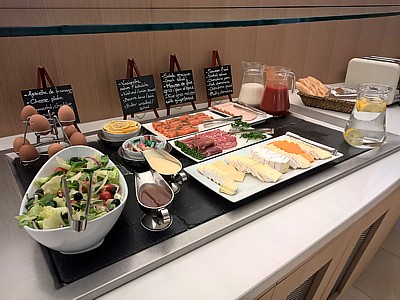 Paris CDG American Airlines Lounge
The Paris Admirals Club cannot be used for arrivals. Arriving international passengers must pass through EU immigration, unless you have a same day departing flight boarding pass.