Paris CDG Airport Guide
NEWS: A further satellite extension to Terminal 2E is due to open in late 2012, which will allow the transfer of all SkyTeam alliance flights to terminals 2E, 2F and 2G.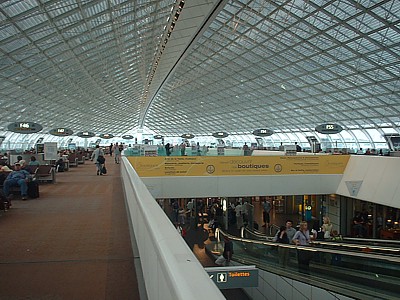 Paris Paris CDG Airport Terminal 1 F
Paris Charles de Gaulle Airport is a vast airport northeast of Paris. It's big - really big - with 60 million passengers a year, and the dominant of the three Paris airports: indeed it is the world's sixth busiest airport and only eclipsed in Europe by Heathrow.
Its proper title is Aéroport Paris-Charles de Gaulle, or as the local people know it Roissy Airport after the local village - although it has never officially had that name.
There isn't all that much shopping at Paris CDG Airport - most of it is at Roissypôle, a shopping centre at the outskirts of the airport. It has the airline offices and and a Hilton hotel too.
A free rail shuttle links the three airport terminals, the SNCF (RER and TGV) train stations and the car parks. The maximum wait for a shuttle is 8 minutes.
Paris CDG Airport Terminal 1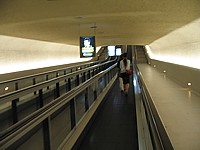 Paris CDG Terminal 1 Tunnel
This Terminal is the oldest, and famous from several films made around it's unusual concrete architecture. It is a miserable concrete bunker of a place with poor shopping and a design resempling a car park - or, a light avant-garde design depending on your athetic bent.
The second floor contains shops and restaurants - however check in is on the third floor: you need to go down to eat. Departing passengers then head to the fourth floor, where there is a basic duty-free shop and border control. There is also access to satellite terminals, via boarding tunnels passing under the tarmac.
The passage between the floors is done through escalators arranged in web around the central core of the building, which are suspended over the central court. These are covered with a plastic cover to keep the rain off. Alas this is the only place you can see the sky: there are no view of planes from terminal 1.
Opened in 1974 Terminal 1 is a ten-floors-high circular building surrounded by seven satellite buildings, each with six gates, in the image of an octopus. There have been several extensions during the following decades, all designed by architect was Paul Andreu.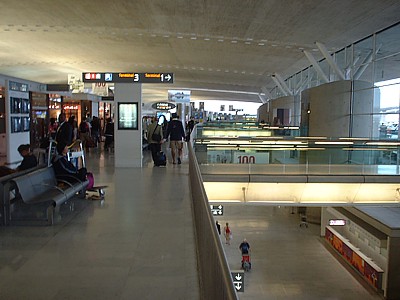 Paris Paris CDG Airport Terminal 1 E
Paris CDG Airport Terminal 2
Paris CDG Airport Terminal 2 is the newest terminal. 2E opened in 2004, and a large part of the departure lounges of 2E collapsed a year later, and it wasn't fully reopened until 2008.
Terminal 2 actually has seven terminals: You can walk between 2A to 2F - although at nearly a kilometer long, it is a long walk! There is a bus shuttle (outside security) to the remote Terminal 2G, which can take some time. Air France regional flights operate from 2G.
Satellite 3 (or S3) is not a terminal as such, just gates for aircraft. It is to the immediate east of Terminals 2E and 2F provides jetways for the Airbus A380.
If Terminal 2 looks familiar - it is: The video of "Beautiful Day" by U2 was filmed at the airport.
Paris CDG Airport Terminal 3
Compared to the vast Terminal 2, Terminal 3 is just a small single hall, over 3kms (2 miles) away - it is a long walk.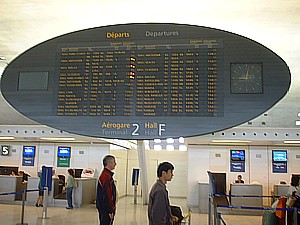 Paris Paris CDG Airport Terminal 3
However, all the good hotels are at this terminal. You can get to it on the free shuttle, or walk from here to the RER and CDGVAL trains - they are only 300 meters away.
Photography at Paris CDG Airport
There is a total ban on any passengers taking any photographs anywhere (landside or airside) at CDG Airport. This specifically bans photographs of aircraft, buildings, lounges, and even meals. It is rigously enforced by zealous security guards, and if you carry a camera publicly you may be detained and asked to show what images you have taken.
First & Business Class lounges at Paris Airport
Paris Airport transportation
Travellers should know that many bus, limousine and shuttle bus services operating to and from Paris Airport usually require pre-booking.
Paris CDG Airport train
NEWS: The CDG Express will link Paris CDG Airport to Paris Gare de l'Est from 2016 with new high speed trains
If you want to get a train to Paris CDG Airport, or from it on arrival, you have three choices: the RER, the TGV, or the CDGVAL train.
The main route from Paris CDG to Paris (Paris Airport to paris airport to city centre) is on the REB. REB Express trains take 30 minutes to the Gare du Nord (the main northern rail station in Paris), stopping services about 40: These stop at Cité Universitaire, Bourg-la-Reine, La Croix de Berny, Antony, Massy–Palaiseau, Saint-Rémy-lès-Chevreuse, and Gare du Nord.
The cost of a ticket to Paris city centre from Paris CDG airport on the REB is €9.25EUR, one way.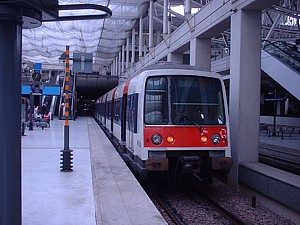 Paris Paris CDG Airport Train
There are also TGV Trains. The SNCF LGV Interconnexion Est high-speed line has direct trains to Lille, Strasbourg, Dijon, Lyon, Marseille, Montpellier, Toulouse, Bordeaux, Nantes, Poitiers, Rennes, and Brussels in Belgium.
On arrival at CDG, to get to the train stations, follow the signs (or take the shuttle bus (runs every 4-5 minutes)) to Terminal 2E/F, and follow the 'Train to Paris' sign to catch the RER train. Head to the station atrium, where there is an HSBC ATM (chances are you'll need euros in cash to buy a ticket) then go to the bottom of the atrium, Level 2. The SNCF ticket office is split into two: head to the left for REB and Paris tickets, known as Billets Ile-de-France. The Right deals with TGV.
Beware, a trap that many tourists fall into it to get off at the wrong station. REB Station Aéroport Charles de Gaulle 1, is right at Terminal 3 inside Roissypôle, although you can walk to Terminal 1 at a pinch. Aéroport Charles de Gaulle 2 TGV, is beside the TGV station under Terminal 2.
Paris Airport shuttle bus services
Few people take the bus from Paris CDG airport, but you can do so if you are really determined. There is a bus and coach station in Roissypôle, next to the RER B station.
Roissybus departs from terminal 1 heads non-stop to Paris, terminating behind the Palais Garnier. The cost of a bus from PAris CDG to city centre is €12EUR.
There are also local buses 350 and 351 the airport to all the suburbs, and the the Parc Astérix.
Air France coaches called "Les Cars Air France" depart from terminals 2 to Porte Maillot and Arc de Triomphe to Montparnasse, Gare de Lyon, and Paris Orly. This Paris CDG to Paris Orly bus is very useful, but it costs €15EUR.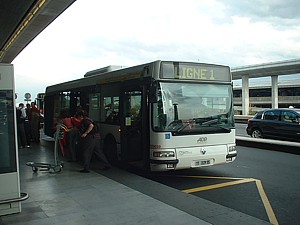 Paris Paris CDG Airport Bus between terminals
A bus called the Paris CDG Airport VEA Disneyland shuttle departs from all three Terminals at Paris CDG.
Paris Airport taxi services
Getting a taxi to and from Paris CDG Airport is usually trouble free, but very expensive.
The cost taxi Cdg Airport Paris to the city centre (downtown) is around €55EUR, more at night. A taxi to the city centre will take around 45 minutes.
Car Hire at Paris Airport
Major car hire operators are located in the Arrivals Halls. To save time and ensure you get the car you want, book your rental in advance. Rental car operators from Paris Airport include:
Europcar
,
Thrifty
,
Avis
and
Budget
.
Charles de Gaulle Airport is directly connected to Autoroute A1 which connects Paris and Lille.
Paris CDG Airport Hotel
There are three airport hotels at Paris CDG airport.
The main hotel is the Hilton Paris Charles De Gaulle Airport. It is five minutes walk from the terminals, and it has a shuttle bus service to the TGV station at Terminal 2F. There are several good restaurants and bars and a swimming pool.
The Ibis Paris CDG Airport is located directly opposite the new Terminal 3 at CDG. It is vast, with 772 rooms, four restaurants, and numerous bars. There is a shuttle to Terminals 1 and 2, and the TGV station.
The Novotel Paris CDG Airport is smaller, with 200-rooms, and also located at Terminal 3 and the TGV rail station. There is a restaurant and bar.
Paris Airport Left Luggage
Paris CDG airport no longer offers luggage storage, and lockers are no longer available due to security worries.
Car parking
Paris CDG airport car parking is quite good.
Both terminal 1 and 2 has its own short-term covered car park with direct walking access to the terminal by lift.
Terminal 1 has a long-term car park called PR, and car park PX is for Terminals 2 and 3.
All the long term car parks are linked by a free airport shuttle bus.
Paris CDG Airport Bars and Restaurants
Paris CDG Coffee Cart Bar
Paris CDG Coffee Cart Bar
Open: 1100-2300
Terminal 2E, Airside